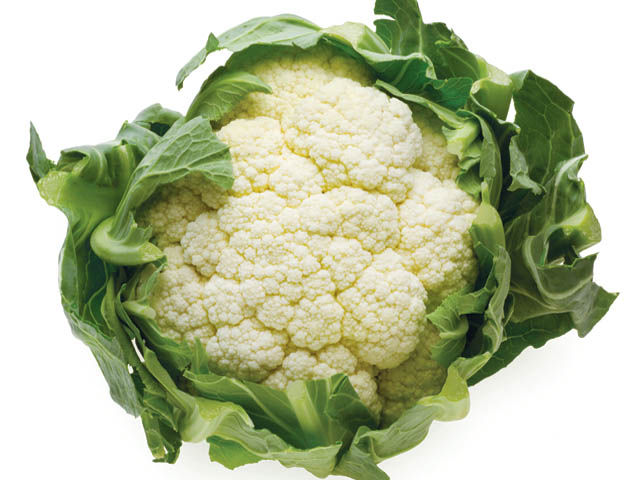 Naturally buttery and rich when cooked, chefs are using fresh cauliflower in creative, unusual menu items.
Roasted
For movie night with his family, Room 39 chef-owner Ted Habiger skips the popcorn and goes straight for cauliflower. The vegetable takes on different flavors based on how it's cooked, making it especially easy to play with. Habiger's favorite method? Roasting. "It kind of tastes like popcorn to me [when roasted] – we eat it like popcorn," he says. "It gives off a toasted corn flavor, a little sweetness, but it also has a little bit of a garlicky taste." His family's favorite cauliflower snack inspired the cauliflower steak served at Room 39. One head of cauliflower is divvied into about three "steaks," cut 1-inch thick and seared on both sides in a cast-iron skillet. Although the menu changes slightly each day, he says he always pairs his cauliflower steak with sides including salsa verde, rice and sautéed spinach and kale. "Cauliflower can look bland," he says. "It's a good time to go with the rule 'what grows together, goes together' because [what] it grows [with] tends to vary in colors and nutrition."
Room 39, multiple locations, rm39.com
Replace traditional Alfredo sauce with this veggie alternative and use it to top pasta, vegetables and more.
Versatile
The best element of cauliflower isn't necessarily its flavor or color, according to Simon Lusky, owner of Revel Kitchen, but instead its versatility. It's one of Lusky's favorite vegetables to work with, which is reflected on the menu at Revel, including as a rice replacement in the restaurant's popular bibimbap bowls. "What got me hooked was using it as a rice replacement and turning it into these small granulates," he says. "Once you get it in granule or purée form, you can take it in a number of different directions." The best-selling menu item is the Caulichilada, a play on a classic enchilada with a cauliflower tortilla. "Cauliflower binds really well with egg," Lusky says. "By simply adding cauliflower, egg and cheese, you create little tortillas."
Revel Kitchen, 2837 Cherokee St., Cherokee Business District, St. Louis, Missouri, 314.932.5566, athleteeats.com
Ceviche
When ordering the cauliflower ceviche at Molino's Mexican Cuisine, you won't find it in a bowl, or even on a plate, but instead, in a Martini glass. "Our concept is more contemporary," says owner Mario Quiroz. "We always ask how we can make our dishes look better for the eye, and doing the ceviche in a Martini glass – I think people really like it." Instead of using seafood, Quiroz submerges cauliflower in lime juice until it resembles the acidic bite of traditional ceviche, essentially pickling it. "If we don't tell people it's cauliflower, they would think they're eating fish," Quiroz says. The key is making sure cauliflower is cooked to the right texture; Quiroz says the perfect point is between too crunchy and too mushy. When boiling cauliflower, he suggests removing it to an ice bath once it reaches the ideal texture and doneness.
Molino's Mexican Cuisine, multiple locations, Wichita, Kansas, facebook.com/molinosmexicancuisinewichita
CHEF'S TIP
Although cauliflower tastes good raw, make sure to get a nice color and caramelization when roasting. "It tastes different when it's raw, tastes great when there is a little sear, but it really shines when it's nice and darkly roasted without being burnt." –Ted Habiger, chef-owner, Room 39