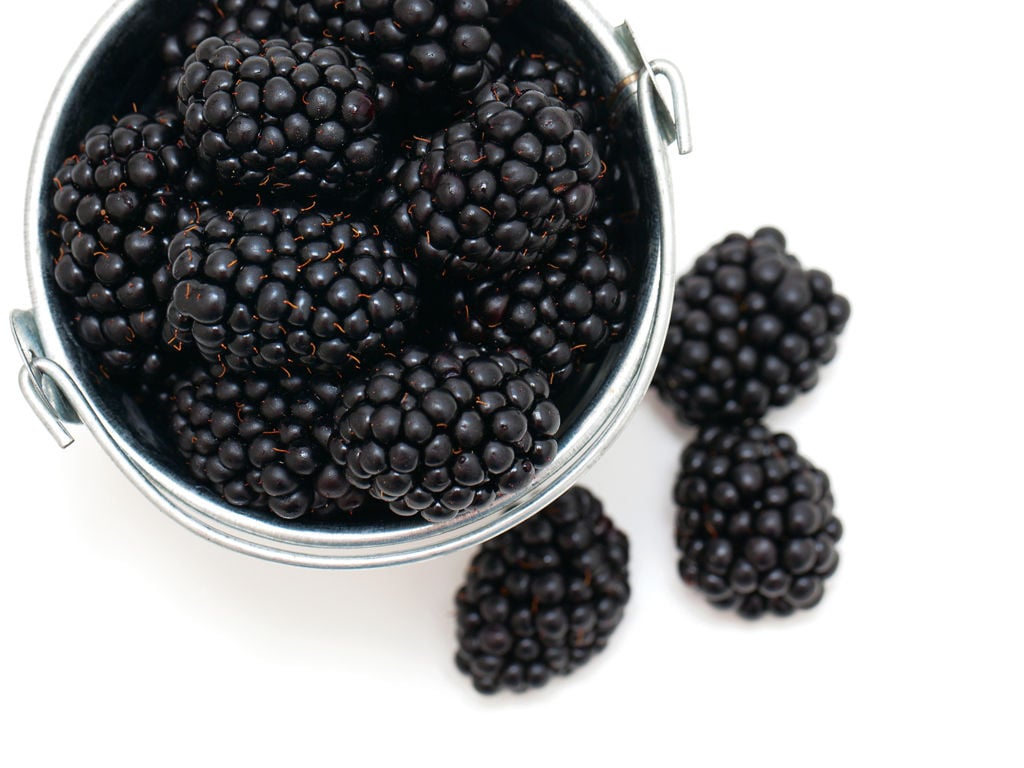 Blackberries are a quintessential summer fruit. The dark, juicy berries are high in antioxidants, and the tart sweetness makes them a popular ingredient for pie – but this season, chefs are using them in a range of sweets, from panna cotta to macarons.
Compote
There are endless possibilities for blackberries at Café Sebastienne at the Kemper Museum of Contemporary Art in Kansas City, says executive chef Jennifer Maloney. She buys an abundance of the summer fruit from Fred and Helen Messner of Nature's Choice Biodynamic Farm in St. Joseph, Missouri, as well as the farm's frozen blackberries to use in cocktails when they're not in season. On Maloney's brunch menu, she tops a waffle with Honey Bee Goat, a honey-flavored goat's milk cheese; blackberry compote (she's used it on brioche French toast, too); and crispy prosciutto. For dinner, a blackberry-thyme reduction highlights pan-roasted Buttonwood Farm chicken, and sometimes quail. "If I'm at home, and say I'm making some roasted fish, I just take some fresh blackberries, put them in a pan with a little fresh tarragon and let it cook down with a little bit of cold butter," Maloney says. "It's a really easy sauce." She also suggests a simple blackberry crisp with blackberries, sugar, brandy, butter and flour. "Get the produce locally when it's in season, and you can't go wrong with a good dish," she says. "That's it. It's so simple – there's no fuss."
Café Sebastienne at the Kemper Museum of Contemporary Art, 4420 Warwick Blvd., Southmoreland, Kansas City, Missouri, 816.561.7740, kemperart.org/café
Macarons
Executive chef and co-owner Cory Shupe of Thyme Square Cafe in Quincy, Illinois, was introduced to farm-to-table dining while working in St. Louis under Anthony Devoti at Five Bistro. He took that passion for local and seasonal ingredients back to his hometown and opened the breakfast-and-lunch spot with his wife, Erica, in 2010. Shupe is making blackberry macarons this month, with blackberry buttercream and dollops of his blackberry jam, plus classic cobblers and crisps, the occasional blackberry sorbet ("It's got a really good color."), blackberry ice cream and a house blackberry syrup for iced tea and lemonade. Shupe gets his blackberries from Boone's Knob Berry Farm in Barry, Illinois. The Shupes recently acquired a new building, so Thyme Square will be moving and expanding later this year. "The food's not out of the ordinary, but it's all homemade," he says of the menu in general. "We do all of our own charcuterie, make all of our own breads. If you can make it, we do it."
Thyme Square Cafe, 500 Hampshire Ave., Quincy, Illinois, 217.224.3515, thymesquarecafe.net
Panna Cotta
Ben McArthur grew up eating fresh berries grown on his family's farm – and that's just part of the reason he loves using blackberries in the summer at his Lindenwood Park restaurant, J McArthur's, An American Kitchen. At the restaurant, his blackberries come from Three Spring Farms in Perryville, Missouri. McArthur is using Three Spring's blackberries in scones and local maple syrup at brunch, and as a gastrique atop a bone-in, smoked pork chop with whipped potatoes, fava beans, country ham and fresh herbs at dinner. For dessert, blackberries appear in a corn panna cotta, which is topped with stewed blackberry preserves and bacon-basil biscotti. "As you can tell, [blackberries] kind of go with everything," McArthur says. "Not only that, but anything [farmers] pick the day before – you can't really get better than that." Look for McArthur's weekly collaboration with Three Spring at its Tower Grove Farmers' Market booth starting this month, where he'll be using its produce and protein to cook fresh dishes to order.
J McArthur's, An American Kitchen, 3500 Watson Road, Lindenwood Park, St. Louis, Missouri, 314.353.9463, jmcarthurs.com
"They've got a great flavor, and in the summertime they become less crazy acidic, where you can actually eat them whole without puckering up real bad." –Cory Shupe, chef and co-owner, Thyme Square Cafe