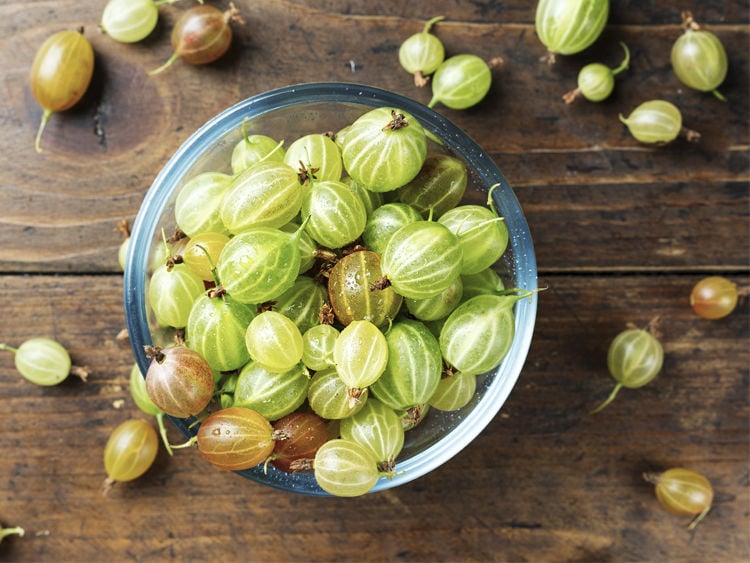 Gooseberries have a famously short growing season; the cousin of the blackcurrant is ripe for a month or two in late spring. Local chefs take advantage of the tart green berry in both sweet and savory dishes.
It's Easy As Pie
Pie is one of the most traditional ways to use gooseberries. At It's Easy as Pie, which delivers from-scratch pies in the St. Louis area, owner Cindy Grunik has three variations on a classic gooseberry pie: a simple gooseberry filling, which has a hint of nutmeg; or a cream filling, with a gooseberry-vanilla cream base; and either a crumb topping or flaky lattice crust. "Gooseberries are similar to rhubarb in their tartness; they have flavor, so you don't need to do a lot to them," she says. Because they have such a short season, Grunik grabs them at Global Foods, Straub's or Whole Foods when she can, but she says canned gooseberries also work well. She suggests using them as a glaze for scallops or in salad dressings; Grunik makes gooseberry jam – it doesn't need pectin – with just sugar and a bit of lemon. "There's so many things you can do with gooseberries," she says. "It's kind of one of those nostalgic flavors, like strawberry-rhubarb; people try it and are enamored with it."
It's Easy as Pie, itseasyaspie.com
The Farmhouse
As chef-owner of The Farmhouse in Kansas City's River Market neighborhood, Michael Foust says he's used gooseberries in many different ways. He's found that older clientele are familiar with gooseberries, and the younger generations are just now learning about them. "Last year, we did gooseberry hand pies with gooseberries, brown sugar [and] sorghum," Foust says. "I like the depth with a little bit of molasses in there. Sugar doesn't need to be so one-dimensional; by using different kinds of sugars you can build depth of flavor." Foust says a sweetener is the most important foil for gooseberries when cooking or baking with them at home; it will completely change the flavor of the tart berries. "To get the gooseberry to be what it's supposed to be, you have to have sugar," he says. Because the season is so brief, The Farmhouse will only feature gooseberries for a short time, so be on the lookout this spring. "Don't be afraid of the gooseberry!" Foust says with a laugh.
The Farmhouse, 300 Delaware St., River Market, Kansas City, Missouri, 816.569.6032, eatatthefarmhouse.com
Persimmon Hill Farm
At Persimmon Hill Farm in Lampe, Missouri, gooseberries are just one of the fruits Earnie and Martha Bohner cultivate. The couple began farming in 1982 with blueberries and have since added gooseberries, blackberries, raspberries, plums and more. Most notably, gooseberries are combined with blueberries and wild Missouri black walnuts in Persimmon Hill's Nutty Blue Goose Jam. The jam is sweetened with cane sugar and a hint of lemon and made in small batches to prevent overcooking. "There's a really nice texture to them," Earnie says. "Gooseberries are kind of a hard little berry, and they seem to stay together better than blueberries or blackberries, so you get that texture a little bit more [in the jam]." You can grab the jam at the farm's store, or request it on peanut butter and jelly at Persimmon Hill Farm Restaurant, open May through August, which serves farm-to-table fare with the best Persimmon Hill has to offer. You can also pick your own berries or shop the farm store for shiitake mushroom sauce, elderberry preserves and more.
Persimmon Hill Farm, 367 Persimmon Hill Lane, Lampe, Missouri, 417.779.5443 persimmonhill.com