Day One
It's 6am in Frankfurt, Germany, and Alexandra Grupe's suitcase is leaking blood onto the floor of Frankfurt International Airport as she rolls it past customs agents. She's silently begging them not to look her way and keep drinking coffee instead. Her heart pounds in her chest, and she glances at her family and friends, who are also dragging leaky luggage. Everyone looks scared; they have to make it through customs without getting caught. The culinary team can't win without the sirloins they are trying to smuggle into the country.
Thankfully, the agents wave everyone through without a glance at the suitcases or at the faint trail of blood they leave behind. On the other side of the gate, Alexandra passes the illicit, meat-filled suitcase off to chef Tim Prefontaine and breathes a sigh of relief. Most ordinary spouses probably never have to smuggle meat into foreign countries, but her husband, Ben Grupe, isn't ordinary – he's a St. Louis-based chef and member of Team USA. She climbs into a sedan with the supporting members of the team to begin the two-and-a-half-hour drive to Erfurt, Germany, where her husband and the others are preparing to compete in the 2012 Culinary Olympics.
Almost four years later, Grupe and his American Culinary Federation (ACF) Culinary Team USA teammates are now busy preparing for the next Internationale Kochkunst Ausstellung (IKA) International Culinary Exhibition, usually referred to as the Culinary Olympics. Around 1,500 chefs from more than 50 countries will compete for the gold in both hot- and cold-food categories. The competition is in Erfurt on Oct. 22 to 25 this year. The Culinary Olympics began in 1896 – the U.S. has been competing since 1956 – and in many countries, it's hugely popular. It's held in the Messe Erfurt, the second-largest convention site in Germany, which often hosts concerts and musicals. During the Culinary Olympics, it's packed with fans from around the world.
"Team Norway travels with probably 500 spectators," Grupe says. "The Baltic countries have lots of fans who are like football fans with horns, and they are yelling and screaming while wearing team T-shirts."
Many countries' governments sponsor their teams, but the American team is sponsored by the ACF. During the 2012 Olympics, all the Team USA teams – national, regional, military and youth – finished in the top 10, earning two gold and five silver medals.
Team USA will arrive at a community college in Erfurt a few days before the first event, the hot-food competition called the Restaurant of Nations, so named because diners enjoying the teams' creations eat the best of each cuisine from dozens of different countries. Chefs from each country have six hours to prepare for a two-and-a-half-hour a la carte service, during which they serve 110 diners who have prepurchased tickets. While they cook and serve three courses – a seafood appetizer, a meat entrée and a dessert – they are judged by a set of jury members who walk through their kitchens and scrutinize every counter, container, apron and movement, as well as a jury devoted to flavor and taste.
Along with the Restaurant of Nations' prepared food, the teams also compete in a cold-food category. "The cold-food program is food presented at the highest level for [display] purposes," Grupe says. "The food is preserved with aspic, which is gelatin, for presentation. Classically [the cold program] was used as serving garde manger [cold] pâtés, terrines, things of that nature."
To win a medal in either competition, chefs have to maintain perfection, not just achieve it. Every team enters with 100 points, and judges deduct points if and when anything is less than gold-medal standard. There are two sets of juries for the hot program: a tasting panel, which sees nothing of the kitchen or the chefs and constitutes 40 percent of the total points, and a kitchen jury. The latter judges the team on sanitation, teamwork, mise en place (having everything in its place before cooking, including measured ingredients), knife skills and communication. During the 2012 Culinary Olympics, Team USA captain Joseph Leonardi was filleting black cod for the seafood appetizer.
"If it hadn't have been properly stored when we were bringing it in, we would've been docked points," Grupe says. "If he took too much flesh off with his knife, they would take points away for being wasteful. We had a very high kitchen score."
Kitchen jury members take samples of everything to ensure the ingredients are fresh and top-quality. "They also taste every single piece of our mise en place before we start cooking," Grupe says. "They make sure you're not bringing in finished, premade sauces or meats."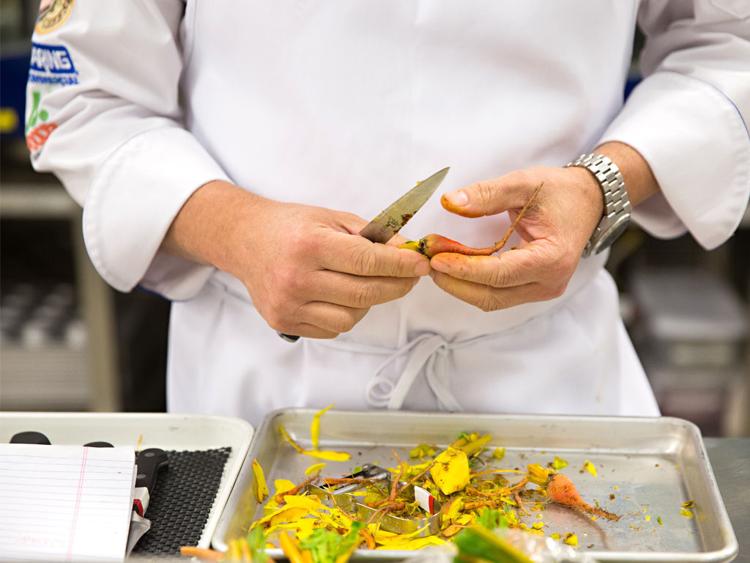 Day Two and Three
His alarm trills at 5am, and Grupe can't afford to hit the snooze button. While on his way out the hotel's door, he is stopped by his team manager, Steve Jilleba, who insists he sit down to have family breakfast. Because the six chefs on the national team run on little sleep for five straight days of competition, there are supporting members of the team who make sure the chefs take time to eat a healthy meal together three times a day so they can stay at the top of their game.
After breakfast, Grupe goes to the college to start setting up the kitchen just like the one they use in the U.S., mirroring each piece of equipment as much as possible so the German space looks like home. The ACF keeps a storage facility at the school with Vitamixes, European sheet pans and other gear competitors need; the rest was unloaded late yesterday when the team arrived from the airport or purchased at markets this morning.
The members unpack food from shipments and local markets and get to work. Today, they're making beef and chicken stocks and fish fumet. They're also peeling carrots, onions, garlic and shallots; picking through thyme, rosemary and parsley; and sizing broccoli stems in uniform cuts for the entrée. "This is when we start production on our cold-display table and mise en place for our hot kitchen," Grupe says. "We make sure everything is at its optimal, top quality [when] making stocks, butchering and sourcing products."
When the basics for the next day's competition have been prepared, they are carefully sealed and labeled in containers before being loaded into vans. The team will be rolling out before sunrise the next morning, bound for the competition grounds.
Grupe has been a member of Team USA since 2010. After a lengthy application process, he was invited to a tryout and won the highest score on cold food of any applicant that year. He was only 27 years old.
He grew up eating elaborate holiday meals at his great-aunt's house and started experimenting with cooking in high school. It wasn't until his first job as a dishwasher at the now-closed B. Tomas in Clayton, Missouri, that he realized he wanted to be a chef.
"Getting skillets thrown at me, getting yelled at every day – that's where it clicked," Grupe says. "I was really attracted to the environment and the camaraderie in the kitchen, and then having a sense of accomplishment."
Line cooks at B. Tomas saw potential in the young Grupe and encouraged him to go to culinary school. "I enrolled in St. Louis Community College-Forest Park and worked with Chris Desens at the Racquet Club Ladue – that's my boy," he says of Desens, who is now the program director at the Culinary Institute of St. Louis at Hickey College. "He pushed me. That's when I got involved with the ACF and competing and got into the Greenbrier. I had a spark, and Desens turned me into this crazy freak show of a competition monster."
The Greenbrier refers to The Greenbrier Culinary Apprenticeship Program in West Virginia. The program has trained some of the world's top chefs and culinary leaders, including Michael Voltaggio, the winner of the sixth season of Top Chef. It is not a culinary school, but rather an intense, hands-on training program. During his apprenticeship, Grupe was mentored by chef Peter Timmins, an ACF Certified Master Chef – the organization's highest honor – who won many gold medals at the Culinary Olympics. There is no other chef Grupe admires more.
At the Greenbrier, Grupe sharpened his mise en place and knife skills, which are central to any cooking competition. "On the international competition stage, if you don't have those basic fundamentals, you're setting yourself up for failure," he says. "It's imperative that you can handle a knife. It affects how visually appealing the food is, and you're going to get points deducted if you're not properly filleting a fish."
The ACF states that candidates for Team USA are evaluated not only on their cooking skills but also on their "personality, attitude and the ability to excel and work cohesively in a team."
Because of his skill set and calm leadership abilities, Grupe was chosen by team coaches and advisors to serve as captain for the 2016 Team USA, and the significance of this title isn't lost on him. "The pedigree of chefs who have been bestowed that honor before – it's pretty impressive," he says. "It was a huge, huge honor, but with that also comes a lot of responsibilities."
Grupe will be tasked with accounting for every minute of preparation and serving time, color-coding recipes and labeling products, helping the whole team work together as one and keeping every aspect of the menu going as planned.
Chef Corey Siegel, another member of Team USA and fellow Greenbrier graduate, believes Grupe makes an excellent captain. "Ben is continuously striving to take the team to the next level, just as chef Timmins did with Ben," Siegel says. "He always likes to take any negative challenge and create a positive outlook on it. When Ben is in the kitchen, it is always go time, [but] he likes to watch others having fun cooking beside him and loves to crack a joke or two every now and then."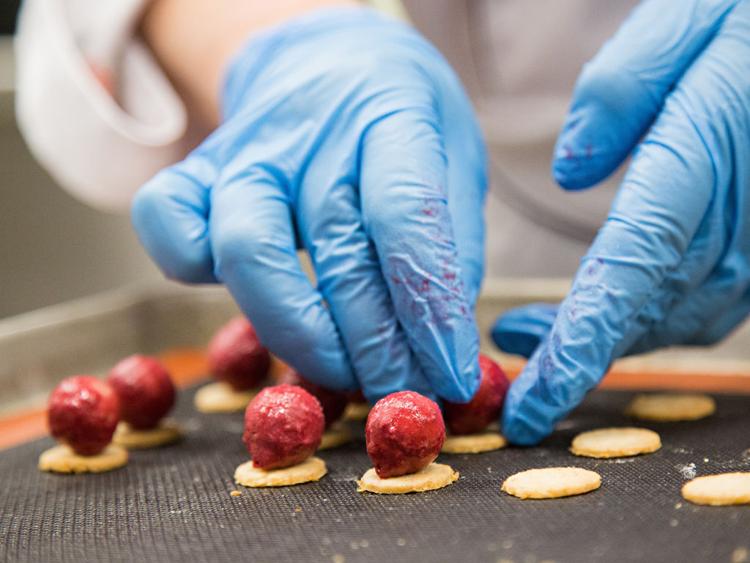 Day Four
It's 5:30pm the day of the Restaurant of Nations, and none of the chefs are talking to one another; they're intensely focused. The air is thick with the scent of spices, sauces and other food smells – fare from Singapore, Sweden, Spain – but the American chefs barely notice. Grupe is at the stove working on the seafood appetizer, sautéed black cod with chive butter sauce, and he glances up for a moment. Spectators are pressed up against the kitchen booth's glass partitions, watching his every move. "I think I understand how gorillas in zoos feel," he mutters. Behind him, diners wait to be served at the sold-out tables, and servers move confidently among the rows, speaking French, German and languages he doesn't recognize. Judges enter the booth, and his eyes move back to the cod in front of him.
"It's not just spectators watching you; it's a panel of chefs on the jury watching you the whole time," Grupe says, "taking their pencils and moving your stuff around and looking under it." In a few minutes, Grupe will be on the stove helping with the entrée, a roasted strip loin – the ones that had to be smuggled through the airport, in fact – with a red wine sauce, truffle potato and celery root with braised oxtail, sautéed mushrooms and other ingredients molded into a mat made with agar agar, sautéed root vegetables, broccoli three ways, fried béarnaise and pickled grape tomato. His pastry teammates are busy plating the dessert, a chocolate Bavarian bar with almond cake and vanilla custard with a pineapple donut; strawberry, mango and pineapple sorbets; and mango and berry sauces. The tickets are coming in fast and in the wrong order: Grupe expected to serve appetizers first, then entrées, then desserts, but some guests have decided to start with dessert, and it's thrown the team off.
He thrives on the intensity, and the team is amped up despite the surprise, ready to grab the gold. Team USA is a well-oiled machine during every competition. Instead of nine separate entities, they must work together flawlessly. The 2016 Olympic team includes George Castaneda, Certified Executive Chef (CEC); Joseph Albertelli; Corey Siegel, CEC; Ben Grupe; Jason Hall, Certified Master Chef; Matthew Seasock, CEC; and the pastry team of Susan Notter, Certified Executive Pastry Chef (CEPC); Andy Chlebana, CEPC; and Allison Murphy, CEPC. Each chef is assigned specific tasks during competitions and attends monthly practice sessions (usually held in Chicago), where they complete a mock Olympics, doing the preparation and service the same way they will during the real competition. After they create the cold program and hot-food menu, they then spend hours dissecting them, critiquing their own work.
The competing chefs are not paid for their time with Team USA. Grupe makes the sacrifices necessary to be involved because of the education it affords him.
"You really hone your techniques, craftsmanship and time management, which is a very important part of it," he says. "And the connections and resources through the team, the coaching staff and the pedigree of chefs prior – many are Certified Master Chefs – we're all like sponges absorbing them."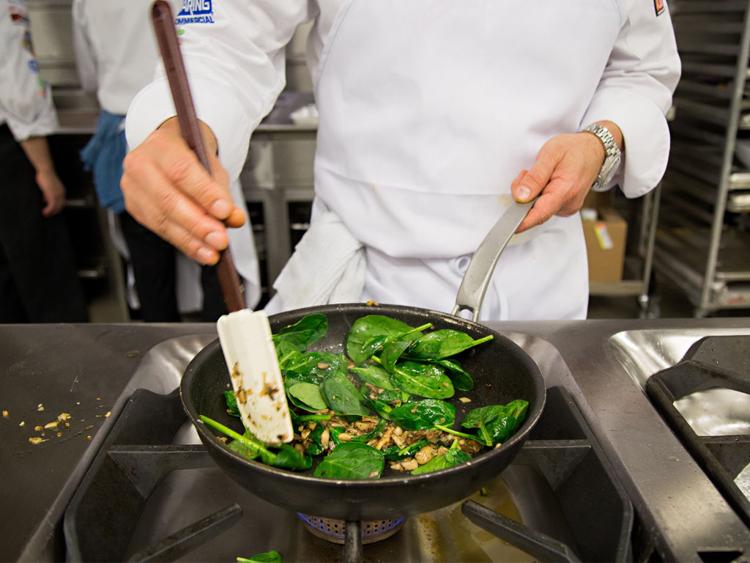 Day Five
The Restaurant of Nations is behind them, but Grupe and team have spent the whole day preparing their cold-food display. This is where Grupe really shines. In the past, Grupe has seen competitors display dishes that look like they should be in a modern art museum, but he feels this puts focus on the props instead of the food.
His own cold program is displayed on Villeroy & Boch's Modern Grace fine bone china, a white pattern that is somehow angular and curved at the same time. He also contracted an American silversmith to make trays that perfectly fit into the white platters for a subtle, refined contrast. Grupe has prepared a halibut and king crab terrine with fine herbs and squid ink. The king crab is sheathed in a black-and-white-striped wrap made from lemon and squid ink mousselines hardened on Silpats.
Each terrine looks like a piece of glass made by a master craftsman, but it is real food coated in aspic and will spoil in a few days. "Since the existence of the Culinary Olympics, [the cold program] has been a way to showcase a country's food in a preserved way," Grupe says. "You're showcasing hot food presented cold. You have to fashion the food and make it [appear] hot." Some of the items are meant to be served cold, as well, like the king crab terrine.
When he begins planning, Grupe "starts with the menu composition" – ironic, given the cold program's food is used solely for visual appeal. Some chefs take a shortcut with inedible foodstuffs, but not Grupe. He knows that without starting with cohesive flavors and balance, the skills he'll gain from creating a cold program won't cross over into his day-to-day work as a chef making visually appealing food for diners to actually enjoy eating.
"Doing this work builds a strong foundation and gives you a skill set on presentations and the process of writing a menu," he says. "That's the purpose – you get the skills of charcuterie, sauce-making and butchery."
As a chef, sustainable ingredients are always on Grupe's mind, and the wastefulness of the traditional cold program isn't lost on him; it uses food that is looked at and then thrown away.
"It has been discussed in the competition community that it's a dying art and not very cost-effective," he admits. "They're looking into different ways to engage in the cold-food category. At the end of the day, it's about being responsible, and it's a shame not to use the food that's produced."
As his tryout score indicated, Grupe's cold-program skills are some of the best in the nation, and he attributes this to his tutelage under Timmins. "A portion of my apprenticeship was doing this," he says. "As students, we were held to the same international competition level. I just adopted that level, and it became all I knew."
While training for the 2014 Villeroy & Boch Culinary World Cup, there were two other chefs on Team USA who had worked for Timmins, and the three were crushed to learn their mentor died, just a month before the competition. They decided they needed his guidance during the competition and hung his picture in their booth so Timmins could watch over them.
"We felt the best way to honor him was to put him in the kitchen with us so he was with us in spirit," Grupe says. "When Singapore was cooking in that kitchen two days later, I was hanging back to answer questions while people were cleaning up. I was reflecting on the past couple days and noticed Singapore hadn't taken down the photo. He was still there…" Grupe stops to quietly compose himself before continuing. "It was a very emotional, exciting point. He meant a lot to a lot of people. It was a surreal moment."
Day Six
Grupe is sitting in a car headed back to the airport in Frankfurt. Alexandra and his family and friends left the day before. He feels like a deflated balloon – the competition high is gone, yet he can't help a small smile. He and his teammates banded together despite the stress and gave their all. "It's having confidence in yourself to know this is what the end result is going to be and this is what we need to do to get there," he says.
The team ranked sixth out of 35, earning a silver in both the hot and cold programs. When he lands in St. Louis, Grupe will get back to his everyday life with his wife and their two young sons, Thomas and Bennett.
It's January 2016, and Grupe is sitting at Rise Coffee House in The Grove neighborhood in St. Louis. He's leaving for Florida tomorrow morning for a meeting about the upcoming Culinary Olympics, and he's got a busy day ahead of him packing, tying up loose ends and spending a few moments with his family. "If it weren't for Alex, I wouldn't be where I am right now; that's for sure," he says. "She's sacrificed so much. I've been competing with the team for going on seven years. It's been a long ride."
Grupe has had a few successful turns at bringing his food to St. Louisians through pop ups around the city. "I think any chef's ultimate goal is to have a place of [his or her] own – an extension of [his or her] personality where you can have people come and enjoy your food," he says. "I wanted to challenge myself with the creativity of food, and pop ups are very exciting. They let me introduce myself to the public."
The next Ben Grupe Dinner Series will be on Mon., March 14, at Old Barns Inn at The Inns at St. Albans in St. Albans, Missouri. He creates the dinners "in collaboration with local artisans, chefs and farmers," and the menus typically consist of five courses featuring regionally sourced proteins and seasonal hyperlocal produce, sourced from urban farms and from four of his own plots.
For the next eight months, while balancing his family life and dinner series, Grupe will be doing research and development for the competition menus and monthly practice for the October 2016 Culinary Olympics.
Alexandra, who is a chef at the Racquet Club Ladue, is ready to provide all the support her husband needs, even if it means smuggling more meat into Germany. "We've been together for 11 years, and at the beginning, this was a goal of his," she says. "To see him accomplish this goal is an amazing thing. Few people understand what an amazing thing this is – as a [fellow] chef, I have a decent understanding of how hard it is."
Someday, Grupe plans on taking his sons to see the Olympics as a spectator instead of a competitor. He's looking forward to enjoying the food as a diner and seeing the changes in cooking and the Olympic program.
"I think it will be very relieving, in a certain aspect," Grupe says. "I would have the utmost respect for the individuals on the other side. Hell yeah, that'd be awesome. [By then] they'll be like… cooking on the moon."