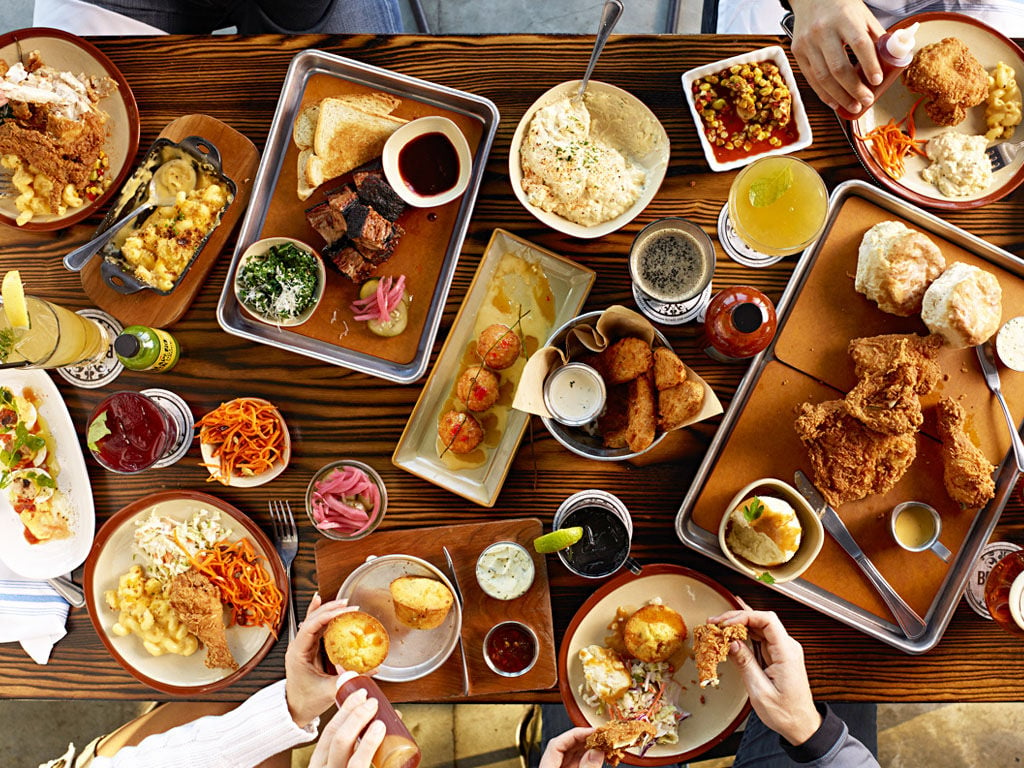 During Southern's first week in business this June, chef Rick Lewis ended up giving away a lot of free food. The new restaurant, which specializes in Nashville-style hot chicken, wasn't having any problems getting people in the door – the lines snaking outside mirrored those of the venerable Pappy's Smokehouse, Southern's sister restaurant, located just next door. Rather, chile-heads eager to test their taste buds were ordering pieces of Cluckin' Hot chicken – the very hottest of the hot chicken offered at Southern – only to surrender to its piquant heat.
"They'd be looking miserable, so you have to give them a few pieces that are a little more their speed," Lewis says. "Since day one it has totally been an education in food for people. People think they know spicy food, but they have no idea until they've eaten hot chicken."
Lewis, who opened Southern with Pappy's owners Mike Emerson and Skip Steele, spent months traveling across the South to research hot chicken. He made stops at Prince's, Hattie B's and Biscuit Love in Nashville, as well as several chicken and fish joints across Arkansas.
"It's not rocket science – it's just frying chicken – but these people have been doing it for a long time, and so I wanted to see what they do and how they run their restaurants," Lewis says. "I did learn some things, got some ideas, so that when I came back, I wanted to tweak a few things. The best way to learn is to immerse yourself in it and learn from the best."
Considered one of St. Louis' biggest restaurant openings of the year, Southern embodies one of the latest trends to make its way to the heartland. A quintessentially American food, fried chicken is hardly anything new – Kansas City institution Stroud's, which opened in 1933, is considered by some to be the oldest fried chicken joint in Missouri. But lately, restaurants dedicated to exploring the many different styles of fried chicken – and, more generally, Southern-inspired food – have taken the country by storm.
Before opening Juniper in the fall of 2013, chef-owner John Perkins was well known in St. Louis for his creative underground dinner series, Entre, his pop-up series and his fried chicken. At Juniper, Perkins puts creative spins on traditional Southern cocktails and food, drawing inspiration from regional specialties from South Carolina to the Appalachians to the Mississippi Delta, in dishes like an elevated version of the humble pork and beans with crispy Red Wattle pork belly, red peas drizzled in maple syrup, braised collards and a fried egg. Perkins' much-loved fried chicken is served two ways: classic, with mashed potatoes and gravy; and atop a waffle with fish sauce, caramel, peanut butter and pickles.
Fried chicken is also the anchor of Rye, the Leawood, Kansas, restaurant from James Beard Award-winning chef Colby Garrelts and his wife, Megan, a James Beard Award nominee.
As one of the first chef-driven fried chicken joints to open in the state, Rye's flaky-crusted fried chicken has garnered local and national attention – including a cover spot on Saveur's "Best Comfort Food" issue in 2013 – but the restaurant also shows off its Southern side in dishes like blue crab hush puppies, shrimp and grits and banana cream pie.
In 2014, St. Louis restaurateur Ben Poremba added to his fleet of restaurants with the opening of Old Standard Fried Chicken. Located in a former service station, the Southern-influenced eatery serves crispy fried chicken alongside pimento cheese, flaky biscuits and dressed eggs – plus a sizable whiskey selection. Byrd & Barrel, which took over a former Popeyes Louisiana Kitchen in St. Louis this past summer, offers its buttermilk-brined fried chicken by the bucket as well as in more inventive menu items – a fried chicken-liver banh mi or the Mother Clucker sandwich with fried chicken, caramelized onions, Provel cheese, hot-pepper jelly and Red Hot Riplets.
As popular as fried-chicken concepts have become in the past few years, Kansas City is still best-known for one of the South's other favorites: barbecue. But in a city boasting the highest concentration of barbecue joints in the U.S., it can be hard for a new restaurant to set itself apart – not to mention competing with some of the country's most storied barbecue spots. Enter Char Bar Smoked Meats & Amusements, which opened in the fall of 2014, bringing a hint of Southern flair to the city's flagship food.
"We love barbecue itself, and we thought we could do more than that," co-owner James Westphal says. "We've always been passionate about comfort foods, and Southern cuisine is comfort food. It was naturally easy for us to look at the connections between barbecue and Southern cuisine."
Executed under the eye of award-winning pitmaster Mitch Benjamin, Char Bar's barbecue is prepared Kansas City-style, featuring classics like burnt ends, pulled pork and Black Angus brisket. But unlike most barbecue joints, the restaurant caters to vegetarians, offering items like a grilled pimento cheese sandwich and smoked jackfruit. Char Bar's Southern side is also accented through dishes like a Kentucky Hot Brown sandwich, lobster deviled eggs, cheesy hush puppies with stone-ground grits and smoked duck gumbo with pickled okra.
Magnolia's, which chef Shanita McAfee-Bryant reopened in a larger space in Kansas City in November, offers a similar contemporary take on classic Southern cuisine. The restaurant serves tried-and-true classics such as buttermilk fried chicken, whipped sweet potatoes and gumbo, but also puts its own spin on traditional fare. One of Magnolia's most famous dishes, the red velvet waffle, was developed when McAfee-Bryant's oldest son threw cupcake batter onto the waffle iron. Shrimp and grits feature cheesy stone-ground grits and prawns doused in a white wine cream – a tribute to McAfee-Bryant's love for fettuccine alfredo.
"I think Southern is the most complex of regional American cuisine," McAfee-Bryant says. "You have this region of the country that is so rich and diverse – one state over can completely make a difference in how you eat. I think Southern cuisine has a lot to offer – it's Spanish; it's French. And you can't think of Southern food without thinking of Southern hospitality. A meal is such a part of that culture."
That's certainly something Bryan Maness knows to be true. The chef-owner of the Ozark Mountain Biscuit Co. food truck in Columbia, Missouri, spent most of his time growing up in the Ozarks of southern Missouri. When his family, who hail from northern Arkansas, all get together, it's usually around a dining room table filled with Southern comfort food – or a campfire with a bottle of bourbon. It was during one of these get-togethers, in fact, that Maness, his brother and his uncle conceptualized the idea for Ozark Mountain Biscuit Co., which serves about a dozen biscuit sandwiches as well as sides like fried pimento cheese, simmered greens and hush puppies.
The menu and recipes are based on the food Maness' grandmother Ramona Sue would serve when the family gathered for dinner – collard greens, fried green tomatoes, cornbread baked in an iron skillet and fried okra with pork and a few dashes of hot pepper vinegar. The recipe for the namesake biscuits, loaded with everything from crispy fried catfish, remoulade sauce, pickled red onions and kale slaw to buttermilk fried chicken, sawmill gravy (white gravy with sausage) and an over-easy egg, comes from his great-grandmother Jettie Louise.
"I wanted to stay true to my roots and offer food that I know," Maness says. "For me, that's Southern food. Consumers are seeking out establishments that feature local and seasonal ingredients, and traditional Southern food is based around these culinary principles. Real Southern food is fresh, seasonal and grown close to home."
Char Bar Smoked Meats & Amusements, 4050 Pennsylvania Ave., Westport, Kansas City, Missouri, 816.389.8600, charbarkc.com
Magnolia's, 9916 Holmes Road, Ste. A, Willow Creek, Kansas City, Missouri, 816.521.6803, magnoliaskc.com
Ozark Mountain Biscuit Co., ozarkmountainbiscuits.com
Southern, 3108 Olive St., Midtown, St. Louis, Missouri, 314.531.4668, stlsouthern.com