The slinger is the stuff of good times and bad decisions; a culinary car crash of a dish that is best when staggering sideways between gratuitous nightcap and required hangover remedy.
Although the slinger occupies prime real estate on breakfast menus across St. Louis, its creation story is largely lost to our collective history. Instead, the slinger – at its core an amalgamation of potato, chili, egg, cheese and protein – is something that just is; a beloved local monument and testament to what can literally be slung together on a plate and served unto the masses.
While the slinger as we know it today is undeniably a St. Louis original, its provenance can be traced back to the same gene pool that gave western New York the Garbage Plate, gave heaping mounds of Five-way Cincinnati Chili to the Buckeye State, gave spicy chilaquiles topped with cheese and shredded meat to Mexico, and to Canada, a mass of gravy-soaked potatoes and cheese curds affectionately known as poutine. Each is a member of the same family tree, and each highlights the inherent genius of a simple concept; namely, that the development of delicious delivery systems for copious quantities of filling carbohydrates is a most excellent thing.
With an appreciative nod to its pedigree, we also note with pride that the slinger is inextricably linked to The Gateway City. Much like St. Louis' relationship with Provel – the cheese that tops our namesake style of pizza – the slinger requires an immersion in our fair city to truly and honestly "get it." For some, acceptance takes the larger part of a lifetime; for others, it is seemingly instantaneous. For anyone who has called St. Louis home, the slinger is a rite of passage, a badge of honor customized a hundred different ways, each version as soul-satisfyingly tasty as the next.
To pay tribute to the slinger is to pay homage to one another: blissfully winding down a Friday night, laughing as friends barely hold onto worn diner counters, sunglassed and sipping on strong coffee the morning after, returning to St. Louis after time away, or as a last meal before passing the Arch and moving on to other places. The slinger is the humble, everyday story of us, adorned with an unapologetic smattering of yellow mustard and extra jalapeños, if you please.
Hungry for more? Grab a fork and join us as we dig into five of our favorite classic slingers as well as five modern takes of this St. Louis treasure. – Andrew Mark Veety
Eat-Rite Diner
The Powers family, owners of Eat-Rite Diner near Busch Stadium, claim slingers began in their diners. They're just not exactly sure when. "We started serving slingers around 1985," Tina Powers says. "Customers started ordering it – 'Hey, put a scoop of chili on that.'"
"It was at the Fenton store in the '70s," counters her brother, David Powers. "A truck driver from Texas came in and ordered chili on his eggs, and it evolved from there. Two waitresses started saying 'sling it' to the cooks instead of explaining that the whole order included chili, cheese and onions. Slingers started at Eat-Rite. O.T. Hodges tried to copy it, but they were second to Eat-Rite."
Eat-Rite is a fiercely loved family business: Tina and David work at their father's diner. Lewis Powers opened his first restaurant in St. Louis in 1957 on Manchester Road called Rock Hill Diner. There were once several Eat-Rite diners across the city and county. Now, the single Downtown location is the only sit-down restaurant open 24/7 in the neighborhood.
The diner serves the same slinger recipe it always has. "It's a breakfast," says patriarch Lewis Powers. "It's meat, eggs and potatoes covered with chili, American cheese and raw yellow onions. You can have hamburger, bacon, sausage or ham, but 99 percent are made with sausage. Most of the waitresses don't even ask customers what meat. They just ask 'em how they want their eggs.
"It's two patties of whole-hog sausage that we use. Most of the time, people order over-easy eggs. The potatoes are hash browns – we make our own. We boil potatoes, peel 'em, cool 'em off and then grate 'em. We do all that by hand."
"Old school," Tina adds. "A lady was asking me that yesterday. She said, 'I thought you got that out of a bag.' I said, 'No, this is the real thing.'"
The slinger "is our best seller," Lewis says, "especially at night. That's about the only breakfast we serve at night."
David adds, "Them slingers almost got a cult following. It's a tradition, a rite of passage. Every college kid has to come in and have a slinger the first time they go drinking." – Shannon Cothran
Eat-Rite Diner, 622 Chouteau Ave., LaSalle Park, 314.621.9621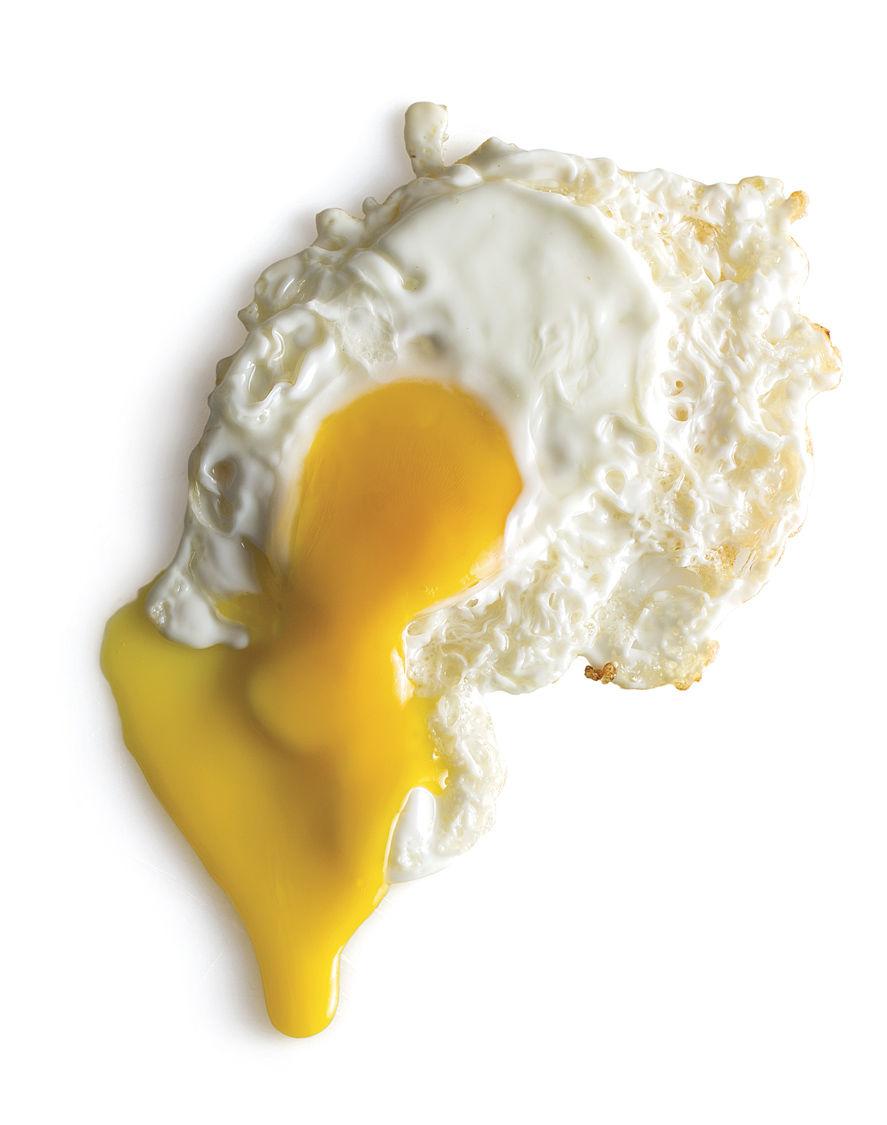 City Diner
In a town full of beloved greasy spoons and breakfast spots, there is really only one City Diner. The original location on South Grand is well-worn, yet somehow becomes cozier with each passing year and hits all the right notes that you'd expect from a classic American diner; kitsch and vintage Americana cover the walls and sleek Formica tabletops are adorned with playful mid-century boomerangs. Each weekend, from the early morning until midday, guests of the Tower Grove and Grand Center locations can be found hovering over plates of pancakes, spectacular corned beef hash and the diner's own take on the slinger.
The dish starts with City Diner's hash browns: a bed of grated potatoes that have been caramelized on a flattop griddle. The result is a hash brown with fluffy insides that stands in stark contrast to a delicious exterior that stays crisp from the first bite to the last – it is no small feat for the onslaught that resides above it. A potent combination of savory sausage patties and sunny-side-up eggs come next, sandwiched between potatoes and a generous ladleful of meat-and-bean chili that is more sweet than spicy, with a thin tomato sauce that oozes into each and every nook and cranny it can find as it settles over this mass of food. Copious amounts of sharp yellow Cheddar cheese top the dish, providing a formidable platform for layering on toppings – a healthy slug of hot sauce, a fist-full of raw white onion, slices of jalapeño peppers and the kicker: a meandering trail of yellow mustard over the whole package.
Judge if you must, but when we are digging into a slinger, pretty much anything and everything goes. Trust us: It's just that good. – A.M.V.
Courtesy Diner
Larry Rugg, owner of Courtesy Diner with three locations across the city and county, hasn't had a slinger in about six months. It's not that he doesn't enjoy slingers – they're delicious, he says – it's just that Rugg's stomach has gotten older since he bought Courtesy Diner in 1998. "The college kids burn stuff off so quickly that the bulk of a slinger doesn't bother them a bit," he says. "We get a lot of people in their 30s or 40s who order 'em too, but I'd say half of 'em go out to college kids.
"The Hampton location is right between Washington University and Saint Louis University, and we just sell a ton of 'em at night on third shift. Especially when the bars close, we get inundated. That usually starts around 2:30am and goes to about 4:30am, where they just come out of the woodwork."
Courtesy's slinger, Rugg explains, "is basically two eggs however you want 'em cooked, hash browns, hamburger patties and chili served with toast. They put it out served on a platter, so they put a bed of hash browns down, and the hamburger on top of that, and the two eggs on top of that, and then it's all covered with chili. And then most people get shredded cheese and onion on top."
Adventurous eaters can go one step further and try Courtesy's Super Slinger, the diner's slinger made with either a soft tamale or fried burrito under the chili. "Not too many people do that because the slinger itself is pretty filling, so you'd have to have a big appetite," Rugg says.
If even the regular slinger sounds like a bit too much, Courtesy offers the Devil's Delight, which is a slinger without the hamburger patties. "We sell quite a few of those, too, but the slinger outsells the Devil's Delight 5-to-1," Rugg says. – S.C.
Tiffany's Original Diner
Twenty years ago, Greg Winchell took over ownership and operations of Morgan's, a small greasy spoon on Manchester Avenue in Maplewood. The diner was named after the former owner's daughter, and after a few years, Winchell decided to rename it after his own daughter, Tiffany. A lot has changed at the diner in the past two decades – new menu items have been added, renovations have updated the 635-square-foot interior and, most recently, Winchell began serving beer, cocktails and boozy coffee drinks. On weekends, one or two musicians perform in the diner's small front window. But at least one thing has remained the same at Tiffany's: the St. Louis slinger.
"People come from other cities – even other countries – and stop at Tiffany's," says the diner's manager Dan Crowley. "It's bizarre, but it's cool. If they're coming through town, it's not surprising for someone to stop and order a slinger."
Sitting at one of the diner's 18 counter stools, guests have a front-row view of the open grill, where Crowley and crew methodically prepare its roster of breakfast and lunch items, though none is more popular – especially with late-night customers – than the slinger. At Tiffany's, they begin with hash browns ("They always take the longest to cook on the grill," Crowley says) followed by meat – your choice of bacon, sausage, hamburger or ham – then eggs, all covered in the diner's housemade chili, made fresh every day with beef, beans and chili sauce with toast on the side. "It's all timing, especially when you've got a full house," Crowley says. "If they want to add onions or American cheese or heated Cheddar, we do that. We make it to order the way they like it."
Although the St. Louis slinger is the most popular, Tiffany's has served two other variations of the slinger for the past 10 years: the Toby, which replaces chili with housemade white sausage gravy – the dish is named for a regular who requested the option – and the Yin-Yang, which plates the slinger with both gravy and chili, and was created by another Tiffany's manager, Tom Grey. "Gravy and chili, the light and the dark – it's not too philosophically deep, but that's why he named it Yin-Yang," Crowley says. "I would say the Yin-Yang would be the favorite of the in-house people because it's a little of both." - Liz Miller
Tiffany's Original Diner, 7402 Manchester Road, Maplewood 314.644.0929, tiffanysdiner.com
White Knight Diner
For more than 60 years, the small, castle-shaped White Knight Diner at the corner of Olive and North 18th streets has been serving Downtown St. Louis breakfast and lunch. Inside, the family-owned diner spans only a sparse 600 square feet, with six counter stools, a few diminutive booths and tables and chairs. But from the outside, the diner is hard to miss, not only because of its vaguely Medieval architecture, but also because of the large American flags (one painted on, the other hanging in) its windows. Around the side of the building, near its small parking lot, a painted sign promises, "One Taste and You're Hooked."
The White Knight keeps tidy hours – it's open Monday through Friday from 6am to 6pm and on Saturdays from 7am to 1:30pm – and only serves breakfast until 10:30am on weekdays (breakfast is served "all day" on Saturdays). Sectioned off on its breakfast menu, under the header "Customer Creations," is where you'll find the Super Slinger.
All of the signature slinger components are in play – a bed of shredded hash browns topped with a hamburger patty, two eggs cooked to order and two slices of American cheese all doused in chili and served with toast – but White Knight spices up its Super Slinger with the addition of button mushrooms, strips of red and green bell peppers and onion.
"The slinger appeals to two crowds: work-hard or play-hard," says Lee Hinds, business manager of White Knight. "The play-hards are our late-night crowd. The work-hards are our breakfast crowd, who don't usually get to take off for lunch. This is a mountain of a plate though, so it lasts them until dinner." - Bethany Christo and L.M.
Rooster
If one were to search the topography of slinger culture in St. Louis for an outlier, it would have to be the example served by David Bailey's hip breakfast restaurant, Rooster, with locations Downtown and slated to open this month on South Grand. Bailey's take on the St. Louis classic lurks (or bides its time, perhaps?) among a menu of savory crêpes and egg dishes, waiting to unleash a payload of hearty slices of toasted bread, crisp breakfast potatoes, spicy Andouille sausage, eggs and sausage gravy upon willing diners.
If the take on a beloved standard sounds a bit fancier than normal, that's because it is, unabashedly so, even. However, the key to the slinger at Rooster isn't so much in the perceived airs it puts on, as it is the attention that Bailey has paid to the details. Instead of flattening out and running for the edges of the plate like most slingers, this one stands proud, each element stacked atop the next, giving eaters an appreciative peek at what resides underneath each layer of this glorious mess.
Potatoes are sliced into substantial chunks and sport a crust that is golden brown and delicious. Slices of Andouille stand in for the more traditional hamburger patty and add a hit of garlic and smoke to the dish. (The addition is tasty, but one would be tempted to ponder for a moment what kind of voodoo would transpire if Bailey imported a few of his top-shelf patties from nearby burger joint Baileys' Range for this already hefty breakfast.) Finally, expertly fried eggs come standard, complete with bright yellow yolks that casually mingle and mix with the slingers' coating of creamy sausage gravy with each swipe of your fork, though that should be required of any St. Louis slinger – nay, breakfast. – A.M.V.
The Mud House
When the Mud House's chef Tara Lansangan starts talking about her menu, you can't help but get as excited as she is. The Mud House's slinger has been on its menu for about two years and is one of the café's top three sellers for a reason: Though this vegetarian version of the classic St. Louis slinger is rich and hearty as-is, customers can also order it with pork.
"The bottom layer is Yukon gold potatoes that are roasted with fresh thyme," Lansangan begins, stopping to accentuate the words "roasted" and "thyme" like a sensual food commercial voice-over. "Next, we put our vegetarian black bean chili on top. Then, white Cheddar, thinly sliced red onions, two sunny-side-up eggs and toast [on] the side. We sell so many, and when I actually sit down to eat one, I'm like, 'Wow, this is really good!'
"It's a good combination of flavors because you've got the crispy, herby, roasty potatoes. It's a medium chili with some good spice to it – cumin, red pepper – and then the white Cheddar gives it a tang. I really like the raw onions. They're a counterpart to the chili, a little bit of crunch. Then when you cut open the eggs, it makes a nice sauce. If you want to get fancy, I like to put a little bit of our Truffle Dip on the side."
And don't worry, meat eaters: You can get bacon or ham on it, too. "We have Geisert Farms pork. Our bacon is Wenneman's; it's thick-cut; it's really good," she continues. Everything served at The Mud House is made from scratch using quality ingredients that are locally sourced whenever possible. "I think it's the kind of slinger that you could start your day with instead of ending the day after drinking," Lansangan says. "It's not a greasy slinger; it's a good, hearty breakfast." – S.C.
The Mud House, 2101 Cherokee St., Cherokee Business District, 314.776.6599, themudhousestl.com
Dressel's Public House
Yes, Derek Roe, executive chef of Dressel's Public House in the Central West End, uses Yukon Gold potatoes for the fried potatoes in his slinger. Yes, he tops each one with hand-formed sausage patties made with pork from picturesque Reckamp Farm in Wright City, Missouri. And, of course, the slinger is topped with local, farm-fresh eggs and sour cream. It's even covered with a custom three-cheese blend of Swiss, Provel and aged white Cheddar and finished with pickled peppers from Such and Such Farm in Desoto.
But Roe's slingers are special because of one not-so-secret weapon: his chili.
"As per the usual with the slinger, we're gonna drench that in chili," Roe says. But not just any chili – homemade chili from scratch that changes depending on Roe's mood. "We use Ridgley [Farms] beef in our chili. Our cows are lean so the meat has a steak-y flavor. I usually do more than one bean in it; right now it's a black bean and kidney bean chili. I like the texture of more than one bean. It's spiced with cumin; I throw some coriander in there. We'll use fresh poblanos and a purée I make out of dried anchos for that chocolaty flavor. I like to use as many as I can without making it god-awful hot. I like the range of heats and how they attack your tongue. I cook it all day long. I think that's really important to get a deep flavor. We'll cook it probably eight hours."
Roe attempts to present as many different flavor profiles as he can in each dish he serves, "without it being over the top or muddled or confusing." With the slinger, he's been able to reach this goal. "In this dish," he says, "you have the fried potatoes that are the foil, the foundation, earthy. The sausage is slightly sweet from local sorghum. The chili gives you a zip from the heat. The farm egg is gonna crack open and give you a sauce. And the pickled peppers punch through to give you some relief from all that, and then the cooling effect of the sour cream – there's a lot going on." – S.C.
Southwest Diner
There is only one place in St. Louis where you can order a slinger "Christmas style," and that is at Southwest Diner in Maplewood. "That's a northern New Mexico term," says co-owner Jonathan Jones. "There, everybody knows what you're talking about. It's very hyper-regional." Jones and co-owner Anna Sidel melded that hyper-regional Southwestern cuisine with a St. Louis tradition when they concocted their slinger before opening the diner in 2012.
"We start with our home fries, which are red potatoes that we boil, chop and deep fry," Jones says. "Those are topped with shredded Longhorn cheese, a colby cheese. That's melted in a cheese melter. We take two quarter-pound burgers, which we do diner-style – we smash them on the flattop. On top of the burgers, we go with our chile sauce, which is a New Mexican chile pepper sauce. After the sauces, we add two eggs cooked any style."
Diners can choose from the red or green sauces; the red is made with sun-dried chile pods, and the green is made with the same chiles, but fresh ones. "They're not allowed to over-ripen," Jones explains. "At our establishment, the red is spicier because that's what we can get in St. Louis. In New Mexico, the green is usually spicier, but they're both pretty spicy."
Diners can also order Christmas, which plates both red and green sauces. In place of the sauces, Southwest offers its slingers with housemade sausage gravy. "It's really rich and delicious with lots of fresh herbs and spices," Jones says.
"St. Louis diners are expected to do a slinger," he continues. "It's one of those quirky sorts of St. Louis things, so we knew we had to do one. Most slingers would have Texas chili or chili with beans. We took that idea and use our chile sauces so it's a New Mexican twist on it. It tastes like if you took a spicy burger-and-fries plate and deconstructed it and put it on a platter. It all ties together." – S.C.
Benton Park Café
When Jessica Lenzen was a kid, her father would bake homemade biscuits using a simple and standard biscuit recipe, save one ingredient: Instead of milk, Lenzen's father poured Budweiser beer into the batter. Six years ago, when Lenzen opened Benton Park Café, she made sure her father's beer biscuits were prominently featured in several breakfast dishes, including the BP Slinger. The kitchen bakes its beer biscuits fresh every day, which serve as the foundation for Benton Park's slinger, according to the café's general manager Nicole Costello.
"We break one biscuit in half on the plate, add two pieces of American cheese, two over-easy eggs, sausage gravy and top it off with a couple of slices of bacon," Costello says. "We make the gravy a little spicier; it's a traditional white gravy base, and we add spices to give it a little kick."
The restaurant offers turkey bacon as an option to substitute for pork, though Costello is quick to note that it's not intended as a healthier option when ordered with the slinger. "It a good option if you want to mix and match flavors," she says. "But no matter what you do, that slinger is not going to be healthy. If you're coming in to eat healthy, you're probably not going to go for the slinger."
When the BP slinger arrives at your table, it's plated sort of like eggs Benedict – sturdy biscuits rest on bottom, with cheese, eggs and bacon stacked in a neat tower that's drenched in gravy – but tastes like something closer to biscuits and gravy. "If you want the comfort of biscuits and gravy but still want the runny eggs on Saturday or Sunday morning, it's a good option," Costello says.
Despite the restaurant's lengthy and diverse breakfast and lunch options, Costello singles out the slinger as one of the café's long-standing best-selling items, especially on Fridays and Saturdays, when the restaurant is open 24 hours. "We have regulars that come in for the slinger all the time," Costello says. "It's definitely one of our most popular items. The slinger is so heavy and the beer biscuits are so dense, and you kind of get a little bit of everything." - L.M.