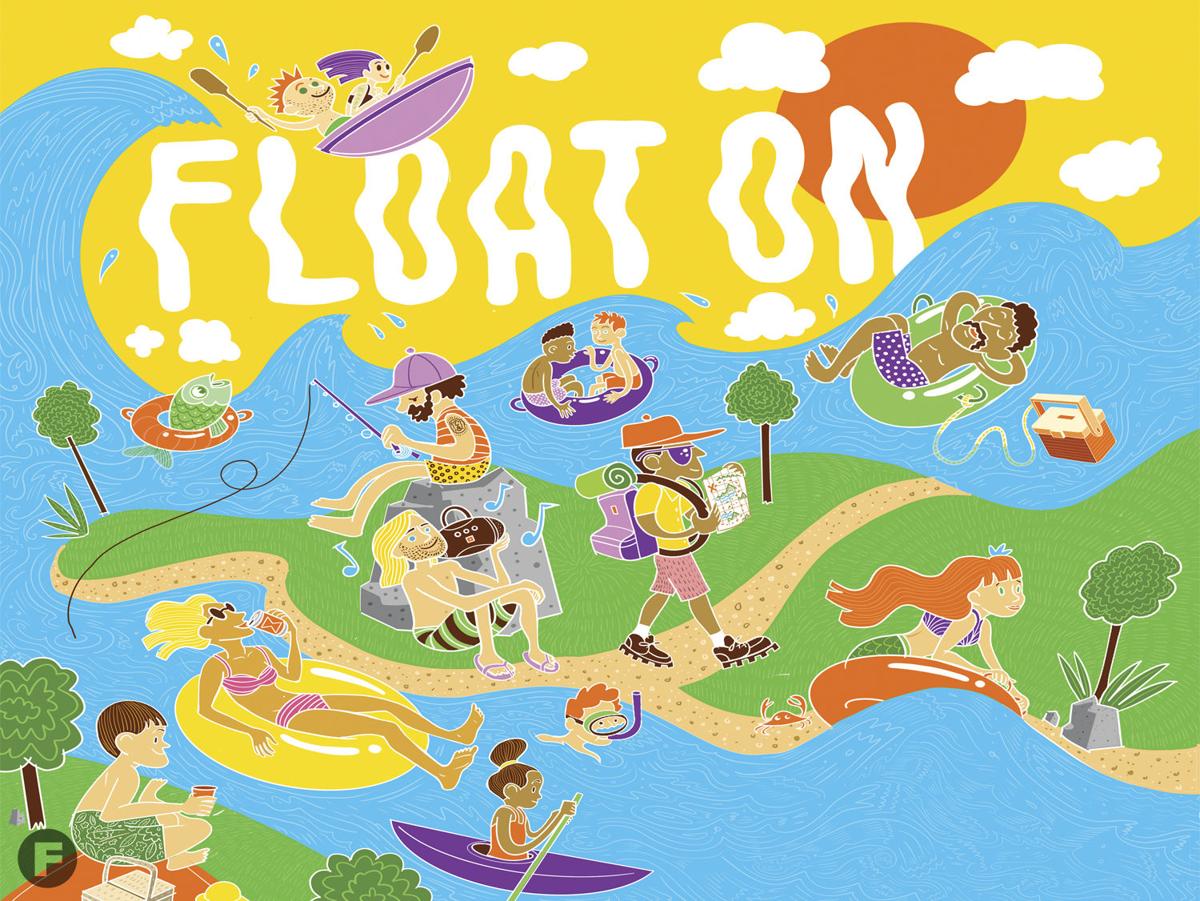 Hear us out: When it comes to the best float trips in the U.S., Missourians really have it made. While you can float on a river anywhere, it usually requires a long drive, making it far less a part of most states' culture. Yet in Missouri, with more than 30 rivers ideal for canoeing, tubing or rafting, you're never too far from a day on the river. Spending a weekend float-tripping with a bedroll and tent in tow has its perks, but a day trip delivers the same joy with the added benefit of sleeping in your own bed. Choose an eight- or 10-mile stretch, which should be fairly easy to knock out in four or five hours, and take advantage of what the state has to offer. Here, we've created a guide to the best food and drinks to pack and where to stop for sights and sustenance along seven of Missouri's most popular rivers for float trips.
1. Niangua River
According to the Missouri Department of Conservation, the Niangua River ranks as one of the best fishing streams in Missouri. However, those who prefer floating to fishing typically traverse the river's upper sections. This river gets pretty crowded on hot summer days, so if you get the chance to go on a weekday, seize the opportunity. Most of the river below Highway 32 is generally pretty floatable, except during times of high water.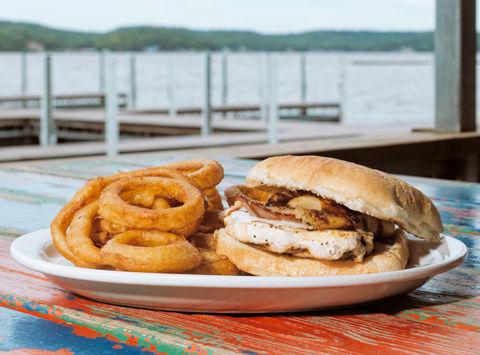 Activities: Fishing, canoeing, rafting, kayaking or tubing
Region: Central Missouri
Pit Stops:
1. Take in a morning hike before an afternoon on the Niangua River at Ha Ha Tonka State Park in Camdenton, Missouri. Picnic near the 20th-century castle ruins overlooking the rolling Ozark Mountains.
2. Swiss Inn Drive In has been a longstanding institution in Lebanon, Missouri. Since 1967, the restaurant has been dishing out malts, shakes, banana splits, fish sandwiches, corned beef, burgers and curly fries.
3. Near Camdenton, Missouri, you'll find Larry's on the Lake. From the water, you'll spot this floating bar and grill from a mile away, thanks to its kitschy Larrywood sign in the hills. This joint serves unexpected appetizers like green beans with ranch dip and entrées like the Larry Hawaiian sandwich, which features grilled chicken breast, Provolone cheese, Canadian bacon and grilled pineapple on a Kaiser roll.
2. Big Piney River
The Big Piney River is the largest tributary of the Gasconade River. Don't forget to pack your angling gear – this is a perfect fishing stream, especially in its upper and middle sections. Along the route, you'll pass scenic limestone bluffs dense with pines, and you just might spot a turkey and other wildlife.
Activities: Fishing, canoeing, tubing, rafting and kayaking
Region: South Central Missouri
Pit Stops:
1. Stop by Piney River Brewing Co.'s taproom in Bucyrus, Missouri, where you can sample the house craft beers. And if you visit over the weekend, you're in luck: The brewery serves pizza to hungry crowds on Friday, Saturday and Sunday.
2. For Dunky's Ice Cream and Diner owner Gary Duncan, making ice cream started out as a way to pass the time during retirement. In 2017, he and his wife, Jackie, opened their ice-cream parlor in Licking, Missouri, and they've gone from selling just desserts to a full-scale diner with hearty fried catfish fillets, pork chops and more.
3. If you're traveling from the north, a stop in St. Roberts, Missouri, for grub is your best bet. Before swinging by Route 66 Canoe Rental, fill up at Sweetwater Bar-B-Que for its famous pulled pork, brisket, chicken, spicy sausage and ribs.
This easy-to-assemble pasta salad will keep for a few hours.
3. Current River
Spanning 184 miles, the Current River has two ideal drop-off points with solid food options: Van Buren and Eminence, Missouri. The river runs deep throughout, so you can confidently load a heavy cooler in your float or raft along with a friend without having to worry about scraping the river's bottom. Steer clear from floating on sections below Big Spring due to motorboats.
Activities: Floating, rafting or canoeing
Region: Southern Missouri
Pit Stops:
1. As its name implies, Jolly Cone in Van Buren, Missouri, offers ice-cream classics like sundaes, dipped cones and soft serve in waffle cones. The shop doesn't disappoint on savory fare either: Choose from diner classics like fried chicken sandwiches or chili dogs and fried pickle spears, or chow down on the best-selling original Jolly Burger, an old-fashioned sloppy Joe.
2. A day on the river and freshwater fish go hand-in-hand. The Blue Heron in Van Buren, Missouri, serves just that, including favorites like fried or grilled catfish, as well as fruits of the sea like salmon and shrimp.
3. If you're craving a sit-down meal after a relaxing day on the river, Creekside Grill in Echo Bluff State Park is a good bet. Here, candied Missouri walnuts and blackberry vinaigrette adorn salads, and local mushrooms from Timber Farms appear in dishes like the boneless chuck pot roast and mushroom strudel.
4. Jacks Fork River
The Jacks Fork River is diverse: One moment you could be gliding through deep waters, and the next your canoe can get a little too close to the bottom, which is quite shallow in some stretches. For this reason, it's important to check water levels through an app like RiverApp before heading out for the day. Avoid traveling in a heavy canoe above Alley Spring, unless there's recently been substantial rainfall.
Activities: Canoeing, kayaking, rafting or tubing
Region: Southeast Missouri
Pit Stops:
1. The Alley Spring Mill in Eminence, Missouri, is an iconic red structure that dates back to 1894. Learn more about the mill's history by taking a free tour, which is available by request.
2. A visit to Ice Ice Macie's in Eminence is the quickest way to curb a shaved ice craving after floating on the Jacks Fork River. The beloved shaved ice stand is only open during summer months, offering sweets like strawberry shaved ice with Nerds.
3. The Dairy Shack in Eminence offers just what the name promises – floats, shakes and sundaes galore. If you need something to pad your inevitable sugar crash, order a specialty sandwich, like the Root Wad, a saucy pulled pork sandwich topped with housemade coleslaw.
Take the classic picnic sandwich to the next level with sugary candied bacon and creamy pimento cheese.
5. Gasconade River
Thanks to its crooked path, protruding boulders and occasional rapids, the Gasconade River is ideal for adventurers craving a small yet safe challenge. The Gasconade has less gradient than some Ozark rivers, but beware of fast sections near the lower end. It's also rumored to be less crowded than other rivers, and many people you'll see floating or fishing will probably be locals.
Activities: Fishing, canoeing, rafting, kayaking or tubing
Region: South Central Missouri
Pit Stops:
1. The Burger Stand in Richland, Missouri, has been dishing out freshly ground beef burgers and shakes for more than 50 years. This stand provides quick yet filling meals like country fried steak. Don't leave without grabbing a classic dipped cone to-go.
2. For a relaxed atmosphere with the best summer comfort foods, look no further than Daugherty's Pub & Grub in Richland. Order some mozzarella sticks or deep fried green beans to curb your hunger until the kitchen finishes up your patty melt.
3. End your day and kick off a never-ending summer night by sipping wine at Cellar 66 in Waynesville, Missouri. The menu boasts appetizers like vegetarian Asian dumplings with sesame seed dressing as well as classic sandwiches like a tuna wrap or a pesto panini.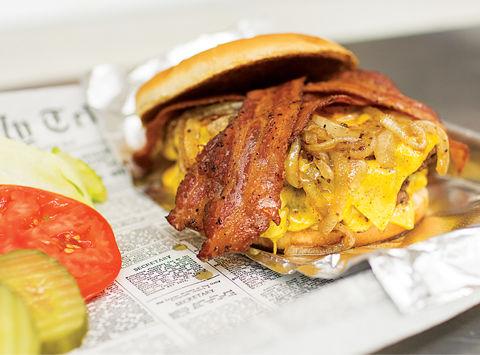 6. Huzzah Creek
With 12 scenic routes to choose from, the Huzzah Creek certainly lives up to its exclamatory name. Pronounced hoo-zah, the creek has a few more twists and turns than most in the state, making it an exciting challenge. Before attempting to float from upstream near Highway 8 close to Steelville, be sure to check water levels for safety. During wetter seasons, the current can run rapidly.
Activities: Fishing, canoeing, kayaking, rafting or tubing
Region: Eastern Missouri
Pit Stops:
1. Bite into a juicy burger at Rich's Famous Burgers in Steelville, Missouri. The joint is known for its made-from-scratch burgers, but they've also added new favorites to the menu, like white Cheddar cheese curds.
2, After an afternoon exploring Onondaga Cave near the confluence of Huzzah Creek and the Meramec River, grab dinner at Missouri Hick Bar-B-Que in Cuba, Missouri. The joint rubs all its meat with a top-secret signature rub and smokes it for a full 12 hours.
3. Fill up on classic summer food like hot dogs and kettle chips at Dairy Isle & Grill in Steelville. However, it's Dairy Isle's sundaes, concretes, malts and shakes that make this destination a sure bet.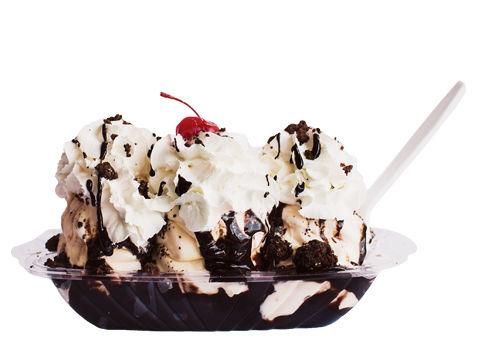 7. Black River
Thanks to its low level of difficulty, floating the Black River makes for a relaxing lazy Saturday. The river's upper section, starting near Lesterville, is exceptionally clear and offers plenty of feeder springs, meaning you're almost guaranteed to catch a few smallmouth bass. Below Clearwater Lake, the river slows, so account for extra time to finish your trip.
Activities: Fishing, canoeing, kayaking, rafting or tubing
Region: Southeast Missouri
Pit Stops:
1. A trip to Black River Ice Cream Parlor in Lesterville, Missouri, has been a float-trip tradition for generations. The shop's season mirrors prime float-tripping months, as it's only open April through September. Black River Ice Cream Parlor dishes up soft serve and more than 20 flavors of shaved ice.
2. Load up on enough carbs and calories to keep you full on the river at RioRata in Lesterville. Think quesadillas stuffed with cheese and shrimp, or healthier yet equally filling alternatives like a grilled chicken salad with avocado and chipotle ranch.
3. End your day at Lenny's in Lesterville: The restaurant serves specialty pizzas like chicken fajita with ranch dressing and hearty hot sandwiches, including a Philly cheesesteak or grilled three-cheese with bacon.