The crisp, earthy scent of oak and dry grass hangs in the air, but it doesn't smell bad.
That's one of the first things visitors notice when they arrive at Circle B Ranch, located on top of a hill 30 miles from Springfield, Missouri, in Seymour. Hogs in long, airy pens line its winding driveway. Soft, rowdy oinks ring out from the 90-acre hog farm, and black and red Berkshires and Red Wattle hogs, plus mixes of the two, trot along slowly, munching on green grass and grazing on foliage.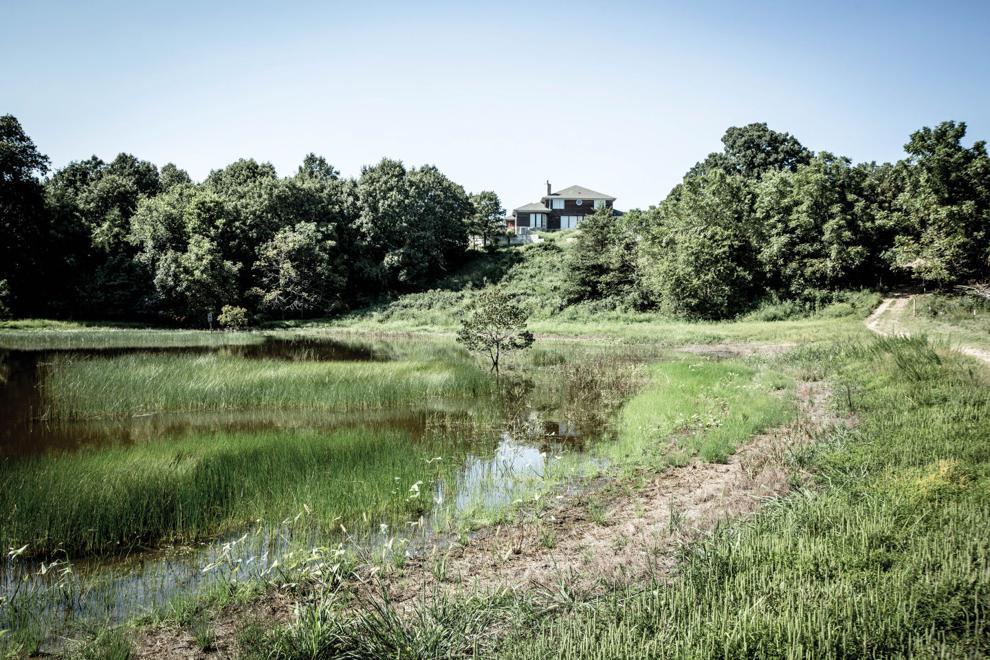 It's almost idyllic. Chickens and turkeys pluck on patches of greenery surrounding co-owners Marina and John Backes' dream farmhouse. Two friendly Airedale terriers, Brixton and Roxie, and a little Welsh terrier named Zeke, patrol the grounds and keep an eye on Circle B's smiling farmhands. Piglets climb on top of one another to form so-called piggy piles, lounging in mud under a cedar tree. It's a peaceful, picturesque pork paradise.
"We started with nine sows and a boar in November 2009," Marina says.
"Now we have more than 300 hogs, and we just bought 100 more acres to expand," John says, finishing Marina's thought. "We're growing. I'm passionate about natural farming because I care about the animals, but also, happy hogs taste better on the plate – every time."
From Jersey to the Ozarks
Marina and John met on a blind date almost 40 years ago in New York City. She lived in Staten Island, and he had lived his whole life in New Jersey, where he developed a love for the outdoors. The two fell in love, married and soon after, each began pursuing their own passions: his, industrial construction, hers, food – although John had been interested in the slow-food movement since high school.
"I married into a food culture," John says. "They weren't always as conscious about the quality of the animal they ate, but they were conscious of the food they ate. Marina's family understood that a quality product made for a good finished meal."
Marina grew up spending Sundays in the kitchen, cooking alongside her grandmother for her large Italian family. She fell in love with experimenting with flavors and mastering her sauce recipe. And for 11 years, she pursued her passion as co-owner of a high-end catering business in Somerville, New Jersey.
"We started out in my home kitchen, and then we went into my basement because it was the perfect size for a catering company before moving into a regular storefront," Marina says. "We specialized in high-end events. We were really well-known for having fabulous, intimate dinner parties. I had really great chefs and really great pastry chefs, and I learned about food from that."
At the same time she was managing her catering business, Marina was helping to grow John's industrial construction business on the Eastern shore of New Jersey. She would work with chefs; he would work at the job site. But after work, John would find himself outside working on his hobby farm in west New Jersey.
"We had 6 acres," he says. "Whether it was raising dogs or kids or chickens and ducks, we always had something going. After 20-some years of that, you learn the principles of animal husbandry and what it takes to keep an animal happy."
They raised their two children, Erin and Kurt, on their hobby farm. In 2002, Kurt enrolled in Iowa State University to wrestle for the college. Marina and John grew to love the Midwest as they traveled around to watch their son compete, and along the way, they came up with the idea to move west and buy some land.
After an extensive search for land in Missouri, the Backes found 90 acres close enough to a city for Marina that would also work well as a ranch for John. They purchased the property and put their New Jersey home on the market in the summer of 2009 – and, unexpectedly, it sold in three months.
"We bought the property not with a specific intention in mind, and then I started researching cattle, talking to people, [going] to barns around here, seeing what the animals were going for, and we discovered that hogs were the fastest return," John says. "It's three months, three weeks, three days for hogs to reproduce. This property wasn't just a project; it was an investment for us. Hogs made the most sense."
Marina nods now, but she wasn't on board at first.
"This was our retirement property; you've got to understand that," she says. "And then he started looking at different hog farms, and I thought 'Oh, my god, we're going to raise hogs; that's disgusting.' But we saw a couple of farms and what they did, how they focused on animal welfare and humane standards. They loved the animals – that we could do."
Hog Wild
John and Marina's first litter of black piglets was born in the winter of 2010. Since then, the drove has grown to more than 300 red, black and crossover heritage hogs.
Hog breeds are broken into two categories: heritage and non-heritage. Heritage hogs have been historically raised with exposure to the elements, providing pasture-raised pork to farmers. Heritage breeds look and act very much like their ancestral hogs appeared hundreds of years ago. Non-heritage hog breeds, often called commodity or commercial hogs, are bred to be raised in confinement.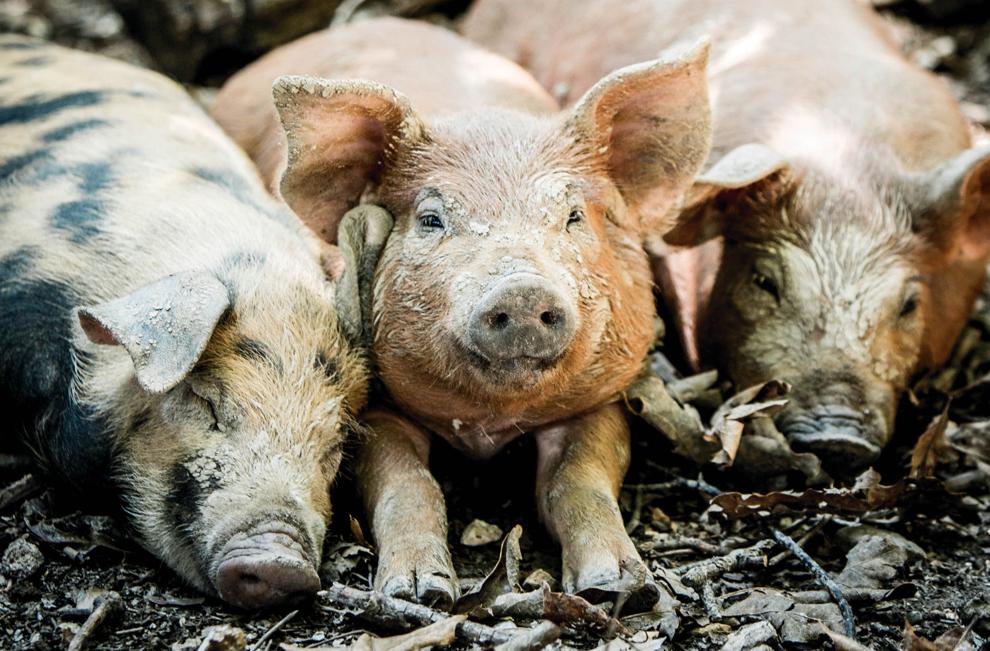 John's herd features calm Berkshires and hearty Red Wattle sows.
"Berkshires are probably your most popular heritage breed, then Red Wattle, Large Black, Gloucestershire Old Spot… they're all slow-growth breeds," he says. "Your commodity hogs will be raised in six months; these will take about eight."
During those eight months, piglets turned sows (females) or barrows (males) live outside in the elements. Hogs have free reign in their pens over green pastures and wooded areas, eating acorns, nuts and underbrush as they trot along. John says that their varied diet gives Circle B's pork a sweeter and dark, more complex flavor.
Pigs oink collectively when humans approach. They recognize the roar of the feed cart's engine, gathering near the gate during hand feedings. They know the sound of John's bellowing voice. They sniff the ground and wallow together, interacting socially in small teams. They're fully active, engaged creatures, living in pens that feature oak trees and fresh water streams.
John looks at a pile of piglets and smiles with pride as he talks about how his pigs use all their instincts at his ranch, which is both certified humanely raised and handled through Humane Farm Animal Care and Animal Welfare Approved, two programs that audit and accredit organic farms.
"I chose to do natural farming because I've been a part of the slow-food movement since the 1970s; it's what I'm passionate about," he says. "All the work we put in affects the taste, the appearance. They're allowed to exercise all their instincts. They're exposed to the environment that is suitable for them. This is what they need to thrive. All that adds up to a healthier animal, which adds up to a better-tasting animal."
Passion for Pork
Commodity hogs are often raised in strict and controlled environments to increase their size and speed up the maturation process. Vaccinations, hormones and antibiotics are common at industrial hog farms, according to the Department of Agriculture, and during processing, water is often used to increase the size of pork cutlets, chops and more.
Marina sighs when she talks about the pork she usually finds at grocery stores.
"Commodity pork doesn't have all the enzymes we have; it's pumped up with water," she says. "Our pork, it's a natural product. It's healthy. There are no antibiotics or hormones in our products because it's just not necessary. And it tastes better, quite frankly."
Marina's customers agree. Circle B's popular pork loin chops are a decadent meat, cut thick. They're rich, succulent and feature a complex series of subtle, earthy flavors. And due to demand, they're always fresh.
The pork belly is another favorite with chefs. The rich, savory belly is featured at some of the most noteworthy restaurants in Springfield, including Metropolitan Farmer, Farmers Gastropub and The Order at Hotel Vandivort. Zach White, executive chef of The Order, built his favorite entrée at the restaurant around the ranch's pork belly: Braised pork belly with apple mashed potatoes, tricolor carrots and local fruit jam.
"I went to the farm, met the Backes and fell in love with what they're doing there," White says. "They produce the best pork belly I've ever had. All of their pork products are just phenomenal."
Circle B Ranch's hearty pork products are also served at Big Cedar Lodge near Branson, Missouri, and high-end restaurants at Branson's Top of the Rock. Direct orders from restaurants across Missouri make up 75 percent of Circle B's business, but the ranch's value-added products, such as Marina's hearty meatballs, sausage and bacon, are popular at farmers' markets and grocery stores in Springfield, Columbia, Kansas City and St. Louis.
"We think our product is accessible to working families," John says. "We kind of market [our meatballs] as healthy fast food because if you see the food content and the nutrients, it's a good food. I think it's a high-quality product but not necessarily a high-end price – and we've got a hot dog that'll knock your socks off."
Hog Heaven
At the ranch, John walks along a pig pen, checking his watch for the time of the hogs' afternoon feeding. They oink in recognition and scamper to him as he approaches, eager for their corn and soybean meal, eyes fixated on him. The farm will soon be expanding to make use of its new 100 acres for pasture rotation – something that will further improve the comfort and quality of life for the hogs at Circle B Ranch.
"I had a guy out here from Animal Welfare [Approved] who was auditing our farm, and he said, 'If I were going to die and come back as a hog, this is where I'd want to be,'" John says.
He pauses for a moment as he looks out at a horde of happy, oinking hogs.
"This is hog heaven, I guess."
Circle B Ranch, RR2 Box 2824, Seymour, Missouri, 417.683.0271, circlebranchpork.com
Circle B Ranch Near You
Circle B Ranch pork products can be found in southwest Missouri at MaMa Jean's Natural Market, Harter House, Homegrown Food and the Hy-Vee location in Springfield, Missouri. In Kansas City, you can find Circle B pork at most Hy-Vee stores as well as at Whole Foods Market locations, in addition to Cosentino's Food Stores and Price Chopper. St. Louis pork patrons can find Circle B at Straub's, Whole Foods, Lucky's Market and Bolyard's Meat & Provisions. In Columbia, Missouri, score Circle B products at Hy-Vee, Lucky's Market and Clover's Natural Market. Pork products can be ordered and shipped to you by visiting circlebranchpork.com, as well.
Signature Sauces
In addition to pork products, Marina and John Backes have signature sauces sold through Circle B. Marina's from-scratch sauces include a popular semisweet cranberry chutney, smooth and comforting Italian-style tomato sauce and a tangy ketchup. Big John's homemade pork and steak sauce complements Circle B's pork chops, and the barbecue sauce is delectable over pulled pork.
Visit Circle B Ranch
John, Marina and their three dogs always welcome visitors to the ranch to get a brief tour of the facilities and to see the hogs in person. To schedule a time to stop by, call Circle B Ranch at 417.683.0271.