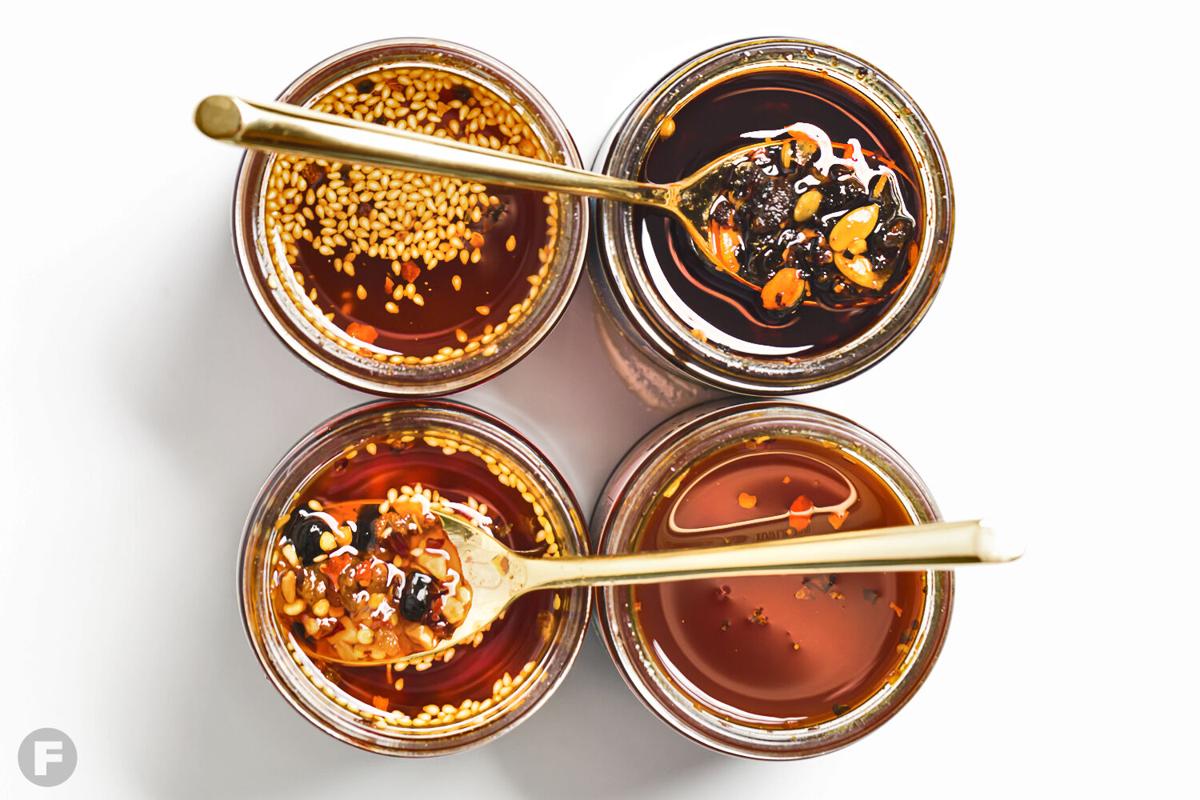 If you've ever tasted a dish and said, "Something's missing," that something might be chile crisp. The traditional Chinese condiment features chile oil infused with myriad flavors and textures, including but not limited to garlic, sesame, dried peppers, fermented beans, mushroom powder and Sichuan peppercorns. The result is striking, and it's a natural fit for stir-fries, noodles, fried rice, dumplings and congee.
The fragrant, nutty and spicy condiment can also multitask, adding complexity, crunch and a heavy helping of umami to nachos, scrambled eggs and even ice cream sundaes. It's easy to see why chile crisp has taken hold of the U.S. – some have gone as far as to call it the "it" condiment of the pandemic. Many varieties, such as these made locally, are also vegan and gluten-free.
J.Chang Kitchen
In order to get your hands on the limited batches of James Chang's chile oil, you have to be quick – but that's half the fun. Releases of the chile oil, which is handmade and bottled in Kansas City, periodically drop on Instagram, and Chang finishes each batch a little differently, so one might feature peanuts, while another might be more shallot-forward. Chang keeps the base the same, however, cooking the oil low and slow with aromatics to maximize the flavor potential. And he always uses Sichuan peppercorns along with his preferred chile pepper, Chao Tian Jiao, which is also from the Sichuan province. His recommendation? Use chile oil on anything that's creamy and slightly rich. "It will elevate everything from pasta to chicken or tuna salad," he says.
J.Chang Kitchen, facebook.com/Jchang.Kitchen
oo'mämE
St. Louis-based oo'mämē expands the scope of chile crisp further still with its global collection, including Chinese, Mexican, Indian and Moroccan chile crisps. Each product is made with ingredients and spices specific to the region that it represents. The Mexican chile crisp, for example, features smoky chipotles, coriander, cumin and orange peel, plus sweet and chewy mango and snappy pepitas, to celebrate the aromas and flavors of Oaxaca. The Indian chile crisp reflects "the land of spices" in Kerala with golden turmeric, zesty chiles, sweet papaya, toasted coconut and roasted peanuts, while the Moroccan chile crisp takes you on a journey to Fez with warm spices, piquant peppers, jammy figs and crunchy almonds. "We want to celebrate these flavors and cultures," founder Mark Engel says. He believes the condiment can transform any dish whether you're a novice or a veteran in the kitchen.
oo'mämE, oomame.net
Passenger Foods
During the pandemic, Phil Wymore, founder of Passenger Foods in St. Louis, started experimenting with chile crisp. Today, he offers three varieties: mild, hot and very hot, which get their heat from mild Hatch chiles, chipotle chiles and a combination of habanero and scotch bonnet chiles, respectively. Wymore, who St. Louisans might recognize as the co-owner of Perennial Artisan Ales, decided to vary the spiciness of his chile crisps to give people with different heat tolerances access to the prized condiment, which easily boosts the flavor and texture of tired home-cooked meals. "[Chile crisp] adds a lot of different dimensions to desserts, dips, noodles, pizza and more," Wymore says. "There's a long flavor ride from the umami, and there's crunch to it. It's very versatile."