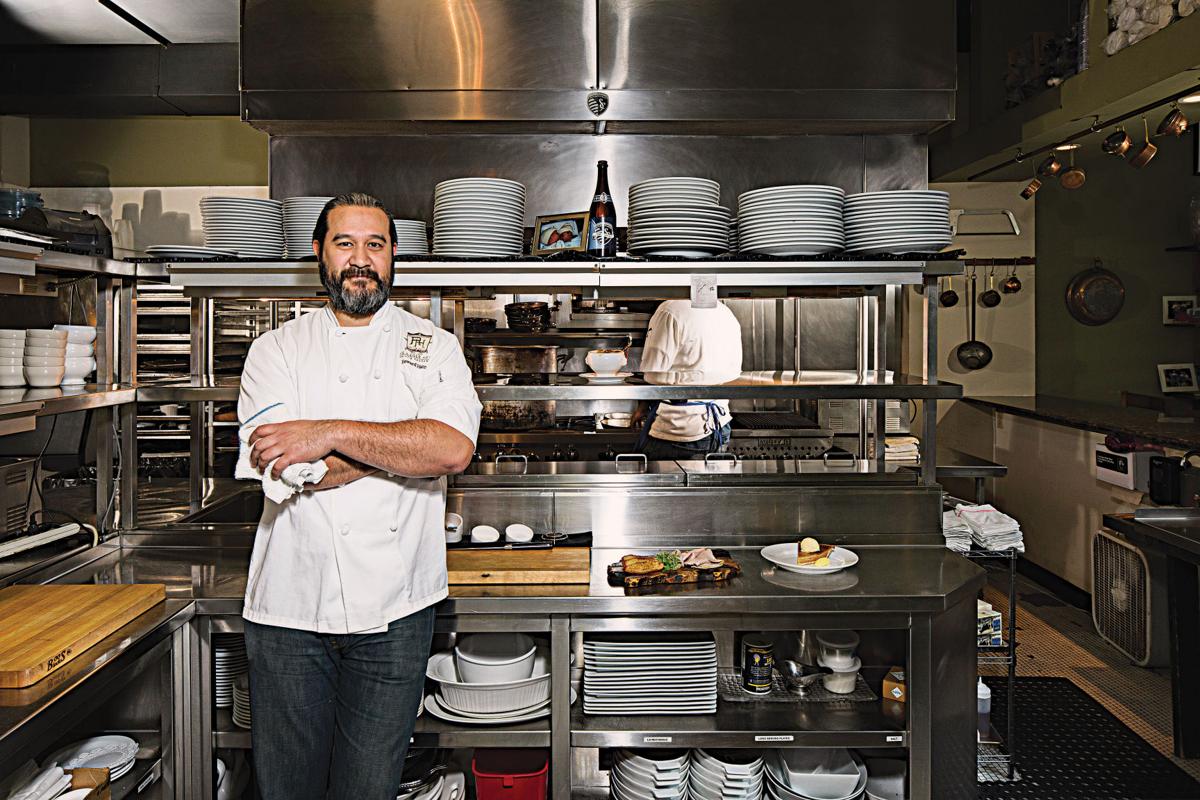 Chef-partner Howard Hanna opened The Rieger Hotel Grill & Exchange in December 2010 and sparkling wine bar Ça Va in February 2014. The Rieger takes its name from the building's original owner, Alexander Rieger, the son of Jacob Rieger, who founded J. Rieger & Co. whiskey company in 1887. At the restaurant, Hanna's cuisine draws from the seasons, sourcing ingredients from local farmers and butchers. In February, the James Beard Foundation nominated Hanna as a semifinalist for Best Chef: Midwest in the 2015 James Beard Awards.
How has the cuisine at The Rieger evolved since the restaurant opened? People assume a chef has a dream restaurant in mind before opening a place. A restaurant is a living thing. I couldn't write a menu until I had the place. It depends on the block, the neighborhood, the staff and who shows up to eat. It's all for them. I could "church up" food or go with more rustic, bold flavor, but it's food I like and believe in. On the opening menu, some dishes were too fancy. It took a year for our groove to go up and down, then we settled in to say, "This is Rieger food."
How does technique tie into menu development and dish preparation? We're well-groomed in classic techniques. Technology doesn't matter. It's about ingredients and flavor. In [the] fall, I braise, stew and fricassée, but keep it lighter. Winter is full bore to get deep, rich, hearty flavor. Even in the summer, there's demand for braised foods like our Rieger pork soup. If it sells, I keep it on the menu. We change the menu four times a year, and it's a small menu. We have lots of regulars, so I want to offer an interesting range of technique, color, flavor and texture.
As chef-partner, what else does your job entail outside of the kitchen? It makes me happy to touch, eat and create food, but it's not the only thing. I want to be more holistic. The menu should make sense with the wine list, the music, what servers wear and the smell of food off the grill. We're not there yet, but we're good. The focus here is to make people feel good.
If an out-of-town guest comes to The Rieger, what do you want them to experience? I tell my cooks to think about what it means for someone to make a reservation three weeks in advance. That's a huge amount of trust for someone to plan [his or her] travel, birthday or anniversary around that reservation. When people are down, I want us to bring them up. When people are up, I want them to celebrate with us.
March is sort of the edge of winter and spring; how does the menu at The Rieger bridge the seasons this time of year? For a restaurant that takes pride in featuring local products, the pantry seems pretty bare by late winter. Although everyone starts craving asparagus, morels and berries as soon as we have a couple warmer days, the local crops aren't ready in March. Some of our farmers get a jump on things by starting plants early in greenhouses and hoop houses, and we usually still have preserved or pickled products that we put up during the last growing season, but a lot of our menu items steer toward braised meat, potatoes and other root vegetables. This is the perfect way to cook in the hardest part of winter when everyone craves rich, hearty comfort foods, but as spring gets closer, we try to lighten it up. We'll braise things with white wine and lighter stocks, and add citrus, herbs, chiles and other flavors that can make even a stewed or braised dish seem brighter and fresher. It's amazing how a little acid and a lot of fresh, green, herbal flavors can really wake up a braise and get us ready to transition into spring.
How do you develop seasonal menus? It's always ingredient driven. I look at what's coming into the season next, then six weeks later. I make a big list of ingredients that's a full page. I ask, what do I like to eat? What do I crave? How do I feel? How do I want people to feel? What techniques and flavor combinations make sense? Like corn, green beans, and tomatoes in summer. I piece it together and keep in mind color, texture, and technique.
The Rieger Hotel Grill & Exchange, 1924 Main St., Crossroads Arts District, Kansas City, Missouri, 816.471.2177, theriegerkc.com
---
MORE FEAST!
Hungry for more Midwest food-scene news? Follow us on:
Click here to subscribe and each month you'll receive a delicious serving of Feast delivered directly to your home, hot off the presses!
Subscribe to our weekly enewsletter here!