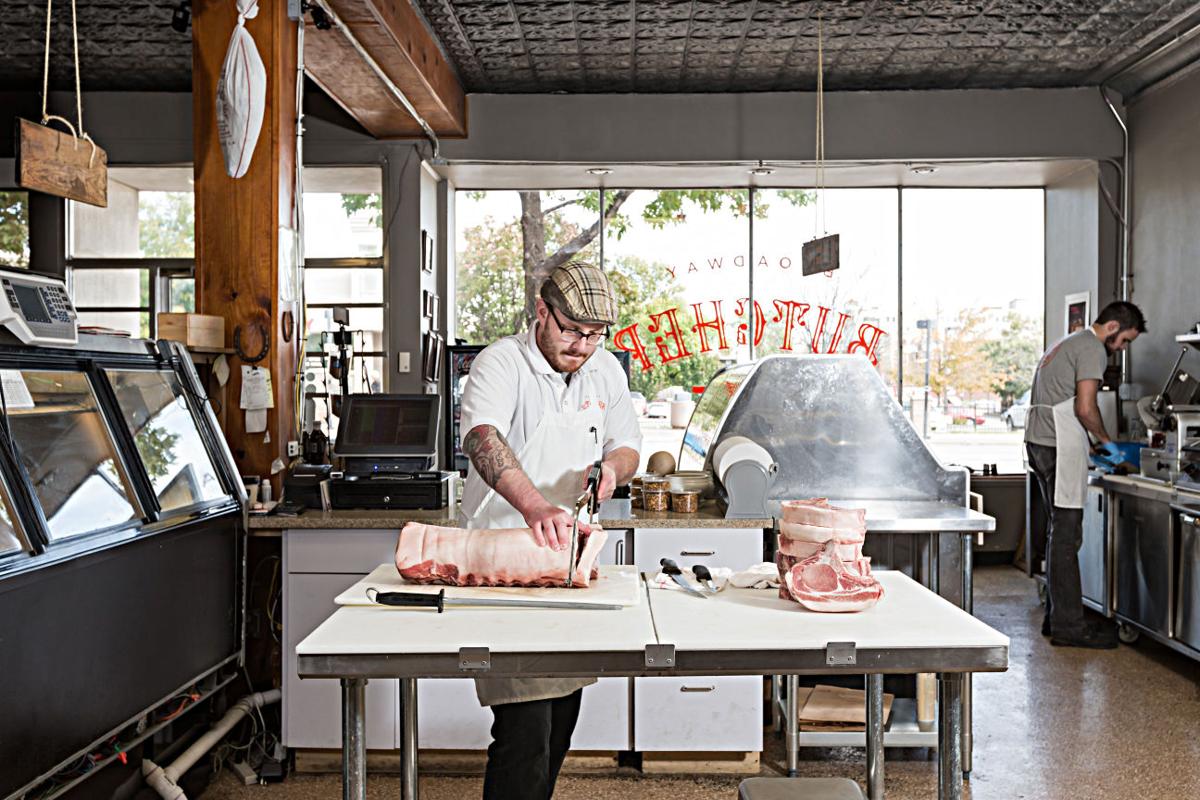 Chef Stuart Aldridge sells more than meat and gourmet groceries at Kansas City's Broadway Butcher Shop, where he took over as general manager in November 2013, just 11 months after it opened. As the shop's new owner-operator, Aldridge says customers buy into his belief that they can prepare amazing meals using his high-end meat, seafood and cooking tips.
Aldridge acquired culinary knowledge from his work at the former Starker's Restaurant, The Rieger Hotel Grill & Exchange, Tannin Wine Bar and Port Fonda. He won the 2014 People's Choice Award for Best Chef at the Children's Center for the Visually Impaired's annual Food Fight. In short, he's got plenty of chops.
Where do you source your meat and seafood? I have used products from Arrowhead Specialty Meats over my entire career in Kansas City. The seafood is flown in overnight from Hawaii by Honolulu Fish Co., [and] it's all sashimi grade.
Tell us about the variety in your meat and seafood case – you have wild sardines and kangaroo loin as well as familiar cuts of beef. I like to throw oddball things in. Sometimes it's on request, but it depends on seasonality, too. In the summer, I carry lots of steaks that are quick and easy to grill. In the winter, you'll find braising cuts like short rib and oxtail, more heartfelt items that you have to put more love into.
You make sausages by hand, right? Our handmade sausage uses Duroc pork and all-natural pork casings. I try to have a standard assortment of six sausages like bratwurst and linguica de porco, and I started offering small sausages derived from drinks, called Cocktail Weenies, that are flying off the shelves – flavors like Mint Julep, Old Fashioned and Bloody Mary.
You focus on customer service and interaction as much as quality product. Why? I love talking to my guests about food. I explain why I would cook it this way… one customer needed to make a special meal to win his girlfriend back. I wrote down instructions for a bone-in ribeye with sides. She came back. He said it was the best meal and so easy to prepare.
What is most daunting for your customers to cook? Duck breast. It's expensive in restaurants, so they don't want to mess it up at home. It takes time. Don't overcook it. I also offer duck breast prosciutto as another way to have duck. People are scared of it until they try it.
How did you come up with octopus pastrami? I get weird ideas when I'm tired and think, "It could work." I don't like waste and try to find a use for ingredients. So I let a Montreal-brisket rub on octopus cure for four or five days and steamed the octopus with red wine. The cure retained the moisture and meatiness; it was magic.
What are your bestselling items? The 18-month-old Serrano ham and the Molinari Salami Milano imported from San Francisco. Montreal brisket is our No. 1-selling deli meat. Customers also come in for our biscuits and gravy on weekends: housemade buttermilk biscuits with sausage and sage gravy or mushroom and artichoke gravy. You'll always find the standards here with nuances. For special requests, please ask or call ahead and I'll get it for you.
Broadway Butcher Shop, 3828 Broadway St., Westport, Kansas City, Missouri, 816.931.2333, facebook.com/BroadwayButcherShop