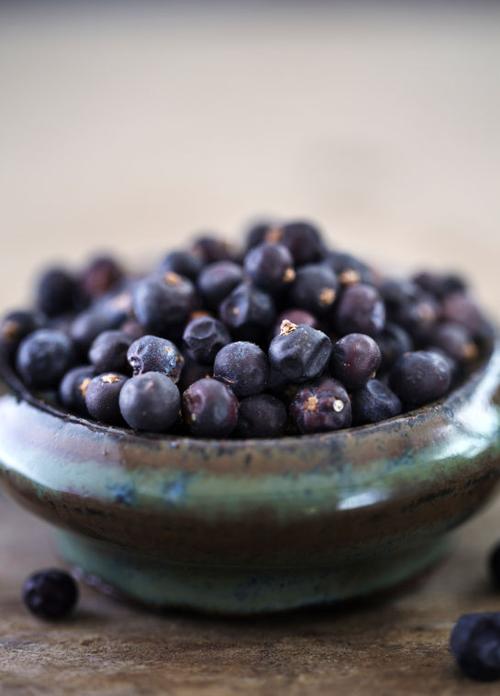 You might not know it, but juniper berries are a perfect spice to experiment with all winter long. Once you've tasted them, you'll find ways to incorporate them into all sorts of meals.
What is it?
Juniper berries might look like berries, but they're actually the mature seed cones of the female juniper. Bluish-black in color, these tiny orbs have the resinous flavor of pine with a bright citrus punch. Juniper berries are used in a variety of ways – from giving gin its signature flavor to serving as a medicinal essential oil – but don't rush out to your backyard juniper bush just yet: The North American variety, although edible, isn't pungent enough to use as a spice.
What do I do with it?
Juniper berries are commonly used in Northern and Eastern European cuisine to add vibrant contrast to otherwise gamey meats such as venison and lamb. Frequently used in turkey brines, juniper berries also add a welcome twist to stew or chili; their piney flavor works nicely with the heavier, smokier notes, and the zest of citrus keeps it interesting.
When the first clear snaps of cold weather begin, my heart heads directly to chili. It's a fabulous dish to prepare for a lazy weekend, and serves as a multi-sensory home-warmer. Chili involves very little work but provides a big payoff: A series of ingredients added at different intervals produces a fragrant, soul-satisfying meal you'll enjoy for days. This recipe is a departure from standard chili, filled with the rich taste of lamb contrasted with earthy kale, sweet potatoes and a heady spice combination.
Though lamb shines in this dish, it's not the only star. The beans, kale and sweet potato also play key roles. If you'd prefer to make a vegetarian version, simply swap ground lamb with another 14.5-oz can of kidney beans and the chicken stock for vegetable stock.
Lamb, Kale and Sweet Potato Chili
If you're worried about going on a spice hunt, fear not: The specialty spices used in this recipe (juniper berries, Vietnamese cinnamon, dried ancho peppers and smoked Spanish-style paprika) can be found at Penzeys Spices in Maplewood. If you've never been, go. Penzeys has a rich selection of spices from all over the world.
Serves | 6 to 8 |
1 Tbsp olive oil
1 lb ground lamb
1 sweet yellow onion, diced
1 large sweet potato, peeled, chopped into ¼-inch squares
2 cloves garlic, minced
1 dried ancho pepper, seeds removed, crumbled
10 dried juniper berries, smashed, finely chopped
½ tsp Vietnamese cinnamon
1½ tsp smoked Spanish-style paprika
1½ tsp ground cumin
pinch cayenne pepper
1 14.5-oz can diced tomatoes
2 cups unsalted chicken broth
1 14.5-oz can dark red kidney beans
4 to 6 oz kale, destemmed, torn into pieces
sea salt and freshly ground black pepper
| Preparation | In a large Dutch oven over medium heat, add olive oil and lamb. Brown completely, then transfer lamb to a plate lined with a paper towel to drain grease. Remove all but one Tbsp of fat, then add onion and sweet potato, stirring to coat. Continue to heat on medium until onion has softened, stirring occasionally, 5 minutes. Add garlic, ancho pepper, juniper berries and spices, and stir to combine. Cook for 1 minute. Add tomatoes (with juice) and chicken broth, and simmer for 30 minutes. Season to taste. Add beans and kale, and simmer for 1 hour or until chili has reduced and thickened. Add salt and pepper as needed.
| To Serve | Ladle into low bowls and serve with thick slices of crusty bread.