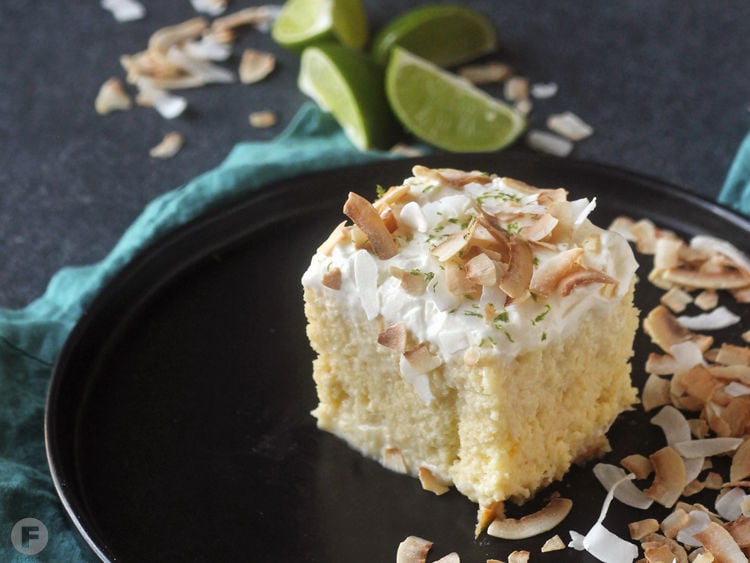 Pan tres leches, or "three milks bread," gets its name from its traditional preparation: A sponge cake is soaked in evaporated milk, condensed milk and heavy cream, resulting in a light and airy texture with a rich and milky flavor. It's the perfect marriage of custard and cake.
I've changed things a bit in this version by swapping out the evaporated milk for coconut milk and throwing in lime zest, which both add vibrant flavor. (Feel free to add a drop or three of rum, as well!) I've also replaced the heavy cream with whole milk. I find plain spongecake to be too easy to overmix, and it often deflates, so here we're making a chiffon cake that's lightened with whipped egg whites. This cake mirrors the texture of a spongecake, yet with a fail-safe that assures a nice rise in the oven: baking powder. There's no need to butter your baking pan before pouring in the cake batter – it will actually inhibit a chiffon cake from rising. Plan ahead when making the cake, as it benefits dramatically from an overnight soak in the refrigerator.
Coconut-Lime Tres Leches
This recipe calls for six egg yolks and nine egg whites, so be sure to reserve the whites from your six yolks.
Serves | 12 |
Cake
2½ cups cake flour
2 cups granulated sugar, divided
1½ tsp salt
1½ tsp baking powder
5 oz canola oil
6 egg yolks
½ cup water
2 tsp vanilla extract
zest and juice of 1 lime, divided
9 egg whites
1½ tsp cream of tartar
Assembly
1 13½- to 14-oz can unsweetened coconut milk
1 14-oz can sweetened condensed milk
1 cup whole milk
2 cups heavy cream
1 pinch salt
¼ tsp vanilla extract or dark rum
¼ cup powdered sugar
1 cup toasted coconut flakes, for garnish
| Preparation – Cake | Preheat oven to 375°F. In a large mixing bowl, sift flour, 1¼ cups sugar, salt and baking powder. In a separate bowl, whisk together oil, egg yolks, water, vanilla and lime juice.
In a stand mixer fitted with the whisk attachment, whip egg whites and cream of tartar on medium-high speed until soft peaks form. Add remaining ¾ cup sugar in a slow stream, whipping until medium-stiff peaks form. Using a hand-held whisk, mix wet ingredients into dry. Using a rubber spatula, stir ¹⁄₃ whipped egg-white mixture into batter. Fold in remaining egg-white mixture in 2 batches. Pour batter into a 9-by-13-inch baking pan; bake for 25 minutes. Cake should be a dark golden brown and spring back when lightly pressed in center. Allow to cool in pan at room temperature for 45 minutes.
| Assembly | With cake still in pan, using a skewer or fork, poke small holes all over cake. In a large mixing bowl, whisk together 3 milks and pour over cake in 2 batches; let sit at room temperature for 5 minutes between pours. Cover cake with plastic wrap and refrigerate overnight.
In a stand mixer fitted with the whisk attachment, whip cream, salt, vanilla or rum, powdered sugar and reserved lime zest until soft peaks form. Spoon whipped cream over cake and sprinkle with coconut flakes. Serve cake in pan.