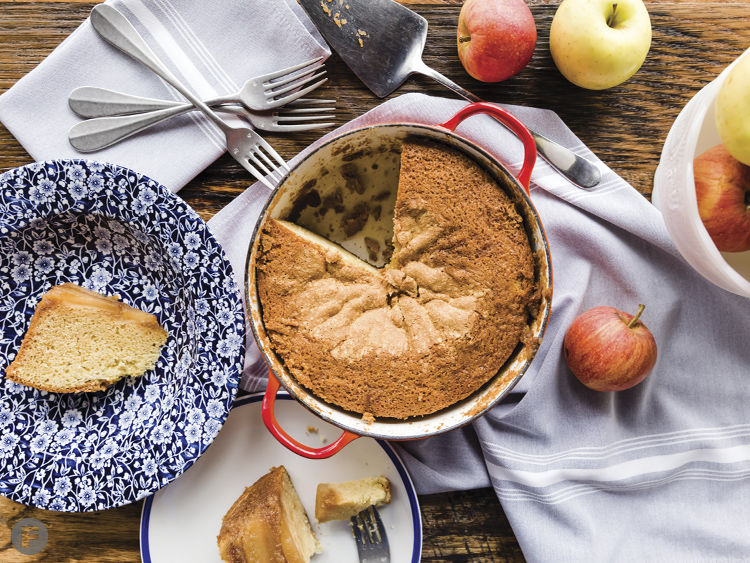 Ready to get creative with your Dutch oven? Chef John Perkins, who owns Juniper in St. Louis, shared his recipe for Dutch oven apple upside-down cake, a riff on the pound cake served at the restaurant.
"I'm not much for cake, but upside-down cake is one I like! For this recipe, I used my grandmother Mimi's pound cake recipe, which I swear by: It's a bit lighter than a typical pound cake and has a great flavor and texture. I used apples in this recipe, but you can use whatever fruit you'd like: Pears, bananas or peaches would all work well." –John Perkins
Apple Upside-Down Cake
Recipe by John Perkins, chef-owner, Juniper
Serves | 8 |
Apple Upside-Down Cake
3 sticks unsalted butter, divided
3 cups granulated sugar
1 Tbsp vanilla extract or whiskey
6 eggs, separated
3 cups cake flour
1½ tsp baking powder
¼ tsp baking soda
¼ tsp salt
1 cup buttermilk
½ cup brown sugar
6 apples, peeled, cored and sliced
Apple Cider Soak
1 cup apple cider
1 cup granulated sugar
1 cinnamon stick
3 whole allspice berries
1 star anise
| Preparation – Apple Upside-Down Cake | Preheat oven to 350°F.
In the bowl of stand mixer fitted with the whisk attachment, add 2 sticks butter and sugar and whisk until light and fluffy. Add vanilla extract or whiskey and egg yolks, one at a time, until fully incorporated. In a small mixing bowl, add next 4 ingredients and stir; slowly add to egg mixture, alternating with adding buttermilk, until dry and wet ingredients are thoroughly combined. In a medium mixing bowl, beat egg whites until stiff and fold into batter.
In a Dutch oven over medium-high heat, heat remaining butter and brown sugar until mixture bubbles, about 2 to 3 minutes; remove from heat. Layer apple slices across brown sugar-butter mixture and pour cake batter over top. Bake for 30 to 40 minutes or until the center of cake is no longer jiggly and a toothpick inserted in center of cake comes out clean.
| Preparation – Apple Cider Soak / In a small saucepot over medium-high heat, add all ingredients. Cook until sugar has dissolved, about 2 to 3 minutes.
Using a pastry brush, liberally brush top of upside-down cake in Dutch oven with apple cider soak. Repeat as many times as desired for additional flavor. Run a knife or offset spatula around perimeter of cake to loosen from sides of Dutch oven; flip Dutch oven upside down to turn cake out. Slice and serve.