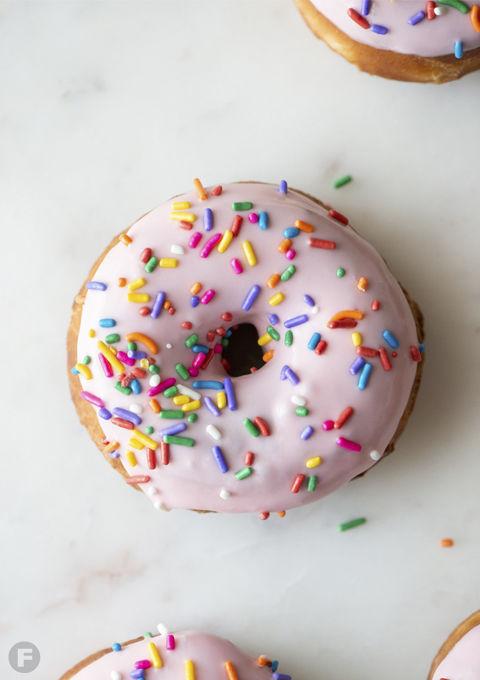 Light and tender, these yeast-raised donuts are coated in a traditional vanilla glaze for the ultimate glazed donut experience. They're highly adaptable as well, so you can finish them any way you'd like. Dredge freshly fried donuts in a cinnamon-sugar mixture, or dip them in a tinted glaze, which sprinkles, finely chopped nuts or sweetened coconut flakes will stick to beautifully. Whichever direction you take, the result will be the same: airy and irresistible.
Classic Glazed Donuts
Yields | 9 donuts |                            
Classic Glazed Donuts
1⅓ cups whole milk
3¼ tsp instant dry yeast or active dry yeast
1 cup all-purpose flour
2¾ cups bread flour, plus more if needed
¼ cup sugar
1¼ tsp kosher salt
1 large egg
1¼ tsp vanilla extract
6 Tbsp unsalted butter, room temperature
Glaze
3 cups powdered sugar, sifted
⅛ tsp kosher salt
¼ cup whole milk
2 Tbsp heavy cream
½ tsp vanilla extract
| Preparation – Classic Glazed Donuts | In a heatproof container, add milk; warm in microwave until slightly warm to the touch (not hot!), approximately 30 seconds. Pour milk into the bowl of a stand mixer; sprinkle in yeast and lightly whisk to combine.
In a separate bowl, combine flours, sugar and salt. Add flour mixture to milk mixture and then add egg, vanilla and butter. Using the dough hook attachment, mix dough on low speed until combined. Increase to medium speed and continue to mix, 6 to 8 minutes. Stop and scrape down the sides and bottom of the bowl as needed. The final dough will be very soft and slightly tacky. If the dough appears too wet and sticky, add 1 tablespoon bread flour at a time until dough begins to pull away from the sides of the bowl (the bottom of the dough will continue to stick to the bowl). Transfer dough to another large bowl and cover with a clean kitchen towel. Set in a warm spot on the counter and allow to rise, 30 minutes. 
Meanwhile, prepare a deep fryer with oil and heat to 350°F. Alternatively, fill a large, heavy-bottomed pot with at least 2 inches of oil and attach a deep fry thermometer to the inside. Line a large baking sheet with aluminum foil and place a wire rack on top. Set aside.
Transfer dough to a well-floured work surface and sprinkle the top with more flour. To prevent sticking, flour a rolling pin and roll out dough to about ½-inch thick. Using a 3-inch round cutter, cut out 9 dough rounds. Using a 1-inch round cutter, cut out the center of each dough round. If desired, reserve remaining dough scraps to make donut holes (recipe follows). Cover dough rounds with a clean kitchen towel. Remove two dough rounds at a time and fry until deeply golden brown, approximately 2 minutes on each side. Transfer donuts to prepared wire rack and let cool. Repeat steps with remaining dough rounds, allowing fryer oil to reheat to 350°F between batches.
Once all donuts are fried, prepare the glaze (recipe follows).
On a baking sheet, place donuts approximately 1 inch apart. Evenly pour glaze over the top of each donuts until fully coated. Allow glaze to set and then dig in! (Glazed donuts are best enjoyed shortly after they're made.)
| Preparation – Glaze | In a large bowl, whisk together all ingredients until smooth. Glaze should flow slowly from a dipped spoon (it should not be runny). If it's too thick, add an additional splash of milk. If it's too runny, add more powdered sugar until the desired consistency is reached.
Note: To use leftover dough to make donuts holes, cut small rounds from the reserved dough and place them in fryer. Turn donut holes regularly, as they fry up quickly. While still warm, toss donut holes in a cinnamon-sugar mixture (½ cup sugar and 1 teaspoon cinnamon) until coated.