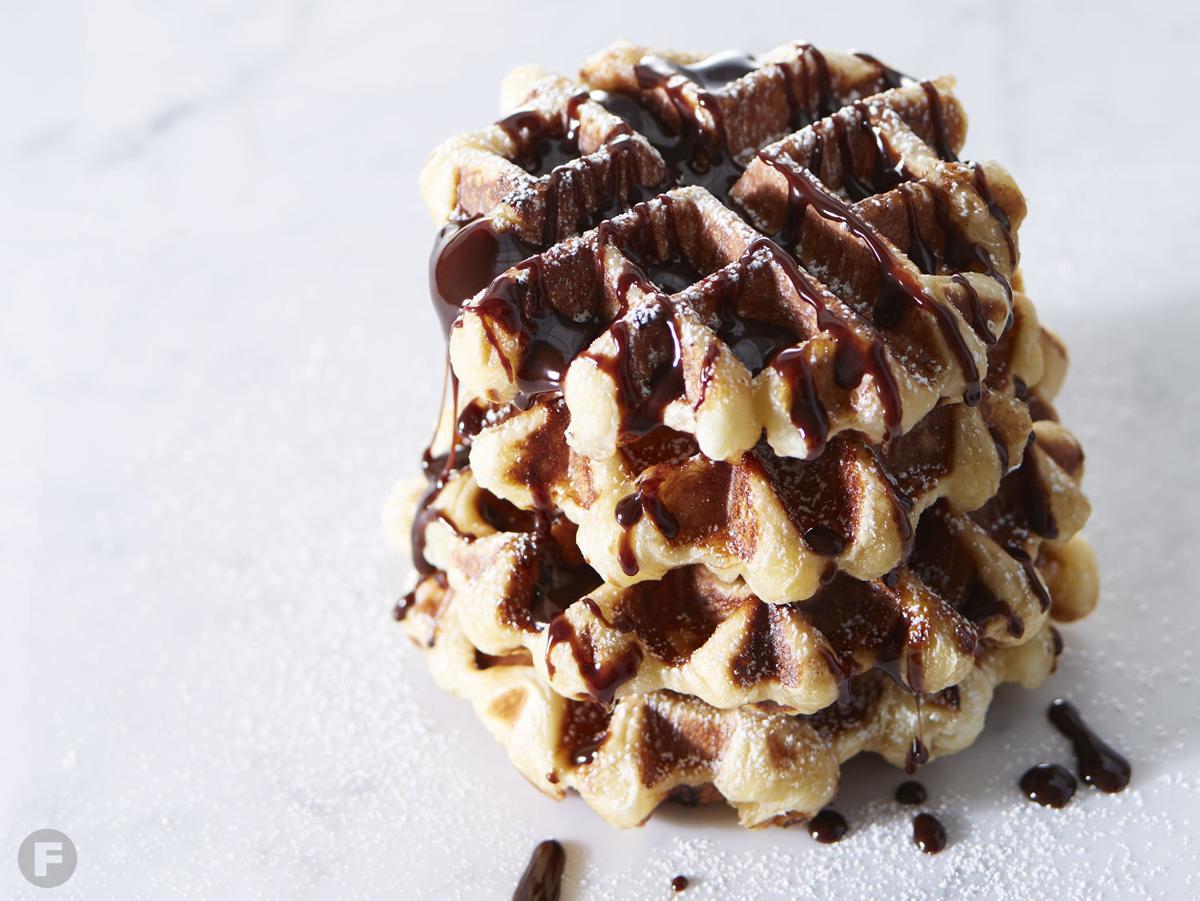 There's a scene in one of my favorite movies, Blue in the Face, where Lily Tomlin's character waxes about where to find a true Belgian waffle. She carries a picture torn from a magazine with a giant, fluffy waffle topped with too much fresh whipped cream and fruit. The character's consensus is that you can't find that type of "Belgian" waffle anymore, but I would argue that you never could – that style of waffle is an American invention and far from the original, so much so that it's a different dish altogether.
Liege waffles, or gaufre de liège, are made from a rich bread dough called brioche studded with pearl sugar. They are rich, chewy and I absolutely love them; the sugar bits liquefy and caramelize in the waffle iron as they bake. Brioche waffles are certainly much more complicated to make than American waffles; you'll need a stand mixer and a bit of patience as the dough needs to rest overnight in the refrigerator. The finished waffles can also be frozen for up to a month and warmed in your toaster for a quick yet indulgent breakfast or snack.
Brioche Waffles
If you can't find pearl sugar at a specialty grocery store, crushed sugar cubes make a great substitute; just be sure to sift out the granulated sugar, keeping only the chunks. Omit the pearl sugar and this recipe makes one loaf of brioche baked in a 9-inch rectangular loaf pan. Be sure to research baking yeast breads and use an egg wash on top of the loaf.
Yields | 12 waffles |
½ cup whole milk
4 large eggs
4 cups unbleached all-purpose flour
1 tsp kosher salt
3 Tbsp granulated sugar
1¾ tsp instant or rapid rise yeast
1 cup room-temperature unsalted butter
1 cup pearl sugar or crushed sugar cubes
vegetable oil
chocolate sauce (to serve)
| Preparation | In a small saucepot, heat milk to scalding, or 180°F, using a candy thermometer to gauge temperature. Pour milk into a heatproof bowl and set aside, with candy thermometer, to cool to 110°F.
In the bowl of a stand mixer fitted with the dough hook attachment, add warm milk and then eggs, flour, salt, sugar and yeast. Mix on medium speed until dough is fully moistened and cleans the sides of the bowl, about 8 minutes. Scrape dough off hook, press together into bottom of bowl, cover and let rest for 10 minutes. Then add bowl back to stand mixer and begin adding butter on medium speed, increasing speed one setting at a time, until fully incorporated and dough is glossy and smooth, about 8 minutes. Add pearl sugar and mix just until incorporated. Place dough in an oiled bowl, making sure to coat dough in a little oil, as well, and tightly wrap with plastic wrap; refrigerate dough overnight.
Turn dough out onto a floured work surface and press into a rectangle 5 inches by 8 inches. Using a sharp knife, cut dough into quarters, then each quarter into 3 equal pieces for a total of 12 pieces. Round each portion into a ball and set aside to warm to room temperature for 45 minutes; lightly cover bowl with a tea towel. Preheat waffle iron on medium-high heat.
After dough balls have rested and waffle iron is hot, bake each waffle in iron until a deep golden brown. Drizzle with chocolate sauce and serve.