Homemade granola is an underrated kitchen staple, and we all seem to forget how truly delicious it is to eat. Easily customized to one's own taste, it's a baked good that doesn't really require a recipe – it's perfect for using up those stray nuts, dried fruits and seeds left at the back of the pantry. For this recipe, substitute any nuts or dried fruits you like, add spices or chopped chocolate (wait to add the chocolate until the granola has cooled), and skip the browning of the butter if you're not up to it (but still use melted butter).
Whatever toppings you choose way, this granola is everything is should be – crisp, nutty and highly flavorful. Enjoy it as a snack or with a bowl of yogurt or milk for a satisfying treat. 
Brown Butter, Almond and Pecan Granola
Yields | 4 cups |
1 stick (8 Tbsp) unsalted butter
¼ cup maple syrup
1 tsp vanilla extract
2 cups rolled oats
1 cup pecans, chopped
½ cup sliced almonds
½ cup dried cherries, chopped
2 tsp toasted sesame seeds, optional
1 tsp finely grated orange zest
1 tsp kosher salt
½ cup packed light brown sugar
½ cup all-purpose flour
| Preparation | Preheat the oven to 300°F. Line a large rimmed baking sheet with parchment paper.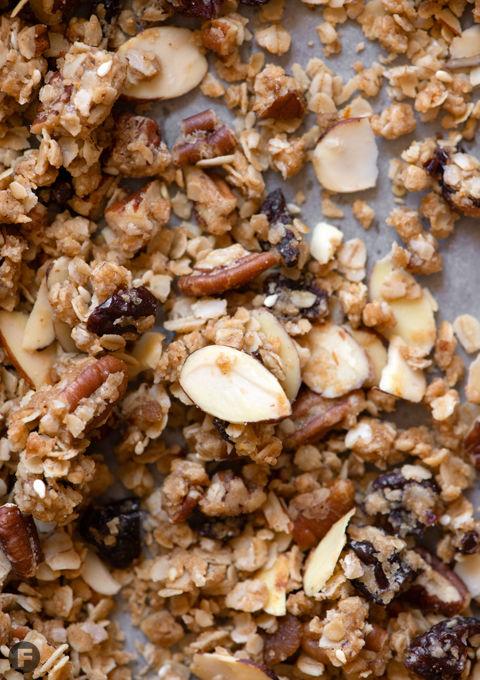 In a saucepan, melt the butter over medium heat. Continue to cook, stirring while the butter hisses and pops, until toasted brown bits of butter develop at the bottom of the pan and the butter is a deep golden brown (it'll have a slightly nutty aroma). Remove from heat and stir in maple syrup and vanilla.
In a large bowl, combine the remaining ingredients. Pour in the brown butter mixture and stir until thoroughly coated. Transfer the granola onto the prepared baking sheet and spread into an even layer. Bake for 10 minutes, stir, and then bake for an additional 20 minutes until golden and nearly dry. Turn off the oven and prop the door open halfway. Allow the granola to cool in the oven, about 20 to 30 minutes. Serve or store in an airtight container, at room temperature, for up to 3 weeks.