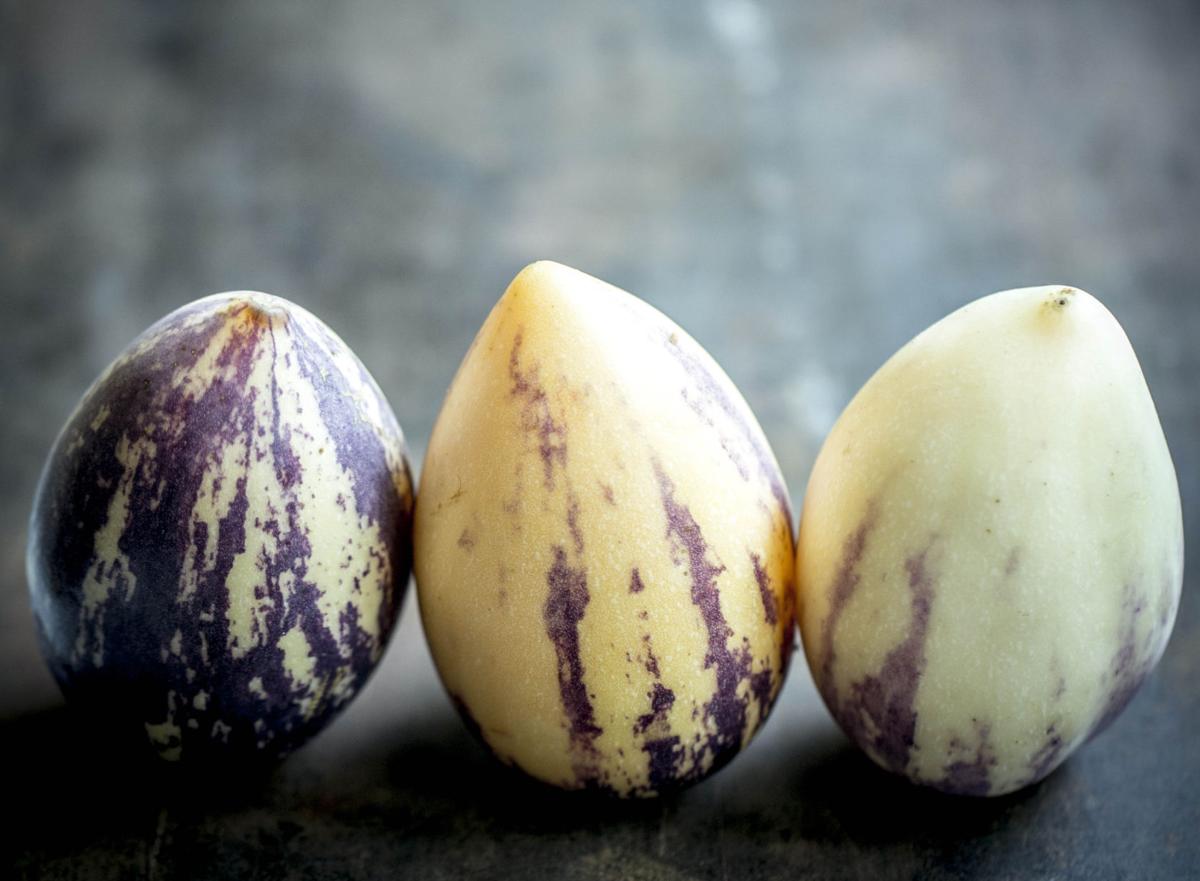 Tastes like a melon, acts like a melon and smells like a melon, yet it isn't a melon at all.
What Is It?
Pepinos are card-carrying members of the nightshade family, similar in size and appearance to the Thai eggplant. Once exclusive to the Andes highlands, the subtly sweet fruit gravitates toward the coastal climates of South and Central America, New Zealand, western Australia and, on smaller scales, California and Hawaii. Pepinos are commonly referred to as pepino melons, melon pears or pepino dulce – Spanish for "sweet cucumber" – a colorful array of names far less concerned with scientific accuracy and more with flavor. It's an apt description of the latter: Notes of cantaloupe, honeydew, cucumber, pear and kiwano melons intermingle in its flavor at various stages as the fruit ripens. At its peak, the pepino is texturally similar to a firm plum, with a creamy golden exterior shocked with streaks of aubergine.
What Do I Do With It?
First and foremost, don't mess with them too much: Like actual melons, simple preparations are key to retaining their beauty. Add pepino to salads; delicate slaws; or sprinkle them with salt, some fresh herbs and a little spice; work them onto a charcuterie platter with prosciutto. For a sweeter take, top a yogurt and granola parfait with cubed fruit, or poach them just as you would a pear and serve them with feta or blue cheese as a dessert course.
Although not technically a melon, pepinos have the flexibility that most melons possess. One of the best – and easiest – ways to maximize its flavor is in this salsa, which plays up its melon-y sweetness by contrasting it with spicy and savory notes that come together with a splash of balsamic vinegar. Try it on whitefish, chicken or pork alongside a simple green salad, or serve it on crostini topped with a little cheese as a bruschettalike appetizer.
Shannon Weber is the creator, author and photographer behind the award-winning blog aperiodictableblog.com, and her work has appeared on websites such as Bon Appétit, Serious Eats and America's Test Kitchen. She is a self-taught baker and cook who believes the words "I can't" should never apply to food preparation and that curiosity can lead to wonderful things, in both the kitchen and in life.
Pepino Salsa
Feel free to play around with ingredients here: If you're not that into mint, switch it out for fresh parsley or basil leaves. Use walnuts, pistachios or almonds – toasted, please – as a stand-in for pecans. Adjust this to coordinate with the other components of your meal and to suit your individual taste.
Serves | 4 to 6 |
¼ cup clover or orange blossom honey
2½ tsp balsamic vinegar
½ tsp chile flakes
2 to 3 ripe pepinos, flesh scooped from skin, seeds removed, chopped into ½-inch cubes
½ cup seedless red grapes, halved lengthwise
1⁄3 cup quartered dried black Mission figs
2 scallions, white and light green parts only, sliced into thin rings
½ cup toasted and roughly chopped pecans
10 to 12 fresh mint leaves, sliced into very thin ribbons
sea salt and freshly ground black pepper
| Preparation | In a small bowl, whisk together honey, balsamic vinegar and chile flakes. Set aside.
In a medium bowl, add pepino, grapes, figs, scallions and pecans and stir to incorporate. Add fresh mint to taste; add honey-balsamic mixture, toss to coat and season to taste with salt and pepper. Serve immediately.