My world would not rotate correctly if not for ketchup: This humble condiment can turn a dull dish into something brightly flavorful. I believe ketchup should be a staple in all households for its sweetness, tang and savory finish.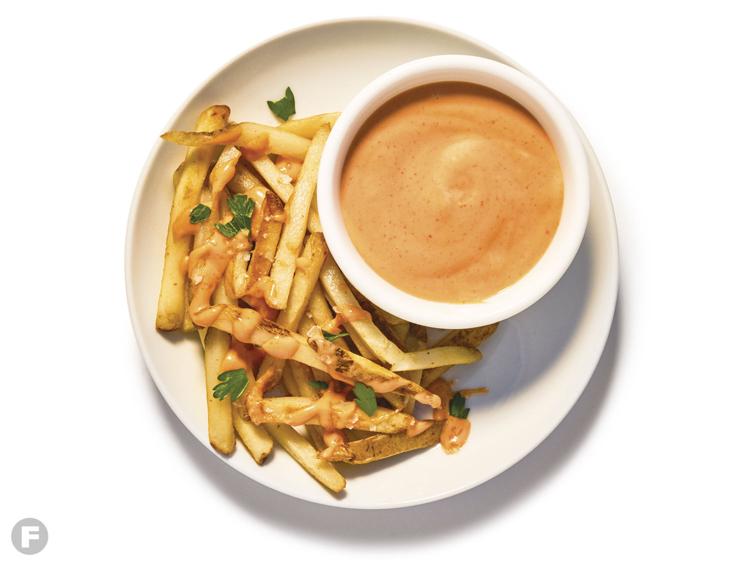 Spicy Sesame Mayo
This spicy mayonnaise is delicious on burgers, sandwiches and chicken or as a dipping sauce for french fries.
½ cup mayonnaise
¹⁄₃ cup Sriracha
¼ cup ketchup
1 Tbsp garlic powder
3 Tbsp sesame oil
kosher salt and freshly ground black pepper, to taste
| Preparation | In a medium bowl, add first 5 ingredients and stir until well combined. Season with salt and pepper to taste. Will keep for up to 2 weeks sealed in the refrigerator.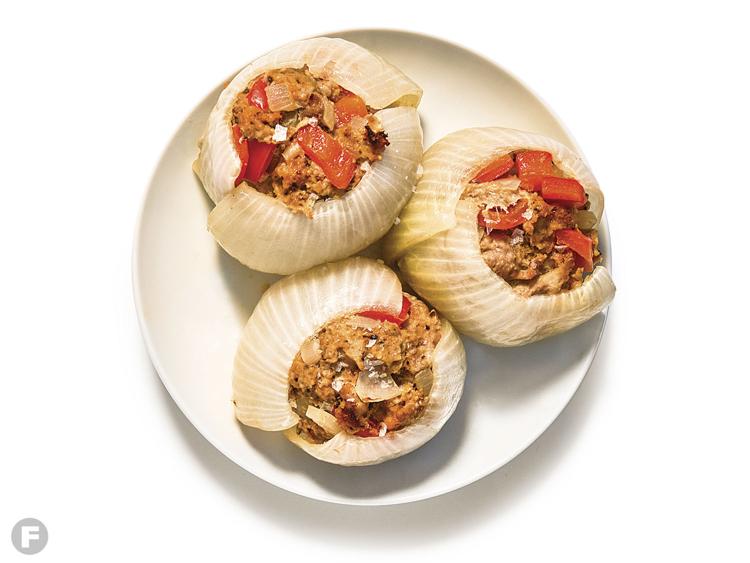 Curried Onion Bombs
In this recipe, we're halving an onion and then carefully peeling back the first two layers to essentially create shells for your ground turkey-sausage mixture before baking them.
1 lb ground turkey
1 lb sweet Italian sausage, casings removed
½ cup panko bread crumbs
¼ cup whole milk
1 egg
1 Tbsp olive oil
1 red bell pepper, finely chopped
2 Tbsp ketchup
2 tsp red curry paste
1 tsp ground cumin
1 tsp ground paprika
1 tsp garlic powder
2 tsp Worcestershire sauce
1 tsp kosher salt
1 tsp freshly ground black pepper
3 to 4 yellow onions, halved and first two layers peeled and reserved
| Preparation | Preheat oven to 400°F. In a large bowl, add first 5 ingredients. Lightly stir together and set aside.
In a small saucepan over medium heat, add olive oil and bell pepper; sauté for 5 minutes and remove from heat. Add next 8 ingredients; stir. Let cool for about 2 minutes, then add cooked turkey-sausage mixture and stir to combine.
Off of heat, form turkey-sausage mixture into balls. Add a ball to each onion layer to encase meat. Continue until all meat has been used. Wrap onion bombs in aluminum foil and transfer to a lipped sheet pan; bake for 45 to 55 minutes. Serve.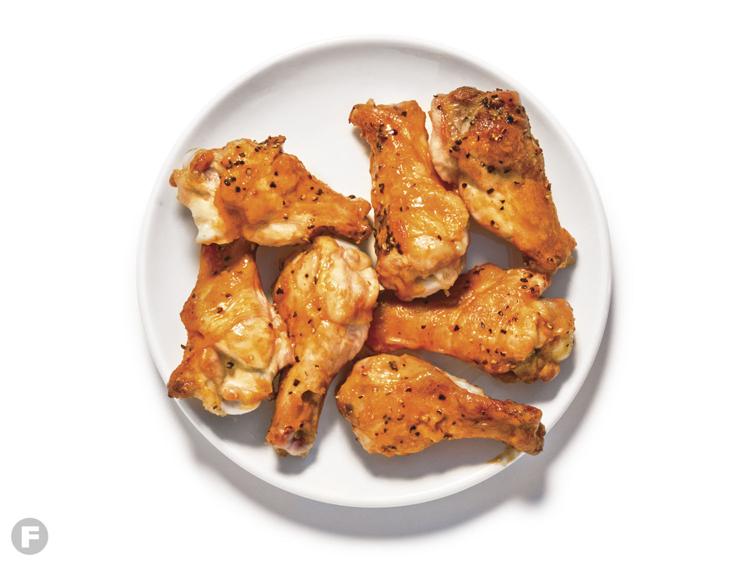 Atomic Hot Wings
Ketchup gives this marinade an underlying sweetness and balances the heat from the habaneros and jalapeños.
Wings
2 habaneros, roughly chopped
2 jalapeños, roughly chopped
3 Tbsp ketchup
7 cloves garlic, roughly chopped
1 Tbsp vegetable oil
½ cup lager-style beer
1 tsp ground paprika
2 tsp kosher salt
1 tsp garlic powder
3½ lbs chicken drummettes (small wings)
Sauce
½ cup hot sauce
2 tsp melted unsalted butter
To Serve
ranch or blue cheese dressing
| Preparation – Wings | In the bowl of a food processor, place all ingredients except wings; process until marinade is fine yet still a little chunky. Add wings to a plastic zip-close freezer bag and pour marinade over top; seal bag and gently shake until all wings are coated. Refrigerate for 24 to 48 hours, shaking every 12 hours. Remove from refrigerator 10 minutes before grilling.
| Preparation – Sauce | In a small bowl, combine hot sauce and melted butter and whisk until combined. Set aside.
| To Serve | Set grill to medium heat and place wings directly on grill grates; cook for about 16 minutes, covered, turning wings after about 8 minutes. Remove from heat and pour prepared sauce over top, mixing well to combine. Serve immediately with ranch or blue cheese dressing.