Growing up with a father known as the "BBQ King" to family and friends, I never strayed from my carnivorous ways. That is, until I went to visit him and he served me his new "meat" of choice: jackfruit. The chameleon of meat substitutes, jackfruit's texture mimics those of the meat world, and it will take on any flavor that you add to it.
For these recipes, first you'll need to prepare the jackfruit. If you want to use fresh jackfruit, I suggest buying it precut, as the process to halve the large, heavy fruit and extract the edible bulbs is difficult. If using canned jackfruit, drain and rinse it. Quarter each bulb of jackfruit (fresh or canned), place the pieces in a small pan and just cover with water. Bring to a boil over medium high heat, then reduce heat to simmer and cook until jackfruit is tender, approximately 30 minutes (fresh may take as long as 45 minutes).
Once tender, use a fork to pull jackfruit apart, then drain and allow to cool.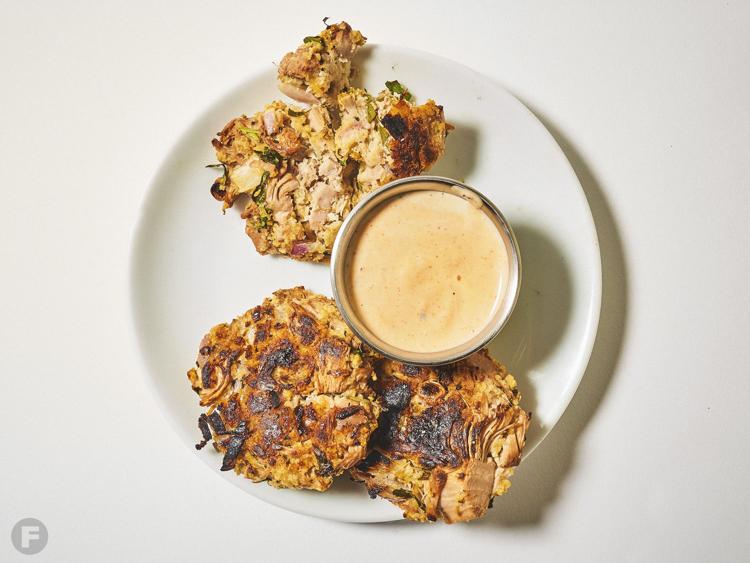 "Crab" Cakes
These don't taste very much like crab, but I'd have to argue that sometimes neither does the original. For me, it's all about the texture and the dipping sauce, and this recipe is a slam dunk on both counts.
Serves | 4 |
Dipping Sauce
½ cup mayonnaise
1 tsp paprika
juice of ¼ lime
salt and freshly ground black pepper, to taste
"Crab" Cakes
3 Tbsp panko bread crumbs
2 Tbsp Greek yogurt
1 egg, lightly beaten
juice of ¼ lime
½ cup diced red onion
1 Tbsp chopped cilantro
¼ tsp dried mustard
¹⁄₈ tsp allspice
¼ tsp paprika
¼ tsp salt
¼ tsp black pepper
1 dash ground cayenne pepper
16 oz prepared jackfruit
| Preparation – Dipping Sauce | In a small bowl, combine all ingredients. Store in refrigerator for up to three days.
| Preparation – "Crab" Cakes | In a medium bowl, add all ingredients except jackfruit; mix until well blended. Add jackfruit and fold into mixture. Line a plate with wax paper. Scoop out 2 to 3 tablespoons of jackfruit mixture, form into a ball, place on plate and flatten slightly with the palm of your hand. Repeat with remaining jackfruit mixture. Transfer plate with crab cakes to refrigerator and refrigerate at least 30 minutes or up to one day.
Preheat oven to 425°F. Add a little vegetable oil to a baking sheet and arrange jackfruit cakes on top.
Brush more vegetable oil on top of each cake. Bake for 25 minutes, or until outside is golden. Remove and serve with dipping sauce.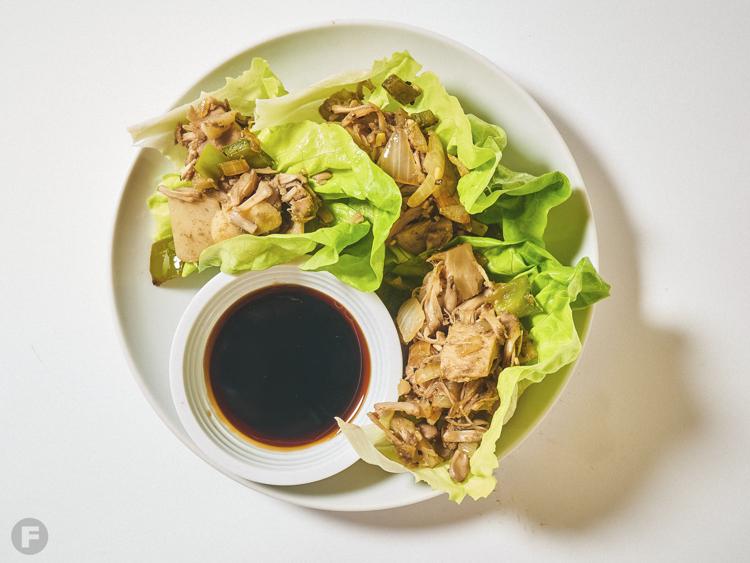 Asian "Chicken" Lettuce Wraps
These faux-chicken lettuce wraps are not only healthy, they're also incredibly satisfying. And they can easily be made in less than 30 minutes.
Serves | 4 |
2 Tbsp sesame oil, divided
2 cloves garlic, minced
16 oz prepared jackfruit
1 yellow onion, diced
1 green bell pepper, diced
1 8-oz can water chestnuts, chopped
3 to 4 Tbsp low-sodium soy sauce
1 tsp honey
1 tsp chopped fresh basil
½ tsp ground ginger
salt and freshly ground black pepper, to taste
8 leaves Boston lettuce
| Preparation | In a large pan over medium heat, add 1 tablespoon sesame oil and garlic; cook until garlic is fragrant, approximately 30 seconds. Add jackfruit and cook for 5 minutes. Remove jackfruit from pan and set aside.
In the same pan over medium heat, add remaining sesame oil, onion and pepper; sauté until onions are translucent, 6 to 8 minutes. Add water chestnuts and cooked jackfruit. Add soy sauce, honey, basil and ginger; stir to combine. Season with salt and pepper to taste. Remove from heat and scoop approximately ¹⁄₃ cup of mixture into each lettuce cup. Serve with a side of soy sauce.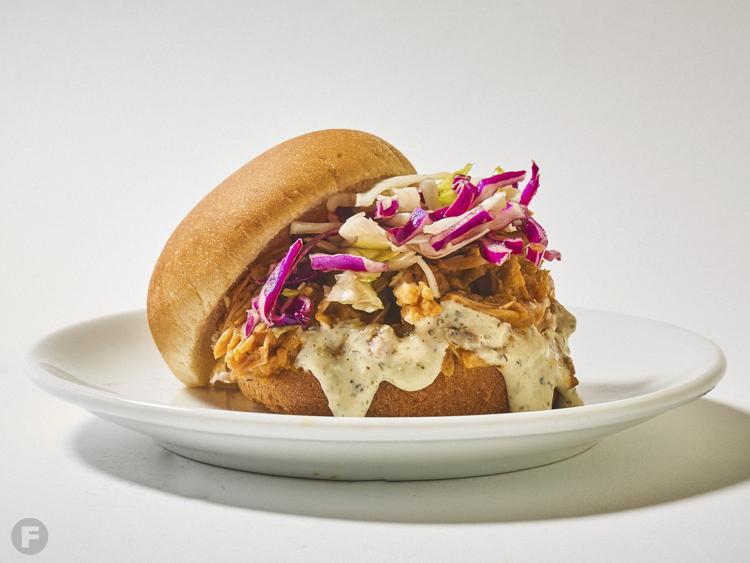 Pulled "Pork" Sliders
I whip up these pulled "pork" sliders when I'm craving meat, but I don't have time to make the real thing. If you're averse to spice, you can leave out the habanero in the marinade.
Yields | 4 to 6 sliders |
Marinade
1 habanero
1 jalapeño
7 cloves garlic
1 Tbsp vegetable oil
½ cup light beer
2 tsp paprika
2 tsp salt
1 Tbsp garlic powder
¼ cup honey
Pulled "Pork" Sliders
20 oz prepared jackfruit
marinade (recipe follows)
½ cup hot sauce
3 Tbsp butter
4 buns
coleslaw (optional)
| Preparation – Marinade | Add all ingredients to a food processor and blend until just processed. (Peppers and garlic should be minced, but not puréed.)
| Preparation – Pulled "Pork" Sliders | Add jackfruit to a zip-close freezer bag. Pour marinade over jackfruit, seal bag and transfer to refrigerator; allow to soak at least 3 hours or overnight.
Once jackfruit is done marinating, remove from bag and pat dry. Set a large pan over medium heat and add jackfruit; cook for approximately 20 minutes, stirring occasionally. Remove from heat and add hot sauce and butter. (Butter will melt as it's tossed.) Serve on a bun with coleslaw and any condiments you'd like, such as blue cheese dressing or ranch.