Don't let its thorny exterior intimidate you – the artichoke is hands down my favorite vegetable. The meaty edges at the base of the leaves (or bracts if we want to get technical) are not only delicious but also fun to eat. Steamed, roasted, grilled or fried, artichokes present endless possibilities while delivering a healthy dose of fiber, vitamins, minerals and antioxidants.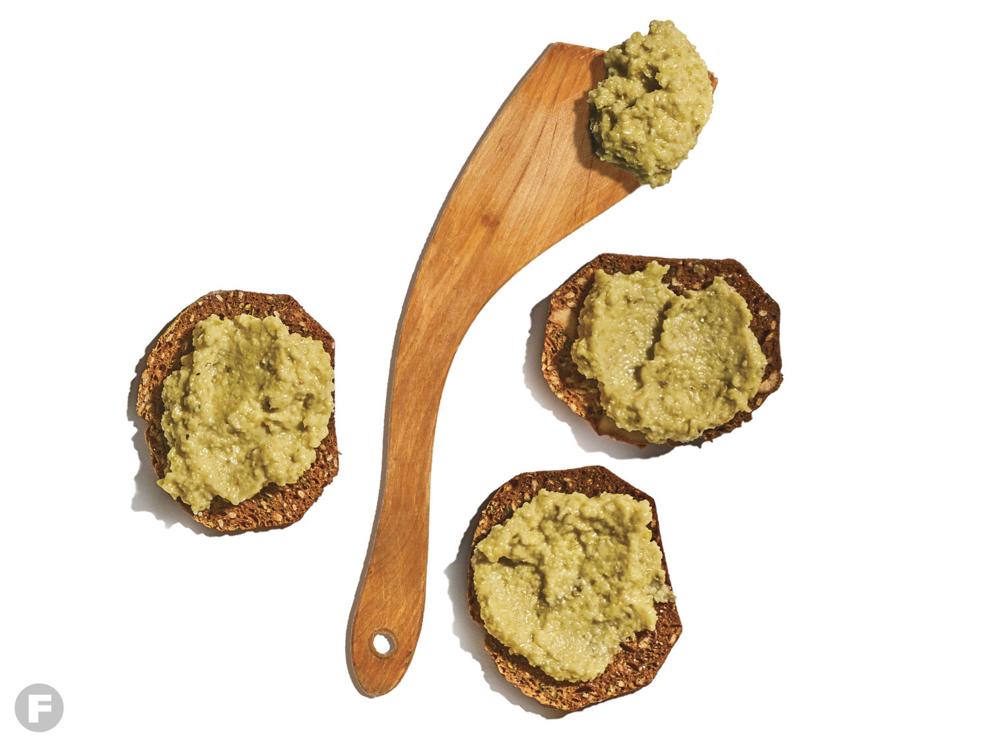 Artichoke Tapenade
A combination of artichoke hearts and green olives gives this tapenade a rich, decadent flavor. I enjoy it with toast, pizza or really anything.
Yields | 3 cups |
3 cups artichoke hearts, quartered
¹⁄₃ cup pitted green olives
1 Tbsp chopped capers
1 Tbsp minced garlic
¹⁄₃ cup olive oil
2 Tbsp freshly squeezed lemon juice
1 tsp freshly chopped thyme
salt and freshly ground black pepper, to taste
| Preparation | In a food processor, add artichokes, olives, capers, garlic, oil, lemon juice and thyme; blend until well combined (the final texture should be like that of pesto). Season with salt and pepper to taste. Serve with toast, crackers and more. Store leftovers in an airtight container in the refrigerator for up to five days.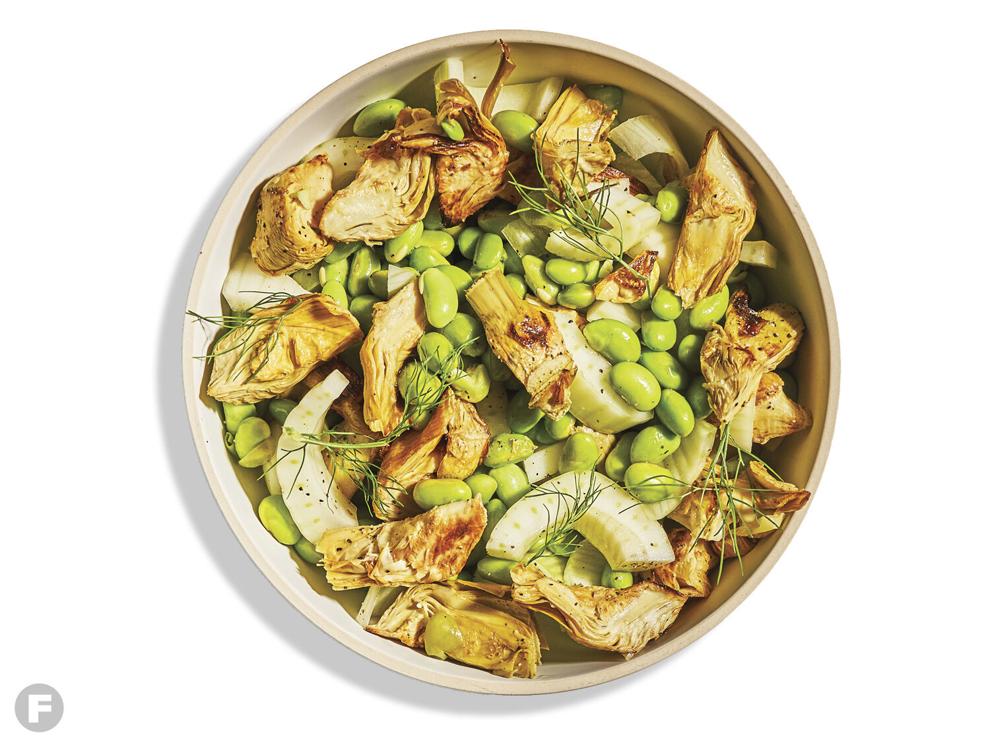 Roasted Artichoke Salad with Edamame and Fennel
The roasted notes, soft but snappy texture and bite from the artichokes, edamame and fennel, respectively, complement one another and characterize this salad. Keep any leftovers in the refrigerator for a couple days.
Serves | 4 |
3 14-oz cans artichoke hearts, drained and quartered
3 cloves garlic, minced
½ cup olive oil
1 Tbsp white wine vinegar
1 Tbsp dried basil
1 tsp salt, plus more to taste
1 bulb fennel, top and bottom removed and cut into strips
1 12-oz bag frozen shelled edamame, cooked according to package
2 Tbsp freshly squeezed lemon juice
freshly ground black pepper, to taste
| Preparation | Preheat oven to 425ºF. In a medium baking dish, add artichokes, garlic, oil, vinegar, basil and 1 teaspoon salt; toss until well combined. Place in oven; roast until artichokes start to turn golden, 25 to 30 minutes, stirring halfway through. Remove from oven; let cool in baking dish, approximately 10 minutes. Add fennel, edamame and lemon juice to baking dish; toss to combine. Season with salt and pepper to taste and serve.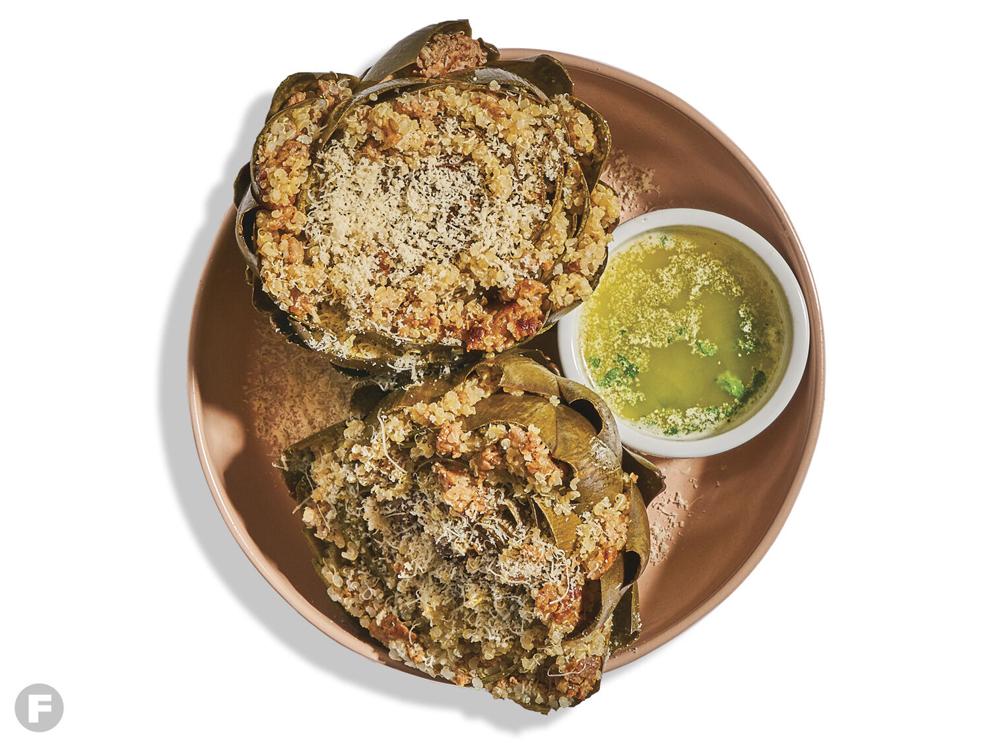 Stuffed Artichokes
Serves | 3 |
I use quinoa instead of bread stuffing to lighten this dish, which balances the heavier nature of the sausage. Paired with melted herb butter for dipping, it's substantial enough to serve as a main.
Melted Herb Butter
1 cup (2 sticks) unsalted butter
2 Tbsp finely chopped fresh parsley
1 tsp garlic powder
1 tsp coarse black pepper
½ tsp kosher salt
Stuffed Artichokes
1 lb spicy Italian sausage, casings removed
1 cup quinoa, cooked according to package
3 artichokes, stemmed and trimmed
¼ cup olive oil
salt and freshly ground black pepper
½ cup grated Parmesan
| Preparation – Melted Herb Butter | In a small saucepan over medium low heat, melt butter. Once butter has melted, remove from heat; whisk in remaining ingredients. Set aside until ready to use.
| Preparation – Stuffed Artichokes| In a medium saucepan over medium heat, brown sausage. Once sausage has browned, break into small pieces; mix in quinoa. Working with one artichoke at a time, carefully peel back the leaves until the center is exposed (you don't need to expose the choke). Starting between the leaves and working your way to the center, stuff artichoke with quinoa-sausage mixture. Repeat process with remaining artichokes. Transfer stuffed artichokes to a large pot; fill pot with water (being careful to not pour water on the artichokes) until the bottom leaves of the artichokes are almost covered. Drizzle oil over artichokes and water. Add 1 tablespoon salt to water; sprinkle approximately ¼ teaspoon salt and ¼ teaspoon pepper over top of each artichoke. Set pot over high heat and cover. Bring water to a boil and then reduce heat to simmer; steam artichokes, 60 to 80 minutes. To check that the artichokes are done, pluck a leaf from the middle of one and make sure the meat is tender enough to pull off easily with your teeth.
Once artichokes are done, carefully transfer to plates. Taste and adjust seasoning as needed. Evenly distribute Parmesan over top and serve immediately with melted herb butter. (You may need to reheat the butter so that it's the correct consistency for dipping.)