Throughout November and December, there is never a shortage of cranberry in my pantry. My cravings for those bitterly sweet berries is too strong to wait for a special occasion, so I've found different ways to incorporate them in my meal prep all season long.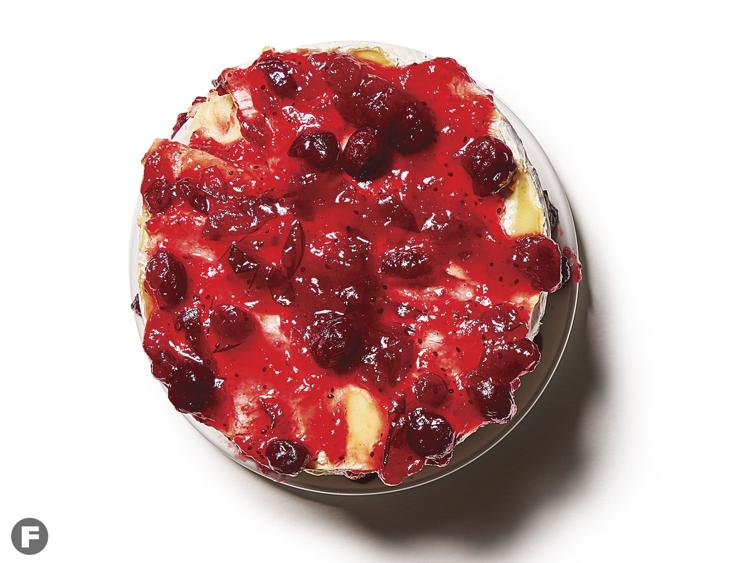 Layered Brie with Spiced Cranberry Sauce
This snack travels well, so you can take it to a party; I recommend borrowing the host's oven for five minutes to serve it hot – it's extra delicious.
Serves | 4 |
Cranberry Sauce
1½ cups water
1½ cups granulated sugar
1½ lbs fresh cranberries
1 tsp ground cinnamon
1 tsp paprika
½ tsp cayenne
Assembly
2 8-oz wheels Brie
cranberry sauce (recipe follows)
| Preparation – Cranberry Sauce | Heat water and sugar in a medium pot over high heat. Once water boils, add cranberries. Boil cranberries for 10 to 15 minutes, or until they have all popped; stir occasionally. Once cranberries have popped, lower heat to a simmer and add cinnamon, paprika and cayenne. Stir until sauce thickens, 2 to 3 minutes, and then remove from heat.
| Assembly | Preheat oven to 350°F. Scrape the top off each wheel of Brie and the bottom off one wheel. Line a sheet pan with parchment paper; place Brie with uncut bottom, bottom side down, on the pan. Spread ½ cup cranberry sauce on top. Place second Brie wheel on top; spread 1 cup or more cranberry sauce on top. Bake in oven for 5 to 10 minutes, watching from the 5-minute mark to make sure the cake doesn't collapse. Remove from oven and serve warm.
Cranberry & White Chocolate Breakfast Bars
These breakfast bars – equally as sweet and fulfilling as leftover pie – will load you up with energy and essential nutrients.
Yields | 12 bars |
juice of ½ lemon
1 Tbsp water
½ cup, plus 4 Tbsp, maple syrup, divided
1 cup cranberries (fresh or frozen)
1 cup raspberries (fresh or frozen)
3 cups old-fashioned oats
1 Tbsp sesame seed
1 Tbsp chia seed
1 Tbsp ground flax meal
1 tsp salt
¼ cup, plus 2 Tbsp, shaved white chocolate, divided
¼ cup olive or coconut oil
1 egg, beaten
1 Tbsp peanut butter
1 Tbsp vanilla extract
| Preparation | Preheat oven to 350°F. Line a 9-by-9-inch baking pan with parchment paper. In a saucepan over medium heat, add lemon juice, water and 4 tablespoons maple syrup. Stirring, bring mixture to a boil. Add cranberries and raspberries; stirring frequently, bring to a boil and then lower heat to medium low and cook for 8 to 10 minutes. Once berries have softened, turn off heat and carefully smash using the back of a fork or potato masher until the consistency resembles sauce or jam. Set aside and allow to cool until ready to use.
In a large bowl, combine oats, sesame seed, chia seed, flax meal, salt and ¼ cup white chocolate. Set aside. In a small bowl, whisk together oil, egg, peanut butter, ½ cup maple syrup and vanilla extract. Add half of oat mixture to baking pan, spreading evenly over the bottom. Evenly spread berry sauce over oat mixture. Top with remaining oats and sprinkle with 2 tablespoons white chocolate. Bake in oven for approximately 30 minutes, until top turns golden brown. Remove from oven and let cool to room temperature, approximately 30 minutes. Place in refrigerator for 2 hours before slicing into squares and serving.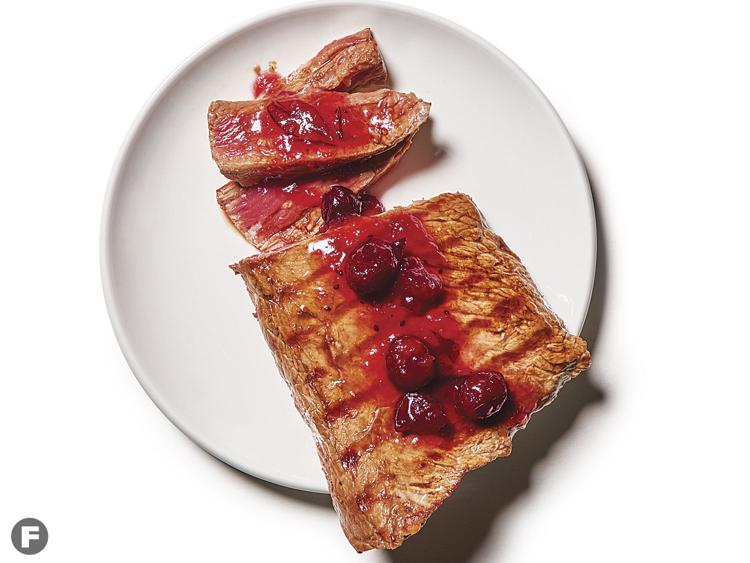 Flank Steak with Berry Reduction
This season, opt for a festive cranberry reduction to serve with your steak.
Serves | 2 to 4 |
Marinade
½ cup olive oil
4 Tbsp Worcestershire sauce
2 Tbsp soy sauce
2 Tbsp balsamic
2 tsp ground ginger
Flank Steak
1½ lb flank steak
marinade (recipe below)
salt and freshly ground black pepper, to taste
Sauce
2 Tbsp marinade (recipe below)
1 Tbsp water
1 Tbsp brown sugar
2 Tbsp pomegranate juice
⅔ cup cranberries
| Preparation – Marinade | In a small bowl, whisk together all ingredients. Set aside.
| Preparation – Flank Steak | Place steak in a zip-close freezer bag and pour in marinade. Seal bag and shake until steak is covered; place in refrigerator overnight (12 or more hours).
Remove steak from refrigerator. Take steak out of bag and reserve 2 tablespoons marinade; pat dry. Salt and pepper both sides of steak and let sit at room temperature for approximately 40 minutes.
Preheat oven to broil. Take a broil pan (or place a wire rack on top of a rimmed baking sheet lined with aluminum foil) and place it in oven to heat. Once pan is hot, place steak on top and broil for 4 to 5 minutes; carefully flip and broil for an additional 4 to 5 minutes. Remove from oven and tent steak with foil for 15 minutes. Slice against the grain and serve with sauce.
| Preparation – Sauce | While steak is resting, add marinade, water, brown sugar and pomegranate juice to a small saucepan. Cook over medium heat until mixture boils; add cranberries and reduce heat to simmer. Simmer for 8 minutes, or until cranberries begin to burst. Remove from heat and pour over steak when ready to serve.