Lightly sweetened with honey and spiced with a touch of pepper, this Old Fashioned is a bit more complex than the classic. Rich baked Brie drizzled with honey and tart pomegranate seeds provides an excellent foil for the bold cocktail.
Black Pepper-Honey Old Fashioned
Serves | 6 |
1 cup water
1 Tbsp black peppercorns, plus more for garnish
1 cup granulated sugar
1 cup bourbon
Angostura bitters
orange peel, for garnish
ice
| Preparation | In a small saucepan over medium-high heat, bring water, peppercorns and sugar to a gentle boil. Once boiling, reduce heat to low and simmer for 5 minutes. Strain peppercorns from syrup and allow to cool.
In a large glass Mason jar, combine simple syrup with bourbon and stir. Evenly divide mixture into 6 highball glasses filled with ice. Add a dash of bitters to each glass and stir. Garnish with orange peels and crushed black pepper. Serve.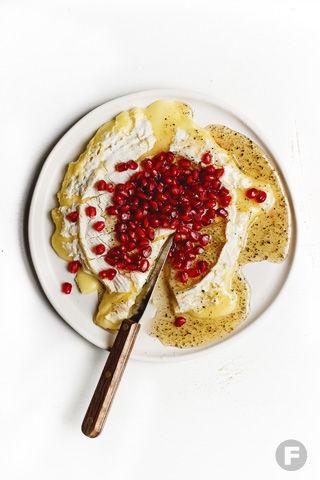 Baked Brie with Honey and Pomegranate Seeds
Serves | 8 |
1 8-oz Brie wheel
¼ cup honey
½ cup pomegranate seeds
½ tsp sea salt
¼ tsp freshly ground black pepper
| Preparation | Preheat oven to 350°F. Line a baking sheet with parchment paper.
Place Brie in the center of prepared baking sheet and bake for 8 to 12 minutes or until bubbly. Watch Brie closely, as cheese cooks very quickly.
In a small saucepan over low heat, slightly warm honey and remove from heat. Add pomegranate seeds, salt and pepper. When Brie is finished baking, while still warm, pour honey-pomegranate seed mixture over top. Serve warm with a cheese board, tart apple slices or crusty bread.