Rosemary and gin are a natural match. This cocktail hits all of the right notes: floral and botanical yet sweet and spicy. The rosemary also lifts the chocolate mousse, adding earthiness to counterbalance the richness of the dark chocolate.
Rosemary-Gin Fizz
Serves | 6 |
1 cup water
5 sprigs fresh rosemary, plus more for garnish
1 cup granulated sugar
1 cup gin
½ oz lemon juice
club soda
ice
| Preparation | In a small saucepan over medium-high heat, bring water, rosemary and sugar to a gentle boil. Reduce heat to low and simmer for 5 minutes. Strain rosemary from simple syrup and allow to cool.
In a large glass Mason jar, combine simple syrup, gin and lemon juice and stir. Divide mixture evenly between 6 highball glasses filled with ice. Top each cocktail with club soda and a sprig of rosemary for garnish. Serve.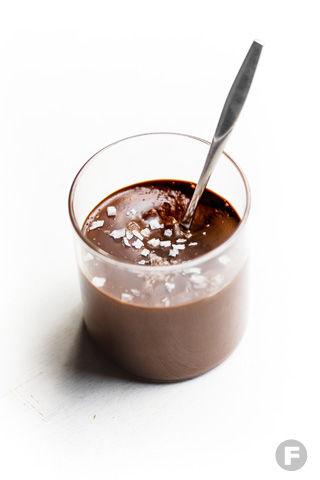 Coconut-Chocolate Mousse
Serves | 6 |
1²⁄₃ cup aquafaba (liquid from roughly 2 cans chickpeas) or 1 can coconut milk
1 tsp fresh lemon juice (if using aquafaba)
½ cup water
12 oz roughly chopped dark chocolate
¼ tsp sea salt
flake salt, for garnish
| Preparation | In the bowl of a stand mixer fitted with the whisk attachment, combine aquafaba and lemon juice. Beat until stiff peaks form, 3 to 5 minutes. If using coconut milk, in the bowl of a stand mixer fitted with the whisk attachment, beat on low speed, slowly increasing to medium-high, until fluffy.
In a small saucepan over medium heat, bring water to a simmer. Place a heatproof bowl over pan to temper chocolate; add chocolate to bowl and stir occasionally with a heatproof spatula until chocolate is smooth. Fold chocolate and sea salt into aquafaba or coconut milk and stir until combined. Spoon mousse into 6 ramekins. Cover with plastic wrap and refrigerate until set, about 4 hours or overnight. Sprinkle flake salt over top prior to serving.