Scanning old cookbooks, I've found an abundance of recipes that call for a generic "onion" in their ingredients list. Even today, the practice persists on blogs and beyond, perpetuating the myth that all onions taste and act the same. In reality, they're not so interchangeable.
When we shop, we're met with an array of onions, which isn't just for show. While some onions are more "all-purpose" than others, every onion is best for something. Knowing what each onion will do in different scenarios will only improve your cooking. Remember: Onions want to work for you, but you have to learn to speak their language.
1. Peeling Back the Layers



2. A Cut Above the Rest
Onions are ineliminable, and learning how to cut them is one kitchen skill worth mastering. This technique will speed up your prep and give you perfectly square pieces of onion every time. Just follow these steps.
 3. For Crying Out Loud
Slicing an onion is daunting on so many levels, not to mention, a race against the clock. No matter how honed your knife skills, it's hard to make proper cuts when your eyes are rapidly filling up with fiery tears seconds into your dice. Is there any way to avoid the pain and suffering? Maybe. Grab your goggles and let's dive in.
Trick: Look sharp
Tool: A good knife
Does it work? Yes. Using a dull knife pulverizes the onion's cell walls, and those damaged walls leak more gas into the air. A sharp knife slices more quickly and keeps damage – and, in turn, powerful gases – to a minimum.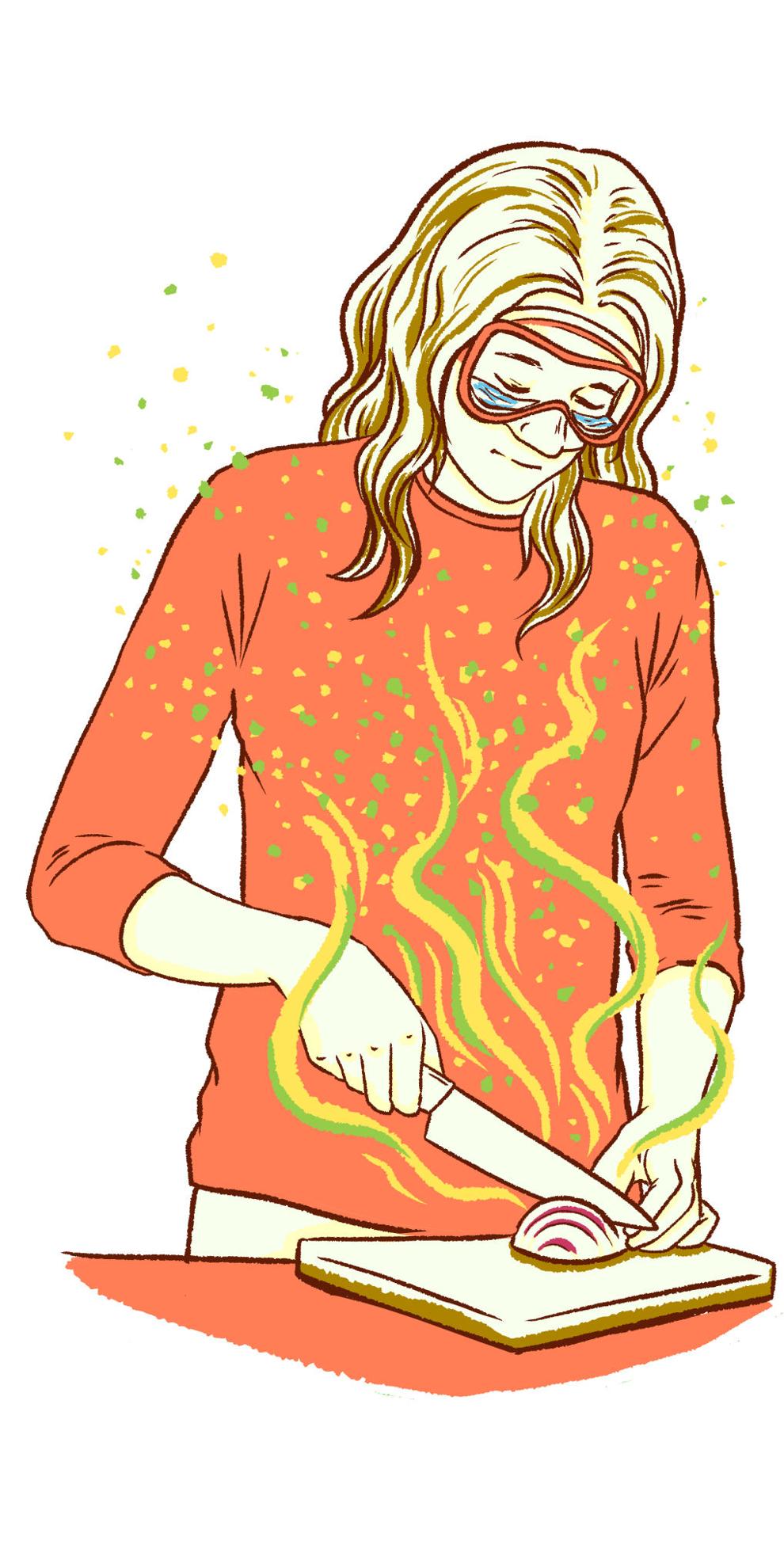 Trick: Chill out
Tool: Refrigerator
Does it work? It depends on how long the onion is refrigerated. A quick chill won't do much because the onion's cells don't have time to adjust to the cooler temperature. An overnight chill, on the other hand, just might do the trick. When you're ready, remove the onion and slice it immediately to keep most of your tears at bay.
Trick: Suit up
Tool: Googles
Does it work? Somewhat. Goggles prevent the gas from hitting your eyeballs, but those noxious fumes still get up your nose. You can either breathe through your mouth or fully commit and don a pair of goggles with a nose piece – you'll look amazing and be fully protected.
4. Sweet & Low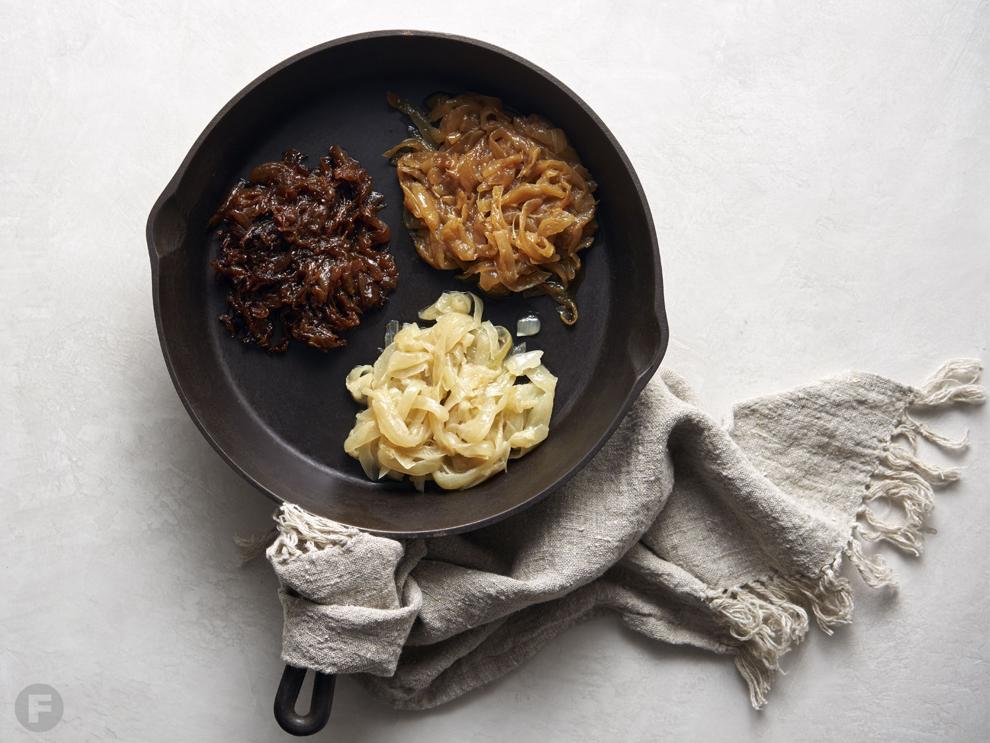 Caramelizing onions isn't a quick process; slow and steady definitely wins this particular race.
You don't need to hunt for the perfect recipe: How long you cook them depends on the onions you use (reach for yellow or sweet here) and how done you like them.
Blonde. Although not fully caramelized, blonde onions have developed that first undercurrent of sweetness and depth, making them ideal for French onion soup. Cappuccino-colored, they're a level up from onions that have been sweated to mellow out their flavor, but still maintain a bit of bite.
Golden Brown. More time in the pan gives onions a darker tan. Golden onions are sweet and incredibly tender – use them for an irresistible onion jam, among other things.
Deep Golden Brown. Nearly crisped, intensely brown onions have the most complex and concentrated flavor, with pops of char amidst a sea of sweetness. They're a burger's favorite topping.
Once you've settled on a style, you have to make it. Caramelizing to any degree involves the same steps; the only difference is the number of times you perform them, based on which milestone you want to reach.
Prep. Evenly slice the onion: ¼ inch to ⅛ inch is best for thickness. Too thick and the onion won't caramelize; too thin and it will burn. You don't need perfect, solid rings when caramelizing – the whole point is to make the onion soft and melty. And you've already learned how to cut an onion to achieve a specific flavor profile, so let's put that knowledge into practice: Slice the onion pole to pole to get one step ahead in the sweetness game.
If you plan to add other ingredients – garlic, thyme, rosemary or the like – get those chopped and ready, along with a deglazing liquid – water, wine, beer, broth or balsamic vinegar. The liquid should be in a vessel you can control (read: no glugs).
Heat. Heat a thin layer of oil that can tolerate high heat, or a combination of butter and oil, in a large, wide, heavy pan over medium heat. Note: Use a stainless steel or cast-iron pan to develop the most "fond" (a.k.a. sticky brown bits that build up on the bottom of the pan) that you'll scrape back into the onions as you cook.
Soften. You don't want to steam the onions during caramelization, except when you do: right at the beginning. Throw the onions in the pan, season with a pinch of salt, stir to coat onions with oil and cover for 10 to 15 minutes to soften them. This creates a uniform texture that will go a long way to ensure your finished product is even in texture and color.
Caramelize. Finally, the fun part: Remove the lid and prepare to hover – you'll mostly leave the onions alone, but this is no time to catch up on your favorite TV series. Caramelization is all about observation: While the onions cook, things are happening that you'll need to regulate. Stir them every few minutes and keep watch for warning signs that things are going awry. If you find the onions have low or no moisture, add a splash of deglazer, stir and scrape the bottom of the pan. If the onions are experiencing uneven or rapid cooking, lower heat to medium low or low.
The entire process takes 45 minutes (golden brown) to an hour (deep golden brown), though blonde onions take less time – look for them to be done after 30 to 35 minutes.
5. Recipe
With all due respect to your grandmother, an update to the classic creamed onion recipe is long overdue