For many of us, fried chicken takes us to a place of heady nostalgia, forever intertwined with memories of hot summer days, Popsicles and picnics. It would be impossible to get through summer without longing for a pile of crispy, crunchy fried chicken, so when the feeling hits, go with it, but don't reach for that take-out menu just yet. Making fried chicken from scratch may seem like a chore, but it's actually kind of a lazy business, drawn out over days. A little work here and there, and suddenly, you've got the best 10-piece bucket of your life. All you need to get going is some basic knowledge, a few tools and a big dose of confidence in yourself. Can you nail the most quintessential American summer dish? Of course you can.
1. Break It Down
Breaking down a chicken isn't difficult: All you need are the right tools and a little practice. Make sure you have a sharp chef's knife on hand plus sharp kitchen scissors.
2. Learning to Fry
Let's face it: Frying blind can be nerve-wracking. Equipping yourself with the proper tools (and a little frying know-how) means you're way less likely to blow up your kitchen. Some people prefer to fry in a cast-iron skillet; if you want less spatter and a little more safety, opt for a deep cast-iron pot (like a Dutch oven) and invest in a spider strainer – a shallow wire basket with a long handle – to carefully lower and remove your meat from the hot oil.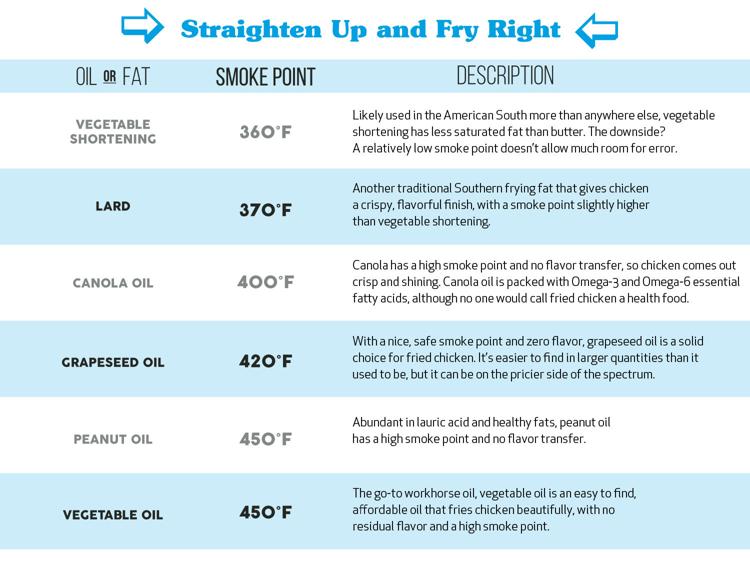 ★ Temperature can make or break fried chicken, so always monitor your oil temp with a thermometer; a candy thermometer does the job just as well as a deep-fry thermometer. You want to drop your room-temperature chicken in at 350°F and keep your oil hovering around 325°F when frying.
★ Choosing the right oil or fat is also just as critical to the success of your fried chicken. Look for an oil or fat with a high smoke point (the temperature at which an oil begins to burn) and minimal flavor transfer to get the best possible results.
★ Some restaurants use oils like rice bran or sunflower for their deep frying. These oils have a very high smoke point, but can be difficult to find in noncommercial quantities for a home cook, and can be less affordable than common oils like vegetable, peanut or canola.
3. Battle of the Brines
Perhaps the single most important thing you can do for fried chicken is brine it. Which type of brine you chose is up to you – some people land on a combination of both buttermilk and pickle – but the ultimate goal is to tenderize and add flavor from the inside.
Buttermilk Brine. Buttermilk tenderizes meat slowly by using lactic acid and fermented milk enzymes to break down the fibers and protein structures within, while the calcium found in buttermilk speeds up the tenderizing process. Adding spices to a buttermilk brine infuses the chicken with flavor that stays with it even after the frying process. A fermented milk brine isn't unique to the U.S; Indian, Greek and Scandinavian cuisines often use spice-infused yogurt marinades to achieve maximum tenderness.
Vinegar, Salt and Acid (or Pickle) Brine. A vinegar brine digs deep, cutting through the exterior structure of the chicken, uncoiling protein structures with acid and salt, removing moisture and flooding the gaps left behind with flavor. It works from deep within the meat, lightly curing the protein – think ceviche – without heat, resulting in tender, fall-apart portions.
Bump up your brine any way you choose by simply adding in any combination of complementary herbs and spices to the mix.
Rosemary
Lemon zest or juice
Black peppercorns
Cayenne pepper
Paprika
Hot sauce
Onion powder
Garlic powder
Garlic cloves
Oregano, fresh or dried
Coriander seed
Dill, fresh or dried
Thyme, fresh or dried
Bay leaves
Sage
Allspice berries
Chef Showdown: Buttermilk vs. Pickle Brines
Buttermilk and pickle brines both have their place in your fried chicken arsenal. Here, we asked two chefs to share what they like about each of the approaches.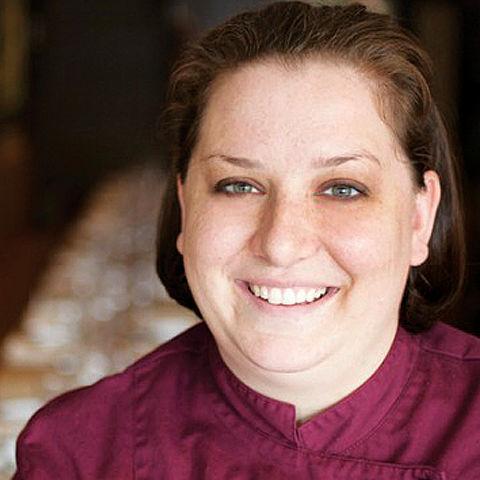 Team Pickle Brine: Cassy Vires, executive chef, Winslow's Home in University City, Missouri
"Brining chicken is an absolute must in all applications, but especially fried chicken. A traditional buttermilk marinade will only tenderize and flavor the meat on the surface, but a salty brine draws out the moisture, allowing for a deeper penetration of flavor and a more thorough tenderizing process."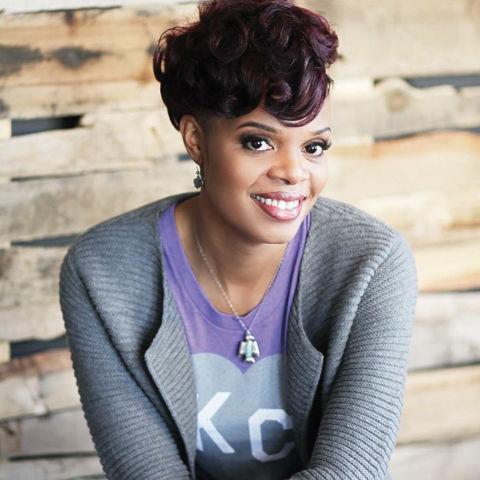 Team Buttermilk Brine: Shanita Bryant, chef-owner, Magnolia's by Chef Shanita Catering in Kansas City
"Buttermilk acts as a natural tenderizer for the chicken, and for me, an overnight soak in a shallow buttermilk bath is essential for tender and crispy skin. What is fried chicken with tough and rubbery skin?"
4. Batter Matters
In life, it's what you find on the inside that counts. With fried chicken, though, what's on the outside matters just as much, if not more. The ingredients in your batter or breading determine whether your chicken finishes with an airy flake or shatters with a shardlike crackle. Can you make fried chicken batter with just standard all-purpose flour and some eggs? Sure, but you can make it more interesting by mixing things up.
1. All-Purpose Flour. A good starting point that yields a solid yet not overly crispy finish.
2. Self-Rising Flour. All-purpose flour with a little baking powder and salt, self-rising flour will give your chicken a fluffier crust than basic all-purpose flour.
3. 1-to-1 Ratio Cornstarch and All-Purpose Flour. Cornstarch cuts the protein and fiber of all-purpose flour, resulting in a delightfully crisp, crunchy crust. Alternatively, using cake flour – a fine, low-protein flour used primarily for baking – will yield similar results.
4. 1-to-1 Ratio Cornmeal and All-Purpose Flour. The grit of cornmeal makes for a crunchy, grittier, slightly sweet exterior. Beware: That pleasant grittiness means debris in your oil, which can burn over time and may need to be strained out.
5. Cornstarch. Cornstarch contains no protein and no fiber, which makes for a crust that's crisp, light and shatters as you bite into it.
6. Potato Starch or Rice Flour. Often used in Asian cuisine, both potato starch and rice flour are ideal if you're looking for a lighter, crisp batter similar to what you'd get from a cornstarch dredge.
Once you choose your flour and/or starch combination, bring it to life by adding ingredients to suit your individual tastes. Whole eggs will thicken batter and tone down the crunch factor because of the yolks' fat content; egg whites add fat-free protein that gives batter structure and encourages crispness. Alcohol in your batter – beer, bourbon or vodka are popular options – evaporates during the fry and creates layers of flaky crust, just like it does in a pie. Spices are optional in your batter; keep it simple and go with salt and freshly ground black pepper, or echo the spice profile you used in your brine.
Doing the Dip
How you bread your chicken is entirely up to you: Some people like to mix wet and dry ingredients together to make a batter, while others choose to handle their wet and dry ingredients separately. A batter can be a quick and easy way to dredge chicken for frying; simply mix, dip and transfer to a wire rack to let excess batter drip away before frying. Alternating between wet and dry can give you a bit more control over your coating, though. Mix your flour or starch and spices in one bowl and your wet ingredients in another and dredge in dry, then wet, or do a dry-wet-dry approach before letting the coated chicken pieces rest a few minutes on a rack before frying.