We all know Granny Smiths from Honeycrisps, but when was the last time you bit into an apple and really paid attention to its texture and more subtle flavors?
This fall, during peak apple season, take the time to savor your bounty, whether bought at a local farmers' market or plucked from the trees at a regional u-pick orchard.
1. Apples to Apples
Of the 7,500 known apple cultivars worldwide, 2,500 are grown domestically – 1,000 of which are grown for mass market and available year-round. Those are chosen for durability, longevity and yield, but they're not always the best things out there. If you happen upon one of the following beauties, don't hesitate to give it a chance – you might be pleasantly surprised by what you taste.
2. Pick a Peck
If apple picking isn't already a part of your fall routine, the time to change that is now. Weaving your way through aromatic orchards of fruit-laden trees, you'll have the opportunity to pluck varieties that never grace grocery store shelves, while supporting local family farms. Stop by one of these a-peel-ing spots in Missouri and Illinois and snag an entire bushel.
NOTE: Inclement weather and a less-than-stellar growing season, along with other factors, might affect orchards' pick-your-own experiences. Be sure to call or check websites and social media before leaving home.
Eckert's | Belleville, Grafton and Millstadt, Illinois
Open mid-August through early November
A visit to one of Eckert's farms during any growing season is a pleasant experience, but in the fall, when the air is cool and the apples abound, it's practically a requirement. With 11 popular cultivars – from Granny Smith to Suncrisp and Honeycrisp to Pixie Crunch – spread out over its three locations, you're likely to find some you fancy. eckerts.com
Hickory Ridge Orchard | Mexico, Missouri
Open early September through early November
One of the last u-pick apple orchards in central Missouri, Hickory Ridge Orchard was created by Brandt and Kelsey Schisler in 2017. The couple grows approximately 18 varieties of apples, including Cortland, Empire, GoldRush and Winesap, throughout the year. Due to an unexpected hailstorm, the u-pick apple experience is closed for the season, but visitors can still pick pumpkins, buy bags of the orchard's apples and indulge in its delicious raw cider. hickoryridgeorchards.com
Historic Weston Orchard & Vineyard | Weston, Missouri
Open August through early November
With 17,000 apple trees spanning 15 acres, there's plenty of fruit to go around at Historic Weston Orchard & Vineyard. Dwarf trees make it possible for even the littlest of little ones to pick, and you can choose from 12 varieties, including EverCrisp, Jonagold and Rome Beauty. The orchard also offers tours, which give participants insight into how apples and other fruits are grown. orchardweston.com
Murphy Orchards | Marionville, Missouri
Open mid-August through early November
Located in southwest Missouri, Murphy Orchards grows a whole gamut of fresh produce, from apples to watermelon and blueberries to peaches. Its selection of 14 apple cultivars includes Braeburn, Cameo, Jonagold and Lura Red – when you drop by to pick your own, don't forget to grab some frozen apple cider as well. murphyorchard.com
Schweizer Orchards | St. Joseph, Missouri
Open mid-August until first freeze
A fourth-generation family farm, Schweizer Orchards values tradition and grows a wide assortment of edible delights. Of its 21 apple cultivars, keep a lookout for Jonathan, Lodi and Pink Lady. schweizerorchards.com
Thierbach Orchards & Berry Farm | Marthasville, Missouri
Open weekends in September and October
Owned by Otto and Susie Thierbach, Thierbach Orchards & Berry Farm has three locations, including an apple orchard and market, all within an hour of St. Louis. The apple orchard features 16 cultivars such as Empire and Jonagold, but you might not have heard of one of the most beloved: Mutsu, a popular dessert variety in its native Japan, is a cross between the Golden Delicious and the Indo cultivars and has a sweet honey undertone. thierbachorchards.com

3. How About Them Apples?
If you're interested in doing more with your apples than eating them with a smear of peanut butter, consider the following cultivars. Better for baking, these apples can handle the heat and hold their own in pies, strudels, muffins and more. Also, rather than losing flavor and turning to mush, their flavor and texture often improves when baked.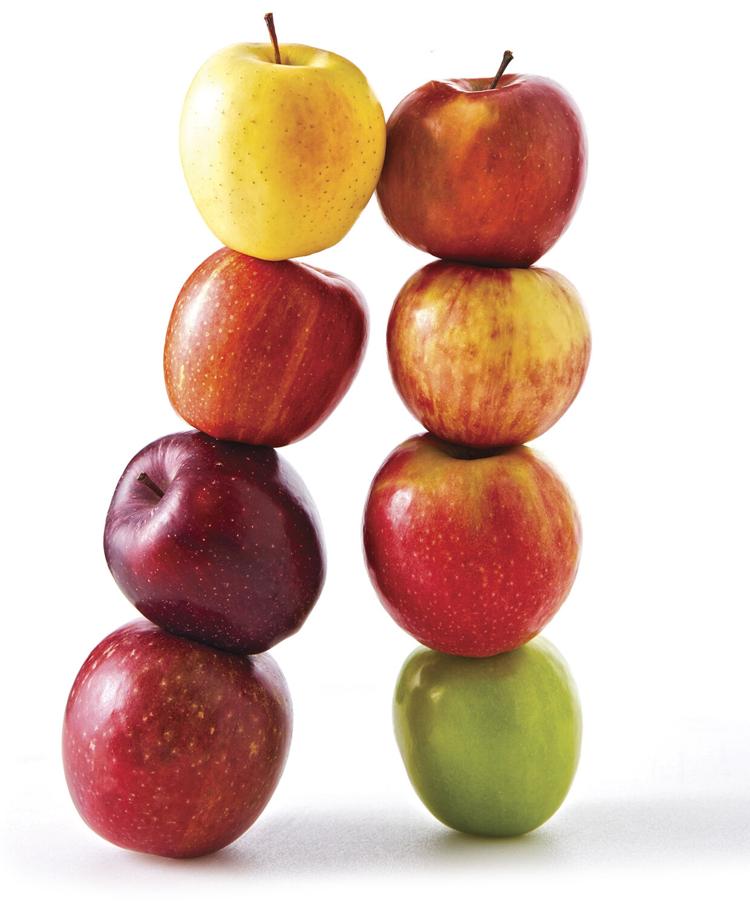 Braeburn: tart – but with less acidity than Granny Smiths – and extra juicy
Cortland: simultaneously sweet and tart, juicy and doesn't brown as quickly as other cultivars
Granny Smith: tart and acidic with a sharp flavor similar to sour candy
Honeycrisp: the sweetest of the bunch with honey flavor and a juicy crunch
Fuji: sweet and juicy with keeping ability but often overlooked as a baking apple – don't make that mistake
Jonagold/Jonathan: mostly sweet yet slightly tart
Mutsu: tart and sharp but with sweet undertones and a heady aroma
Pink Lady: balanced sweet-tart flavor and a juicy, blush pink flesh that adds gorgeous color to applesauce
Winesap: deep, complex flavor – spicy and cider-like
4. Tricks of the Trade
Cutting into any ingredient, including apples, damages its cells and tissues. When oxygen hits the injured areas, chemicals react, compounds form and before you can say, "Waldorf salad," your apples have started to brown. What to do? The solution couldn't be simpler: All you need is water plus one of the following ingredients to keep your beautiful apples from turning to the dark side.
Lemon, Pineapple or Apple Juice. Lemon juice is a classic choice because its tartness is a welcome addition to apple desserts. Pineapple juice and vitamin C-fortified apple juice work just as well without as much residual flavor. Add approximately 1 tablespoon of juice for every cup of water.
Citric Acid. Add a splash of lemon-lime soda to a glass of water and dunk your freshly sliced apples in the mixture to keep browning at bay.
Honey. Certain compounds found in honey block the oxidation process, which means your apples stay clean and clear. Whisk in a tablespoon for every cup of water used.
Salt. This is not the most popular option – salty apples just seem wrong – but it does the trick. Use approximately ⅛ tsp kosher salt for every cup of water and remember to rinse the apples before adding them to a recipe.
Water. If nothing else is available, cover the surface of cut apples with a thin layer of water – water's surface tension will stop oxygen from getting in and starting trouble.
5. The Flakiest Apple-Ginger Strudel
This is strudel the Austrian way, with featherlight layers of pastry supporting the star of the show: apples.