Banchan, which translates to "side dishes" in Korean, aren't just part of the meal – they make the meal. Here, St. Louis chef Hana Chung, who was born in Seoul, South Korea, and moved to the U.S. as a baby, shares a few of her favorite recipes – and what they mean to her. 
For me, Korean food is about the spread.
At every Korean dining table, you'll always have rice and you'll always have a soup, but then all the side dishes, known as banchan, might be different. For instance, if I went to my uncle's house, the side dishes might be different depending on where he lives, what part of Korea he's from and what he likes, and then the side dishes at my house might be different out of convenience or taste. For me, the spread is what Korean food is. It's not about one dish; it's about eating many dishes at the same time.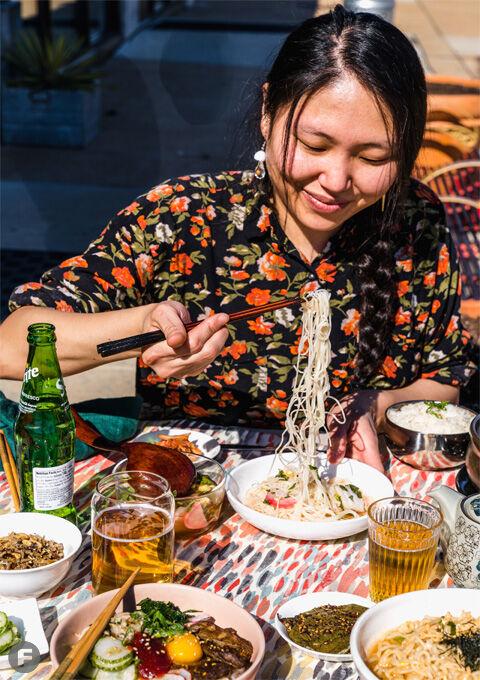 And with Korean food, it's all about balance – you can't just have a salty meat and not have a refreshing pickle or something to contrast with that flavor. Korean food is about making different combinations to achieve that balance, and that's where banchan comes in. Korean barbecue is a great example: You have your warm rice, your salty meat, a little crunch from some sweet-style pickles and maybe some soy-braised black beans. When you eat it all together, it's the perfect bite. Yes, of course you can eat all of those things individually, but together it's just so much better. And that's just how Korean people eat – a little bit of this, a little bit of that – because we want all the nuances when we're eating. We want that soft, we want that crunchy, we want that sweet, we want that sour.
I like to say that Korean food is a hug from the inside. And it's funny to see it starting to become more popular in the U.S. – it's kind of a double-edged sword. At Indo, chef-owner Nick Bognar, chef de cuisine Mark Silva and I talk about this a lot because we have very similar upbringings: Growing up as Asian Americans, we got made fun of a lot. My mom used to make me these awesome lunches, and I remember throwing them away because I was so embarrassed; kids would just relentlessly make fun of me and ask, "Why does this smell that way?" And those same kids that used to make fun of me now think this food is so amazing – which it is – but they just hopped on the train too late. I think it's great that Korean, Japanese and Filipino cuisines are inching their way through the mainstream, but it's a double-edged sword because sometimes people aren't taking it one step further to find out more about what they're eating. What if someone had never had Korean food and they go eat that Shake Shack chicken sandwich and they think that's what represents Korean food? It's exciting that it's becoming more mainstream now – everyone should be able to taste the flavors of Korea, because it's delicious. But if we're going to do it, let's do it right.
The following recipes are a good start. These are very basic everyday side dishes that I personally eat and make at home. These dishes are simple and best eaten with warm rice, and a lot of the vegetables used here can be replaced with other vegetables based on the season. The great thing about Korean food is that the base for the seasoning will be the same, and then you just change out the main vegetables, which makes Korean food a lot easier and more versatile. A lot of Korean side dishes are also made in bulk and then fermented for even more depth of flavor – the serving sizes for these recipes are a little larger so you can enjoy the dishes in all of their different stages.
This crunchy kimchi is the perfect side dish for kimbap or for galbitang on a cold night.
Use this set of side dishes in rice bowls, bibimbap, Korean barbecue spreads and everyday meals.