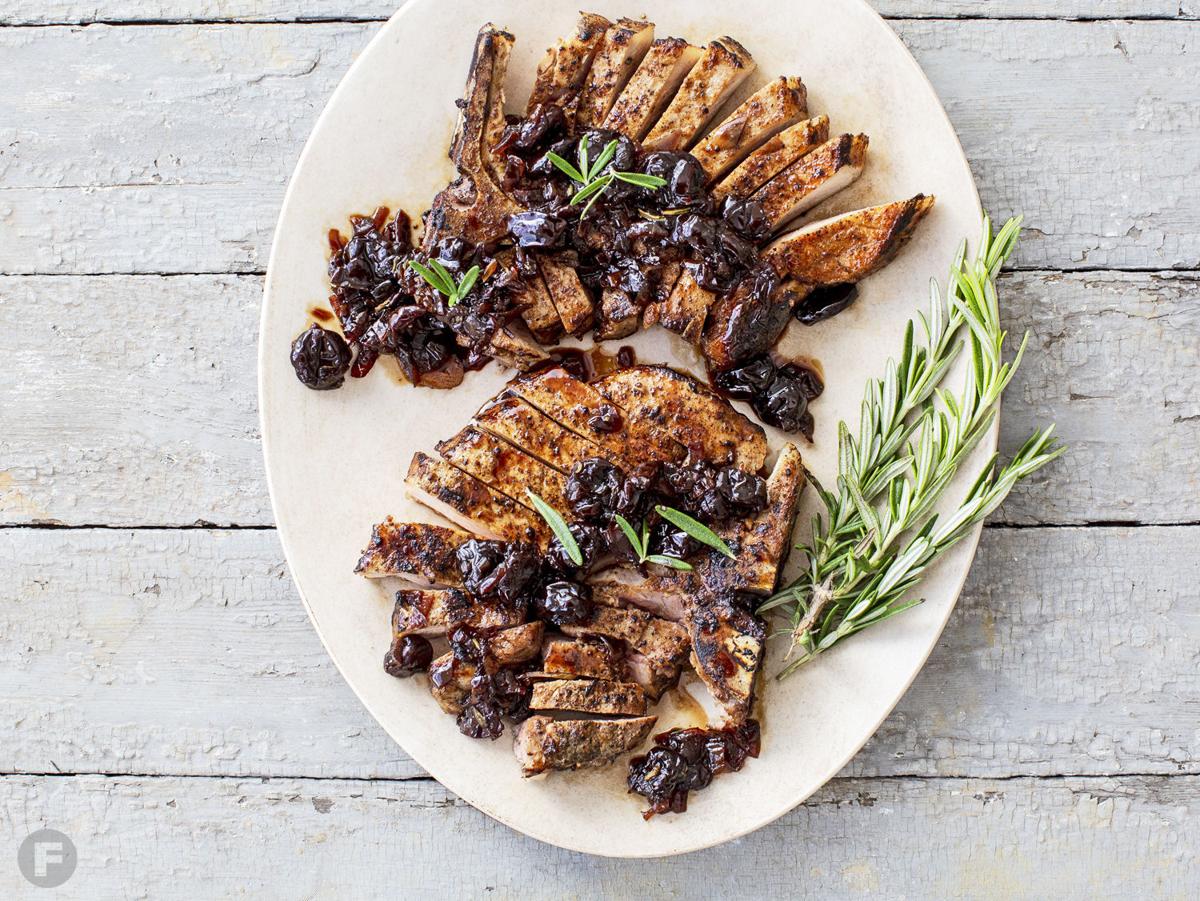 Once you've made an agrodolce sauce, you can explore different ingredients every time: You just need something sweet, sour and tangy, and you're in good shape. To complement these fatty, rich pork chops, we're combining dried cherries, honey, shallots, garlic, balsamic vinegar, rosemary and thyme, but this is merely a guide – experiment with herbs and spices to modify the agrodolce to your tastes. You can substitute any fruit you have on hand here, too: sultanas, dried figs or apricots would all make a lovely agrodolce. The sauce also complements chicken, fish and grilled vegetables.
BASIC BALSAMIC. If you don't have balsamic vinegar at the ready, combine two cups red wine vinegar and one cup granulated sugar in a pot over medium-high heat. Bring to a boil and then reduce heat to just under a boil. It will take a little longer to thicken but taste the same.
Pork Chops with Agrodolce
Serves | 4 |
4 10- to 12-oz bone-in pork chops
kosher salt and freshly ground black pepper
2 Tbsp grapeseed oil
2 shallots, roughly chopped
2 cloves garlic, thinly sliced
¾ cup balsamic vinegar
2 Tbsp honey
½ cup dried cherries, soaked in 1 cup warm water and drained
2 sprigs fresh thyme
½ tsp roughly chopped fresh rosemary
| Preparation | Preheat oven to 200°F. Season pork chops liberally with salt and pepper.
In a large skillet over medium-high heat, heat oil. When shimmering, add pork chops. Don't crowd the pan; cook pork chops in batches if needed. Sear chops for 2 minutes per side, turning once. Remove pork chops to a rimmed baking sheet and bake in the oven for 15 to 20 minutes, or until they reach an internal temperature of 135°F on a meat thermometer.
Return skillet to medium heat, add shallots and cook for 2 minutes. Add garlic and let cook for 1 minute more. Add balsamic vinegar and honey and bring to a boil, stirring constantly; cook for 15 minutes more to reduce. Add drained cherries and herbs and cook 5 minutes more. Season with salt and pepper to taste. If sauce becomes too syrupy, add a little warm water.
Serve pork chops with agrodolce spooned over top.
GET HANDS-ON! Join Feast Magazine and Schnucks Cooks Cooking School at 6pm on Wed., June 19, at the Des Peres, Missouri, location to make the dishes on this month's menu. Tickets are just $45 for a night of cooking, dining and wine. RSVP nourish.schnucks.com/web-ext/cooking-school or call 314.909.1704.
MAKE THE MEAL:
Mandarin Orange and Candied Almond Salad
Whipped Sweet Potatoes With Maple Syrup
Green Bean-Bacon Bundles
Pork Chops With Agrodolce
Strawberry-Rhubarb Pie
LEARN MORE: In this class, you'll learn how to make green bean-bacon bundles, an easy and delicious summer side dish. You'll also learn how to make failproof pie crust.