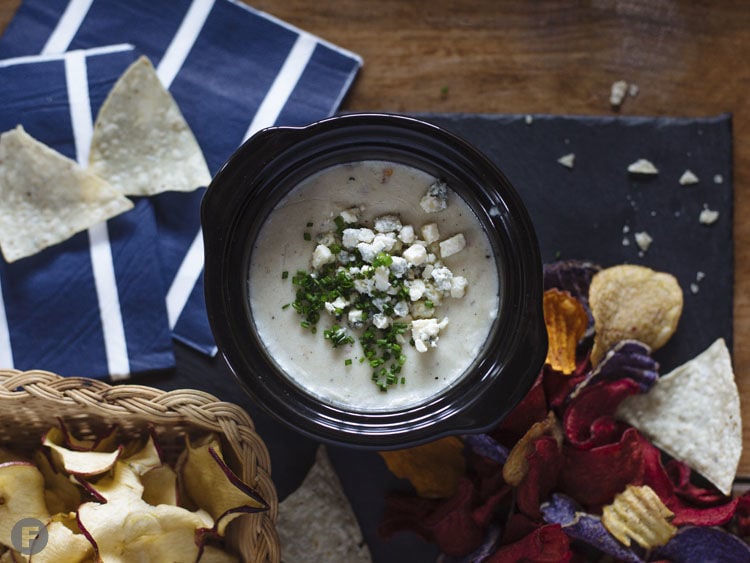 Choose whatever blue cheese you like for this one; Maytag will give you a robust blue cheese flavor, while St. Agur or gorgonzola will result in a lighter flavor. This dip isn't just for chips: Set it near your vegetable tray as a second dip option.
Serves | 8 to 10 |
2½ cups 2 percent milk
2 Tbsp unsalted butter
2 Tbsp unbleached all-purpose flour
6 oz Maytag blue cheese
3 oz Parmesan cheese
¼ tsp chile flakes
sea salt and freshly ground black pepper
2 to 3 lbs mix of chips: potato, sweet potato, beet, parsnip, carrot, apple and pear chips
| Preparation | In a medium saucepan over medium-low heat, warm milk, stirring occasionally. At the same time, heat butter in a large, heavy-bottomed saucepan over medium heat until melted; add flour and whisk continuously, cooking until lightly browned, 3 to 4 minutes. Stream in hot milk as you whisk and continue to cook over medium heat until mixture comes to a bubble and thickens slightly. Add both cheeses; whisk continuously until mixture is smooth and cheese is melted. Add chile flakes and season to taste with salt and pepper.
| To Serve | Transfer cheese to small slow cooker set on warm. Serve alongside chip mix.