Every dish has its drink: tacos and Margaritas, steak and red wine and, for me, fries and dry sparkling wine. Sure, both crispy, salty fries and effervescent bubbles can be enjoyed on their own, but when paired together, the comfort and indulgence hit all the right notes.
I find that a refreshing glass or two of dry sparkling wine makes you feel less guilty about eating fries for dinner, too; the acidity and brightness of the wine complement the salty, rich fries. It's both simple and celebratory, familiar and just a little fancy.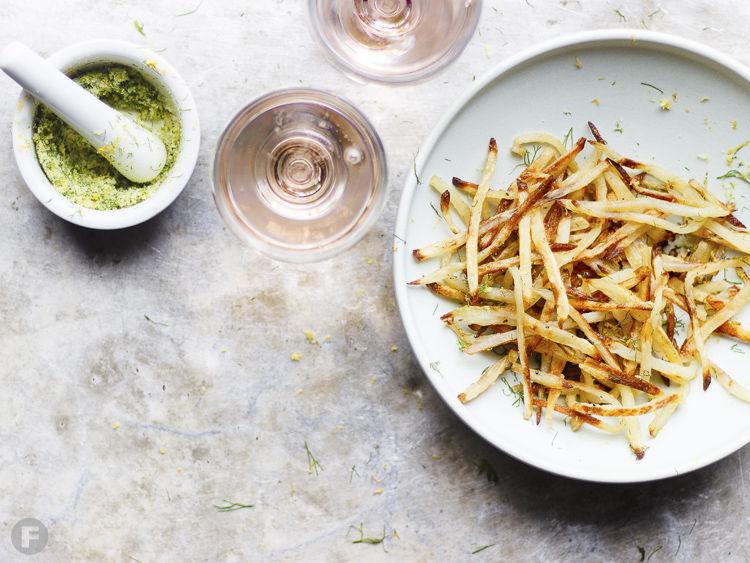 Crispy Shoestring Fries With Lemon-Fennel Salt
You'll need a mandoline to slice potatoes into shoestrings.
2 russet potatoes, peeled and sliced into shoestrings
2 Tbsp olive oil
2 Tbsp coarse sea salt
zest from 1 lemon
¼ cup fennel fronds, small dice, divided
| Preparation | Preheat oven to 425°F. Line two baking sheets with parchment paper. In a large mixing bowl, toss sliced potatoes in olive oil. Spread them evenly onto prepared baking sheets. Meanwhile, using a mortar and pestle, grind salt, lemon zest and half of fennel fronds.
Bake fries for 20 minutes or until crispy and golden brown, flipping halfway through. Sprinkle with lemon-fennel salt, remaining fennel fronds and enjoy warm with a glass of your favorite dry sparkling wine.