In mid-Missouri, people looking for a place to eat – and compete – go to Cork & Board in downtown Jefferson City. Whether your love of games is inspired by a recent binge of The Queen's Gambit or a search for the perfect family outing, this board game bar has a match for you.
Since opening Cork & Board last summer, owners Adam and Cara Stark have cultivated a library of more than 150 games with varying degrees of difficulty, from Candy Land to Codenames. Some even have sentimental value: One of the chess boards that you can use was given to them as a wedding present.
Before Cork & Board began play, it operated under the name Cork & Provisions, which locals might remember as a fine-dining restaurant. The couple took over the business in fall 2019, but mere months later, "the world turned upside down," says Cara. They served takeout for almost two months, and then they had to reevaluate their plans for the future. They looked inward for inspiration and decided to focus on a pastime they'd enjoyed together for years.
"Adam and I have always been avid board game players," says Cara. "We play chess daily." Adam has even had a Catan tournament-style birthday party for the past three years.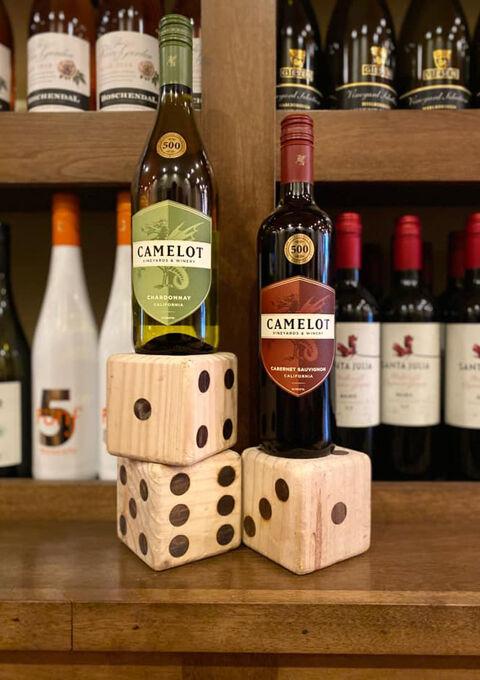 Beyond their personal love of games, they wanted to bring a new kind of activity to their hometown. "We thought it would be fun to offer something that people [could do] while enjoying drinks and enjoying food, really encouraging that community vibe," explains Cara. They spent the spring planning, building and transforming the space into Cork & Board, which opened in June 2020.
The kitchen at Cork & Board serves casual American fare – a step away from the former fine-dining concept. "We needed to make it more approachable," says Cara. "[Now] hopefully everyone can find something they like [on the menu]."
We suggest starting with one of three Cork Boards (charcuterie boards designed to pair with either wine, beer or whiskey) or small bites from the Dibbins section. Cheddar cauliflower bites, fish and chips, chicken strips, sweet potato fries and tater tots can all be dipped into the five housemade sauces: Carolina mustard, honey mustard, yum yum, Sriracha-chile and jalapeño-cilantro-lime. Another popular dish, the skillet mac 'n' cheese arrives tableside in its own cast-iron skillet – topped with bacon or chicken if you want.
Looking for something sweet to go along with a hard-won victory? Try a Nibble Bowl filled with your choice of one to three different types of treats such as Peanut M&M's, Sour Patch Kids and Animal Crackers.
Like the venue, the menu is well-suited for both kids and adults. "The reason we did a variety menu is price," says Cara. "We both grew up in large families, and we wanted to make Cork & Board a place where families can come – somewhere affordable, somewhere approachable."
During a riveting game of Risk, you'll likely need a refreshment. For the adults in your party, order a glass of wine, bottle of beer or handcrafted cocktail, each named after a board game. "We have a Colonel Mustard, Checkmate and more," says Cara. "It's been really fun to grow the cocktail menu and expand the bar." The full bar also offers happy hour Tuesday through Saturday from 3 to 6pm.
Servers, dubbed Game Gurus, can help you find the perfect plates as well as suitable games for you and your group. "All of our servers are well-acquainted with the games, so every time someone new comes in, we introduce them to the concept, walk them through the game library, ask if people want recommendations and try to determine what vibe people want," says Cara.
Each game has a sticker that denotes its level of difficulty and time investment to learn and play. One of the bar's most popular games, according to Cara, is Battle Sheep, a strategy game. "The reason it's so popular, I think, is because it takes about three minutes to learn," she says. "All of our staff knows how to play that one, but it's different every time – there's a lot of variety. It's a two to four player game, and it's really popular among people coming in for game night who might want to challenge themselves a little but don't want to invest 20 minutes into learning a new game."
A $5 library fee per group goes toward the purchase and replacement of board games, but every Wednesday night is free for all.
Adam and Cara like to support other local businesses with their small business, too. They source games from Downtown Book & Toy in Jefferson City and Valhalla's Gate Games in Columbia, Missouri, when they can. Cara says the latter was extremely helpful in compiling a wide variety of games that still create a cohesive list.
The couple also features local beers – mostly from Logboat Brewing Co. – and locally roasted coffee beans from Bare Knuckle Roasting Co. and Three Story Coffee.
There's endless fun, food and drinks to be had at Cork & Board, whether it's date night, friend night or family night.
Cork & Board is open Tuesday through Thursday from 3 to 10pm, Friday from 3pm to 12am and Saturday from 12pm to 12am.
Cork & Board, 124 E. High St., Jefferson City, Missouri, 573.635.3643, corkandboard.org