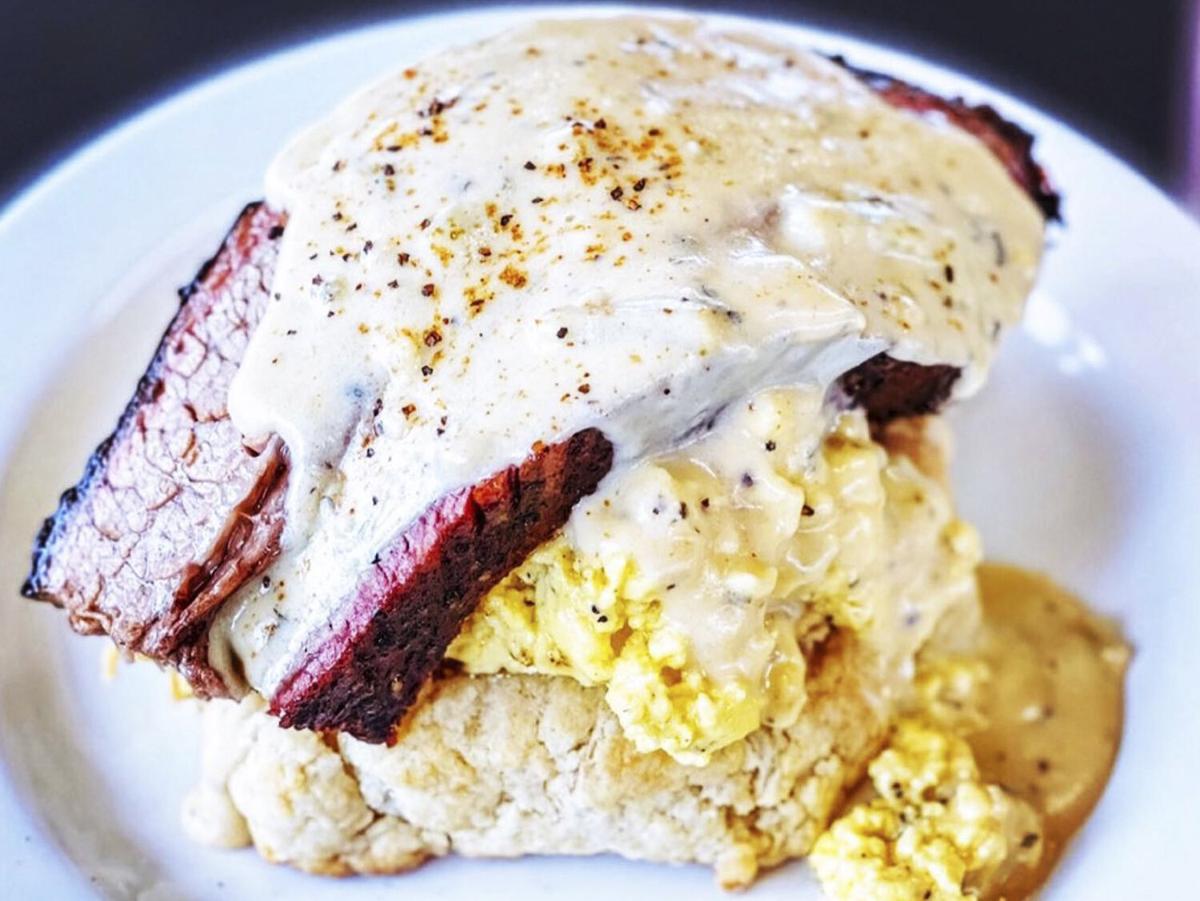 This summer, Ninth Street in Columbia, Missouri, will receive some south Texas flair. Bud's BBQ is set to open in the former storefronts of Ingredient True Eatery and Pickleman's in August, becoming the first restaurant to bring Texas-style craft barbecue to the area.
Bud's won't just tackle traditional slow-smoked meats, though; the acronym stands for Bar, Brunch and Que. Owner Jason Paetzold says his eatery will combine two of America's favorite things – brunch and barbecue – and feature a top notch bar program to boot.
"The convivial atmosphere of brunch is something that's special to me, personally," he says. Brunch here won't exactly be traditional, but it might spark some new traditions. "Imagine a biscuit with crème brûlée and pork belly on top of it – just really inventive, fun and creative things. Biscuits and brisket happen to go really well together."
Beyond brunch, the daily menu will focus on the Texas trinity: brisket, ribs and sausage. "We'll always have that," says Paetzold, "but depending on the day, we'll mix it up. We're not going to necessarily have a published menu but instead keep it exciting and serve what the market wants."
Customers can anticipate rotating specials such as barbacoa beef, pork belly, smoked turkey and, on Saturdays, beef ribs. "If you can smoke it, we'll definitely put it out there and try it," says Paetzold.
The "Que," as mentioned, references barbecue but also Mexique, a term coined by residents of the southwestern states who combine Mexican cooking traditions with U.S.-style barbecue to create a unique style of fare, according to Paetzold. "You can make a lot of incredibly tasty tacos and huevos rancheros – there's endless opportunity to merge some of those exciting flavors together," he says.
Although the meat will take center stage, Paetzold says that the sides will compete. Tangy slaw, mac 'n' cheese, frijoles borrachos and a hatch green chile corn pudding are just a few of the flavorful, from-scratch options to pair with your entrée.
To bring this project to life, Paetzold has spent the last year immersed in the world of Texas craft barbecue, learning from some of the most renowned names in the industry. "Sometimes with food, especially with barbecue, there's this attitude of 'I'd tell ya, but then I'd have to kill ya,'" he says. "If you and I were to go to Austin, though, we could go into these legendary places and ask them a question and their pitmaster would go around and show us through; there just aren't secrets. It's incredibly embracing. Now with that, they realize, 'Hey, I can show you, but it's going to be a tough thing to replicate.' I spent the better part of the last year down there, just learning from these titans – from the top 10 barbecue places in Texas. They've been open to helping me learn the craft, and they're excited to help me take it somewhere else."
Paetzold has also worked with local and national bartenders and mixologists to create batch cocktails that will be available on tap at Bud's. The craft cocktails served from kegs will be especially convenient on game days. "There's some tremendous places here in Columbia – Flyover, Barred Owl – that are putting out cocktails that would hands down work in any place across the country. But it really is a committed thing. It's difficult to put that out in volume. I'm of the firm belief that we'll actually be able to put out more consistently high-quality cocktails because of this system. When you get in the weeds and you've got 20 people waiting for a drink, consistency always comes in last. In the restaurant world, whether it's food or drinks, maintaining that consistency and that quality [is a challenge], and by just having these curated cocktails that are premade before a busy service and available on draft, it allows us to devote more attention to the quality of the ingredients going into them."
Many of those ingredients will spend time in the smoker before hitting your glass. The pineapple Margarita, for instance, starts with pineapple that's been smoked for hours before becoming a simple syrup for the cocktail.
There's one element that ties everything at Bud's together, and that's fire. The two custom-made smokers will be fueled exclusively by wood-fueled live fire. "The wood becomes an ingredient instead of a fuel source," explains Paetzold, adding that it equates to the impact wood barrels have on wine and bourbon. "When you run a clean fire with incredible hardware and use it the right way, it's magical. Just imagine the sweetness of caramel and even a dark chocolate note on your brisket from a carefully managed live fire."
He calls this method of barbecuing an art form, one that's piqued the interests of culinary enthusiasts around the world and even appeared on various TV shows, including Chef's Table BBQ on Netflix. And as with any art discipline, it requires dedication. "We spend 12 to 14 hours putting together a product that you might consume in 3 to 4 minutes. We'll do that every day and enjoy it because what goes on behind the scenes is what makes it a craft."
The craftsmanship doesn't end with the fare and libations at Bud's. Down to the last details, including the signage and the tables, Paetzold has searched near and far to source the best. "Dining, to me, is about creating a great experience," he says, "and that experience starts the minute you walk in the door. If I'm going to pursue the old-school style of barbecue, what better than to have the texture and design [of the restaurant] embrace that same feeling?"
Using wood from a 150-year-old barn in northeastern Missouri, his team crafted all the tables and bar tops. The light fixtures that span the ceiling are made from hand-hewn beams, and on the walls, two handcrafted neon signs read "Bar" and "BBQ." "They're just craft components that you don't see anymore; neon is a lost art. Here, you'll hear the hum of neon and feel its glow."
The building's panoramic windows also slide open, enticing new guests with the sights, smells, sounds and smiles that only the best barbecue joints can deliver. "Good vibes only make barbecue taste better," says Paetzold, and we couldn't agree more.
Follow Bud's BBQ on social media to find out when you can get your first taste of its Texas-style craft 'cue, smokin' brunch and kegged craft cocktails.
Bud's BBQ, 304 S. Ninth St., Columbia, Missouri, facebook.com/budsclassicbbq