Keep calm and collaborate. Less than a year after the COVID-19 pandemic first hit Missouri, that's exactly what Amanda Elliott and Ben Hamrah of Beet Box and Melissa Poelling and Michael Urban of Harold's Doughnuts are doing.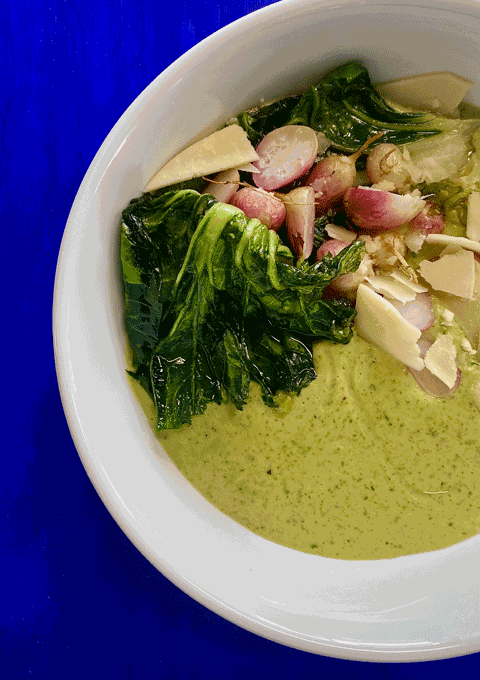 The Strollway Market, which started as a conversation between friends, will become a fully operational business inside the downtown location of Harold's Doughnuts in the next few weeks. The market puts a creative spin on deli classics and plans to offer from-scratch soups, salads, sandwiches and baked goods made with locally sourced seasonal ingredients. Daily specials will also be available to keep things extra fresh.
Urban and Poelling had mulled over the idea of opening a market like this for years, and with Elliott and Hamrah feeling inspired by the efforts of chefs in St. Louis, New York City and other parts of the country to persevere during this difficult situation, they all decided it was time to make the dream a reality.
"[During] the first real conversation that the four of us had, sparks flew – it was a cool moment," says Urban. "Within days, we were moving quickly. It was passion – and the vision of what this could be – taking over."
"You look for the coolest people you know, and you figure out ways to work together," adds Poelling. "Any chance to do anything with them, I'm 100 percent in."
For Elliott and Hamrah, collaboration has always been top of mind. "Amanda and I have been talking about that collaborative aspect for a long time," says Hamrah. "It changes the structure and the core of all we are doing. We wanted to find someone to collaborate with, to surround ourselves with friends and people we respect to try and do something to pull everyone out of this."
The Strollway Market will fill a gap that the foursome felt existed in The District. "It's straightforward, appealing food but not at the same status as barbecue or pizza here," says Hamrah.
"We can offer something of value to the residents of downtown and visitors of The District," adds Urban. "It's an amazing [area], and we believe in it as much as we ever have."
Elliott has been working with Casey Callans, who has cooked at Cafe Berlin and Nourish Café + Market in Columbia, to develop the menu at The Strollway Market. They've already introduced some standout dishes to the public, including two English muffin breakfasts (one savory, one sweet); a salad featuring locally grown winter greens, roasted sunchokes, poppy seed vinaigrette and Manchego cheese; and a tantalizing take on grilled cheese with Gruyère and pimento cheese, apricot jam and hot sauce. The duo leans heavily on each other and the team to stay inspired and drive the menu selection.
"I can turn to [anyone on the team] and ask, 'What'd you like most about your favorite Italian sandwich?'" says Elliot. "That collaboration lets you make the very best version. There's an Italian wedding soup on the menu, so when Casey and I worked on that, we used the best techniques we've tried over the years, plus memories of our favorites, and brought it all together to create our own version."
Customer feedback will also influence menu staples and specials, as it does at Beet Box, which offers daily specials and a different brunch menu – that regularly sells out – every Sunday.
No market is complete without a pastry case, and that's where Poelling really shows her stuff. "If our dream is an oatmeal-raisin cookie, then we won't sleep until we create the perfect one," she says. "The pastry set will be ever-evolving, and it's going to be the best we know how to produce – times four."
To start, The Strollway Market will only offer to-go service, and dine-in service will be introduced when it's safe to do so. While you wait for your first spoonful of soup, bite of sandwich or whiff of freshly baked pastries, check out the market on Instagram at @thestrollwaymarket.
The Strollway Market, 114 S. Ninth St., Downtown, Columbia, Missouri, 573.397.6322, thestrollwaymarket.com