On a cloudless day in April, students at Windsor Street Montessori School in Columbia, Missouri, are sprawled out on fresh spring grass. Sitting atop yoga mats on the front lawn, they dig into their lunches: rice bowls brimming with seasonal ingredients, all grown in Missouri. A bowl of McKaskle Family Farm rice is loaded with Patchwork Family Farms pork loin, a hard-boiled Stanton Brothers egg, bright radishes from The Veggie Patch and spinach from The Sage Garden and paired with a cold glass of whole milk from Ozark Mountain Creamery. In celebration of Earth Day, the meal comes with a message, part of a recipe the students will later take home with them: "Honoring our Earth is simple when we consider the food on our plate. The less our food has to travel, the gentler we are to our home, the Earth."
After students clear their plates and scrape any leftovers into compost bins, they gather on the pavement for a lesson from the folks at Patchwork and Stanton Brothers, who have attended today's class to explain how the students' lunch got from the farm to their plates. Then, they're given a task: Head to the farmers' market, visit with producers and create their own local rice bowl at home. If it's something special, the recipe might just wind up on the school lunch menu.
Unlike the sunny April skies, today's lunch and lesson isn't a rarity. Each day at Windsor Street Montessori, students are sowing seeds of sustainability in the earth and in their minds, and in the lunchroom, they are making worldly connections that go beyond farm to table, thanks to school chef Gaby Weir Vera. Weir Vera's menus are framed around fresh, local ingredients whenever possible; along with eggs from Stanton Brothers, she sources all of her pork from Patchwork Family Farms and milk from Ozark Mountain Creamery. Many ingredients are grown even closer to school, though: In addition to the sprawling herb garden outside of Weir Vera's kitchen, Windsor Street Montessori has two garden plots that are split among the classrooms. Students and teachers work together to select, grow and harvest produce that Weir Vera then uses to make school lunches. During the height of the season, the earth, enriched with the school's compost, is full of life – this year, tomatoes, potatoes, pumpkins and more.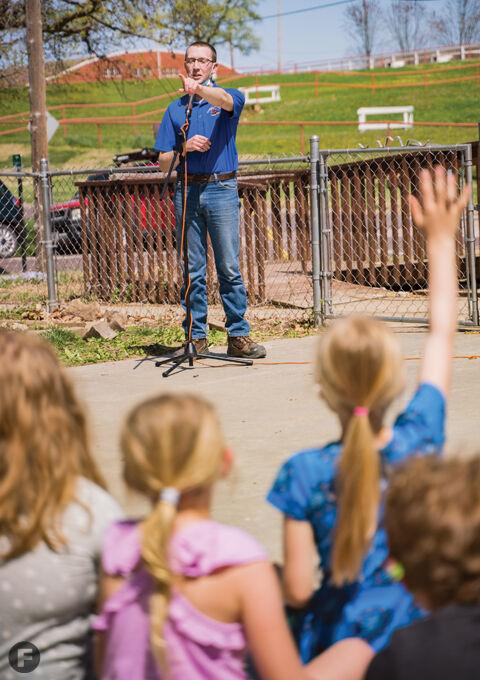 From seed to plate, the entire process is done as sustainably as possible. Leftovers and brown paper towels become compost. Students recycle and help gather glass milk bottles to return to the creamery. And the use of real plates and napkins also reduces waste. A sixth grader says his family began gardening and composting only after Windsor Street Montessori implemented the program – just one of the many seeds of sustainability sprouting amongst the students.
Dustin Stanton, half of the brother duo that owns and operates Stanton Brothers Eggs in Centralia, Missouri, knows the importance of introducing these concepts at an early age. "Folks go to the grocery store, and they assume that's where food comes from and there's nothing before that," he says. "Letting teachers and students know that there are farmers in the background is critical. It's simple stuff that I knew growing up, but when you're not around it, it's easy to miss." During April's culture class at Windsor Street Montessori, he takes the time to answer questions about where his chickens live, how many eggs they lay and how long they live. Given the many student faces that he recognizes at the farmers' market, he knows it's time well spent.
With meals such as Puerto Rican pork, Venezuelan bollitos and pork belly ramen, each bite of lunch at Windsor Street Montessori blends nutrition, seasonality and cultural enlightenment. It's a grand departure from what, for many of us, is the familiar face of school lunches: Styrofoam divided plates, a paper carton of milk and often bland – in color and flavor – food. In her role as the school's lunch-maker, Weir Vera intends to leave those memories behind by working toward equity for a group that's often overlooked in the culinary world: kids. "The industry is built around the adult experience," she says. "It doesn't include the kid – as a society, we think they're not capable. It's just like, well, they're kids; they just need to eat."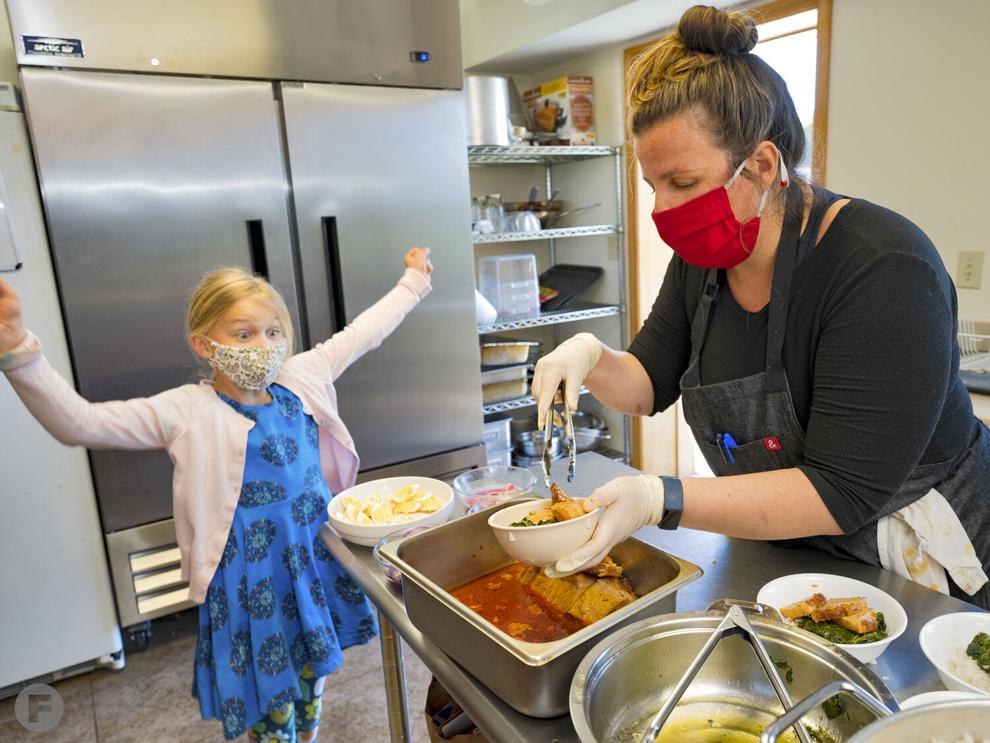 But the meals Weir Vera cooks for her students serve a purpose greater than just satisfying hungry kids – they're a gateway to the stories behind these dishes. Weir Vera, who learned to cook in her parents' restaurant in Venezuela before immigrating to the U.S., uses the food she cooks as a vehicle to explore food culture, justice and sustainability with her students. Once a month, she incorporates a cultural lesson with the meal and sends an illustrated recipe home with students. "The lunches take them on trips around the world and make them more aware of sustainability," she says. "To me, this is food justice. It's covering what it means to be sustainable with food and bringing the food from other cultures into context."
In December, students ate latkes and learned about the traditions and history of Hanukkah. In January, they dug into Izmir köfte, Turkish-style meatballs served with veggies. During Black History Month, Weir Vera cooked hoecakes with braised greens. With help from culinary historian and writer Michael W. Twitty's The Cooking Gene, she and her students explored how many of our beloved American food traditions originated from enslaved Africans, tying in the social justice principles Weir Vera lives by in and outside the kitchen.
"To me, social justice is doing what's right and what's best for the people I serve," she says. "I'm serving kids. I can't live with myself if I'm giving them crap. I'm serving my community when I get to tell kids [that] a lot of what we know as American cuisine comes from the labor, the resilience, the effort of African Americans. And it goes unrecognized. This is the heritage that we got from enslaved Africans and their descendants, and we can't take that away. Food justice is doing right by the people whom you serve, whatever that means to you. For me, that means serving fresh food – cooking food from scratch."
The recipe artwork, drawn by Weir Vera's friend Emily Lessner, outlines the ingredients, where they come from and why the dish is important in a colorful, engaging way that's easily digestible for even the youngest of diners. As new recipes are incorporated, the collection becomes a cookbook, meant to grow year after year. "It gets you thinking – there is a world out there," says Weir Vera. "In our culture, it's easy to just be performative about music, food, all aspects of culture. We think that honoring means just sharing, but you have to talk about it. You have to acknowledge and dive into what it means for people, how it came to be." When she serves ramen, for example, she also incorporates a lesson on chopsticks, demonstrating how to use and respect the tool. If there's a family who has a direct connection to a particular culture class, Gaby invites them to share their perspective, and students are always encouraged to share theirs, too. They take these lessons to heart. One sixth grader says, "It makes eating more interesting because it gives it more depth. It's not just food; it has a story to tell."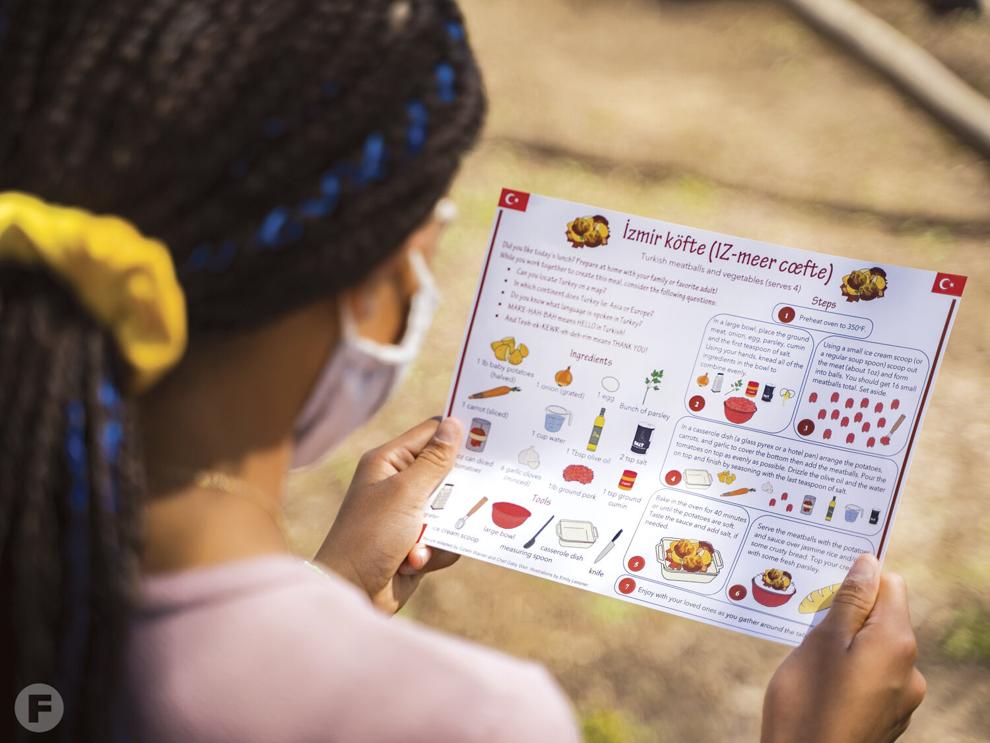 Weir Vera didn't initially set out to become a school chef; before starting at Windsor Street Montessori, she worked in high-end restaurants and as a private chef in the Midwest. Her attention didn't turn to school lunches until her daughter, Erika, started school. "My daughter was the one who got me to think about how bad school lunch was, in my opinion, and the one who helped me see how amazing it could be," says Weir Vera. "In all my years as a professional chef and watching her grow, I always wondered what it would be like if you took the time to work with the kids and cook for them."
Weir Vera's students have embraced her restaurant-quality dishes at school, but parents often ask her advice for getting kids to eat their veggies at home. She starts slowly by encouraging kids to take just one bite, but she also has a way of reframing the experience entirely. "First, I get rid of words like 'picky' and defy the stigma that kids aren't capable or that you have to have 'kid food,'" she says. "I call it 'food inclusivity.'"
This also means ditching the standard divided plate, a tool Weir Vera says reinforces the idea that kids can't eat like adults. At Windsor Street Montessori, students eat from a single, reusable plate or bowl – no dividers in sight. If a student is struggling with this concept, Weir Vera invites them to eat at her "chef's table," a desk tucked into her kitchen. This slow and steady method leads to greater understanding and hunger for more food knowledge. "Gaby is half chef, half teacher," says school director Mary Windmiller. "She really wants to explain what she's doing in the kitchen and why. Gaby plates and serves each child's meal individually, explaining one at a time what's in it and where it comes from."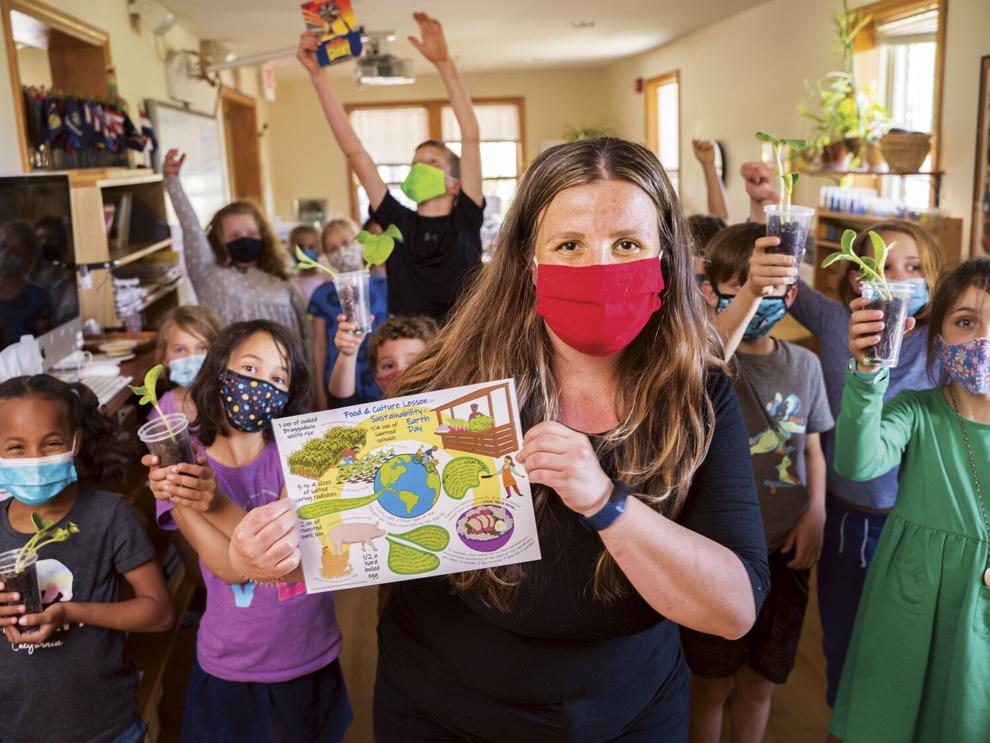 To keep things hyper-seasonal, Weir Vera plans her menus one month at a time, penciling in favorites such as "pizza soup" (a hearty tomato soup packed with vegetables and topped with a crouton) and pasta with a side of veggies, alongside at least one new cultural dish. Though the emphasis is on freshness and the ingredients are often local, Weir Vera doesn't want to focus solely on that aspect. "I try really hard to use words like nearby farms or regional or sustainable cooking, so that it's more about the fact that I'm cooking food fresh, the same day, from raw ingredients from wherever they might come," she says.
As she looks to the future, Weir Vera hopes that this approach can reach children beyond her own classroom. This year, she began that expansion by catering to The Language Tree, an early childhood language immersion school in Columbia. "I feel like once I get to the point where I can't handle it alone, I think that there's still a place where I could do consulting – help schools hire a chef, develop a school garden and create cultural lessons," she says. "Not only because it's something we think is good for our kids, but because we believe it's good for all kids."