After closing for the summer to search for a new location, Taqueria Don Pancho is getting ready to say, "See You Tomorrow!" once again.
The restaurant, which first opened in Columbia inside Loop Liquor late last year, is set to open its doors at 3907 Peachtree Drive (the former Thip Thai location) in just a few weeks. Like the food, the catch phrase "see you tomorrow" caught Columbia's attention quickly. "At Loop Liquor, we'd give people their food and say, "See you tomorrow!" says Francisco Rutiaga, who runs the restaurant with his father, Pancho Rutiaga. "The first time they would say 'Oh, okay,' and wouldn't think much of it. But then they'd be like 'Oh my God, you were right – we will see you tomorrow.'"
And they would – Taqueria Don Pancho was only open for six months, but gained repeat customers within the first week, and would often sell out of food before the end of the day. It was an outstanding first run, but the Rutiagas aren't slowing down. "Our goal is to always become better," Francisco says. With that in mind, they've chosen a space that includes indoor and outdoor seating, and also plan to offer an expanded menu, served with the same charm and authenticity that fans of the original location quickly grew to love. "We're planning on adding more traditional dishes to our menu," Francisco says. "My dad is the one deciding on what's it's going to be – I'm not 100 percent sure what he's going to do, but we can say that these will be dishes that you wouldn't usually find in Columbia."
Look for discada, tacos, ceviche and more.
Although most of the new dishes won't be revealed until the new location opens, the Rutiagas have revealed that the menu will include a few adaptations of a favorite Friday special: the seafood dish. "We've had a lot of people ask if we were going to do the same special, make it into tacos or something," Francisco says. "We're going to have shrimp tacos, and fish tacos and stuff like that. But still keep it to traditional Mexican tacos; it's not going to be tacos with shrimp and coleslaw. We're going to add other things to make it stand out."
To that end, Taqueria Don Pancho also plans to offer an expanded selection of housemade hot sauces. "People were always going crazy for our hot sauce, so we're going to offer more of those." Francisco says. You'll also be able to choose from a selection of aguas frescas, and eventually, a few mixed drinks and beers. "We'll add Margaritas and other traditional Mexican alcoholic drinks that people don't know about," he says. The drinks will be made with the same dedication as the food – no mixes in sight here. "We like to look at recipes and then add our magic to it."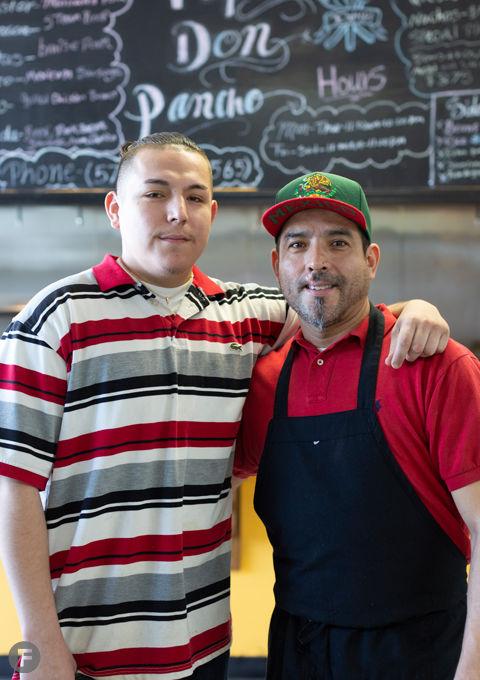 The Rutiagas pride themselves on offering authentic Mexican cuisine in an environment that warms the soul. "We have people who have gone to Mexico for vacation and said, 'The tacos were so good, but they still don't compare to you guys.' That's a really good feeling, to hear people saying that they're in Mexico and still thinking about us," Francisco says. He and his father want guests to experience that same sensation when they dine at their new location, too. "We'll do whatever we can to have our guests feel like they're in Mexico, feel like they're actually eating in Mexico, even if it's just for a little bit," he says. They've also created a place where all of Columbia feels connected. "We want to provide a good atmosphere for everybody so they can feel welcome," Francisco says. "You'd see all kinds of people; every different race was always there. It feels good to bring everybody together."
The family has its fair share of seasoned cooks who have passed down recipes through generations. "I grew up blessed, honestly, because both my parents are really good cooks," Francisco says. "All of our family, my grandma, they were all really good cooks. My dad would think of new recipes and he made recipes for al pastor, carne asada, everything. It's kind of been a little bit traditional, like family passed it on." This traditional, family-centered style of cooking is what keeps customers coming back, he says. "That's why we were really busy, because he puts a lot of time in, and he's dedicated. He wants to have his own style of seasonings; instead of having food that tastes the same from every other restaurant, he wants to make his own stuff."
The Rutiagas are ready to start cooking for Columbia again. "We're just excited to get started," Francisco says. "We feel sorry that we made people wait this long, but it's a long process of getting a business license and getting a place. We're excited to see everybody – all the faces that we met from the old location and everybody that's going to come in and be a new guest."
Keep an eye on social media to see when you can grab your favorite dish – or maybe find a new one – at Taqueria Don Pancho.
Taqueria Don Pancho, 3907 Peachtree Drive, Columbia, Missouri, facebook.com/Taqueriadonpancho74