Sixteen years ago, Sarah and Craig Cyr opened The Wine Cellar & Bistro on Cherry Street in Columbia, Missouri. The couple has dedicated these years to using their talents as sommelier and chef, respectively, to serve fresh, local fare paired with carefully selected wines to Columbia diners. In July, their tenure as owners will come to an end. "After 16 years of owning and loving The Wine Cellar and Bistro, Craig and I have agreed to sell our great little restaurant," Sarah announced in a Facebook post shared last week. "This decision took us years to come to peace with, and now we are finally ready and excited to pass on the torch!"
The Columbia, Missouri, restaurant sources ingredients from its own certified-organic, 15-acre farm.
The couple will hand over the reins to Dan and Ali Bauer, who met while working at the restaurant. Dan will step into Sarah's role of sommelier, while Ali will serve as head chef. For the last several months, Dan has managed The Wine Cellar & Bistro, but before moving to Columbia, the pair lived and worked in Chicago. Ali worked as sous chef at Michelin Star-rated NAHA, under James Beard Award-winning chef Carrie Nahabedian, and also served as chef de cuisine at Nahabedian's Brindille. The restaurant was The Chicago Tribune's Best New Restaurant in its opening year, and in 2013, Ali was recognized in Zagat's list of 30 Under 30 Chicago culinary talents. Ali is also a two-time nominee for the Jean Banchet Chef of the Year award, according to Sarah. Sarah says the pair will "bring new energy, new concepts, and much needed rejuvenation to 505 Cherry Street!"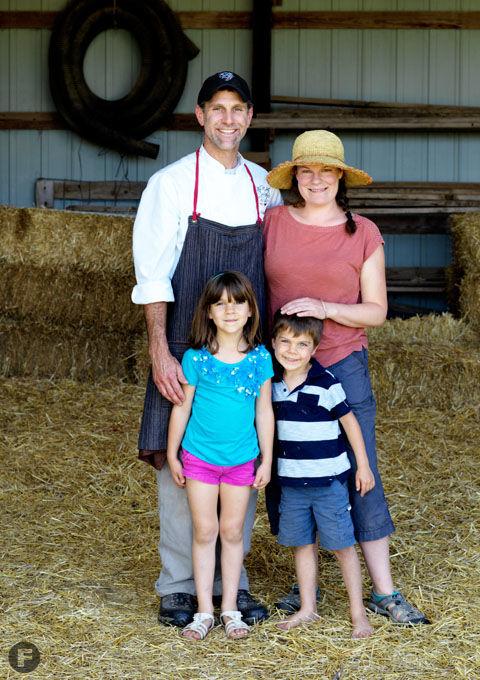 In bidding farewell to her restaurant and customers, Sarah thanked them for years of fond food memories. "We can't just sign off without expressing our intense love and gratitude for everyone who has supported The Wine Cellar," she writes. "We have so many amazing memories of providing fine-dining hospitality and high quality food to this community." And in keeping with the restaurant's focus on supporting local artisans and producers, she also thanked those farmers who have supplied fresh ingredients for the Cyrs, which were the star of the show. "Instead of a menu autographed by the chef, we always had the names of our local farmers on the front of our menu," she writes. "Craig and I felt the quality of our food and vision for our menu started with those producers."
She appreciates both traditional and contemporary cooking techniques.
For the Cyrs, the restaurant was a second home, where they spent many moments as a family. Sarah asked her children to share some of their favorite memories, and these sweet replies followed. "My favorite part of the restaurant was cooking with daddy making burgers, stroganoff, and fries," Boone Cyr recalls. "Oh, and I loved running the machine in the dishroom!" Their daughter Mae also loved to help in the kitchen. "I will always remember this restaurant," she says. "I loved hanging out in the kitchen, helping everyone and doing crafts. My favorite thing to make was to help daddy with goat cheese truffles!"
But for all the goodbyes, Sarah assures diners that the Cyrs won't be far away; you can still catch her hosting wine tasting pop ups and wellness events around Columbia. As for chef Craig, he'll take a "much-needed, well-deserved break," she writes. The last wine tasting event at The Wine Cellar & Bistro will be held Wed., June 19 and will feature some of Sarah's favorite wines and complimentary hors d'oeuvres from local farmers. You can make reservations for $30 per person by calling 573.442.7281.
The Wine Cellar & Bistro, 505 Cherry St., Columbia, Missouri, 573.442.7281, winecellarbistro.com