The motto of The Holistic Hog is simple: No bull, just butter. Owner Jessica Schlanker – one of just four licensed butter producers in Missouri – created her small business out of necessity. After she was diagnosed with lupus a few years ago, Schlanker had to learn to be a lot more thoughtful about the ingredients she put in her body. In 2018, she launched The Holistic Hog in Wellsville with her first flavor of handcrafted butter: steak butter. Free from added sugar, dyes and preservatives, it's made with cream, garlic and a whole slew of savory herbs and spices. Schlanker has since grown her inventory to include 10 sweet and savory options, and she is building a herd of cows – including one handsome fellow named Odie – to produce her own cream. Frequently sold at the Lake St. Louis Farmers and Artists Market in addition to a variety of stores across the state, tubs of The Holistic Hog butter are also available online at theholistichog.com.
How did you get into buttermaking? The Holistic Hog actually started out as a produce farm. I live in a very rural community, and I got led into [farming] when my health took a turn for the worse. Trying to treat my illness with the proper diet, I realized that my options for good-quality food were very limited in my small town, especially because so many of the produce farmers around here [are part of] my grandparents' generation. I thought, "What happens when they're unable to do this? Who's going to take over?" This is a need that is not being met around here. I started making compound butters at home for my family's use, and the first time I tried it, I was like, "Holy smokes! I've never had anything that tasted like this."
Where do you source your ingredients? I started my herd this year, and I'd hoped to be [able to produce] all the cream myself. Then COVID-19 happened; the shutdown pushed everything back. That's still a very important goal of mine to meet – that way I can take my butter to an even better level, knowing and fine-tuning how my cream is produced. At the moment, my cream comes from Illinois. My herbs, everything else, is purchased within an hour radius of where I live here in Wellsville.
How do you develop new flavors? The most exciting aspect of what I do is using my creativity to think up things that have not been done before. When people see us out somewhere and they look at all our options, they're usually totally blown away that butter comes in flavors. I would like to change the stigma that butter is boring, and I would like for people to start thinking of butter like they do ice cream. Ice cream comes in tons of different flavors – people are always excited whenever they see a new flavor that they haven't experienced before – and I would love for butter to be the same way.
How do you recommend people use your butters? I always tell people that there's no right or wrong way to use them. If you like the flavor, you can put it on whatever you want. The steak butter's not just good on steak – my family loves it on potatoes, vegetables [and] garlic bread. My favorite aspect, being a parent myself, is that these butters offer families convenience. It doesn't matter if you had to work late, if you're trying to feed your family something nutritious – real food – just throw a little bit of the butter in there. You have peace of mind knowing that whatever you're making is going to taste good because that flavor of the butter is going to take it to the next level. You don't have to worry about trying to get just the right blend of spices and herbs in there. It's a time-saver for a lot of people, and I think that's another reason why so many people enjoy it.
3 Must-Try Butters from The Holistic Hog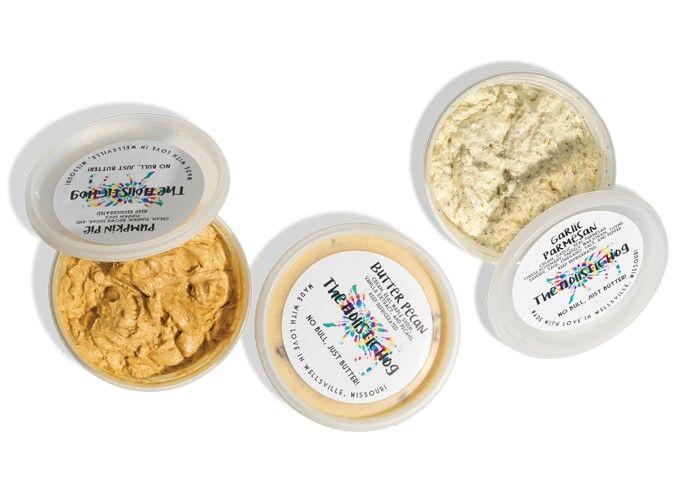 The aroma of oven-roasted garlic that defines the Garlic Parmesan Butter is intoxicating. Blended with real Parmesan and a handpicked selection of herbs and spices, it's one of Schlanker's bestsellers. She loves to add it to wings, but it also goes well with chicken, seafood and vegetables.
Last year, Schlanker introduced more than a few people to flavored butter – specifically, her Pumpkin Pie Butter – at Taste of St. Louis. "That was a really fun experience," she says. The sweet and savory fall favorite combines fresh cream with pumpkin, brown sugar and pumpkin spice.
Start your day with another fall-inspired flavor from The Holistic Hog. The Butter Pecan Butter is delicious in oatmeal and on bagels, muffins and donuts. It's made with real maple syrup, Missouri pecans and vanilla extract; Schlanker suggests substituting it for traditional butter in your favorite cookie recipe.