Columbia Center for Urban Agriculture (CCUA) is making Columbia, Missouri, a healthier place one garden at a time.
What began as a composting project run by Sustain Mizzou, a student club at the University of Missouri, which composted food scraps from some of the dining halls on campus, quickly morphed into something much bigger – with a greater chance of making an impact. "Once you have piles and piles of compost, it only makes sense to start gardening," says Billy Polansky, executive director of CCUA. Polansky jokes that he wasn't part of the operation from day one – that was Adam Saunders, Dan Soetaert and Bobby Johnson; "I was there for, like, day three," he says.
The organization's first garden site was on the corner of East Ash and St. Joseph streets. "It was an empty lot owned by Mark Stevenson, who's been a really generous landlord," says Polansky. "We got access to it in 2008 and built a small greenhouse, a chicken coop and raised garden beds; every square inch of that little lot was flourishing."
In 2009, CCUA received nonprofit status, and in 2010, Stevenson offered the organization a 1.3-acre site just north of Downtown Columbia, which became its permanent urban farm. In the early days, everyone worked on a volunteer basis. "We had volunteer work days, and people would just show up," says Polansky. And thank goodness they did. "There's so much work to do, especially when you're establishing a new garden site." Since then, CCUA has worked tirelessly to feed at-risk members of the community, support the local food system and make home gardening, agriculture and food production more visible to all.
Today, the nonprofit is also working on an impressive new project: Columbia's Agriculture Park. "We've been at the urban farm for more than 10 years now – and it's a great site – but we needed more space for our headquarters," says Polansky. "We have a 30-year lease with the city, so we have some really nice land security at the new [10-acre] site."
Like a big onion, Columbia's Agriculture Park has a lot of layers. The newly constructed MU Health Care Pavilion, where the Columbia Farmers Market is now held year-round, anchors the park. Phase I of the large, linear pavilion's construction is complete, accommodating 38 covered vendor spaces, parking for each vendor and a 30-foot-wide shopping aisle for market customers, along with public restrooms and drinking fountains. Additional vendors set up tents on either side of the pavilion on market days, but when phase II of construction is completed, the roof of the pavilion will allow for 98 vendors to comfortably sell their wares, come rain or shine.
Increased parking, sidewalks and walking trails will make the farmers' market and the park more accessible to the community. As you meander along the walkways today, you can already see other areas of the park coming to life. A 1-acre patch of farmland is being planted – the CCUA team has been conditioning the soil for approximately two and a half years, and it's finally ready to start growing food – while demonstration gardens and orchards will form the backbone of the park's educational programming, further supported by the outdoor classroom and one-room schoolhouse, which is already under construction.
Beside the brightly colored farm-themed playground, there will be a demonstration backyard featuring everything you need and want in your home garden: raised beds, fruit trees, a chicken coop, a place to compost and still enough lawn space to kick a ball around with the kids or stretch out in a hammock. For better or worse, the COVID-19 pandemic has coincided with the start of the growing season. At a time when many people are stuck at home with concerns about food security, there's no better time to start gardening. "[The demonstration backyard] will be to scale so that people looking at it will think, 'Oh, I could do that in my backyard," says Polansky.
No matter where you wander, you'll find things growing, from native trees such as pawpaws to bushes of berries. Whether you're alone on your lunch break or out enjoying the sunshine with your friends or family, Polansky suggests taking a moment to consider your surroundings. Can you guess what some of the trees are growing? Are those chestnuts? Could you have ever guessed that such a lush oasis would soon exist in this busy part of town?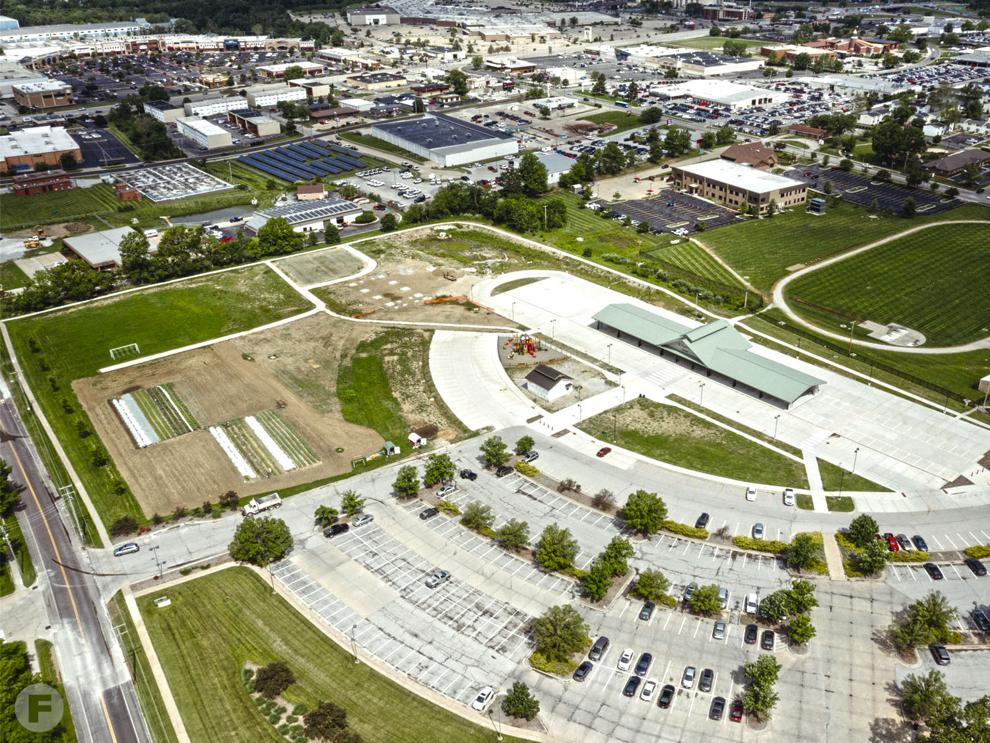 Once fundraising is completed, there are also plans to build a combination kitchen, event and resource center across from the MU Health Care Pavilion. The commercial kitchen will be used for cooking classes and nutritional education and will offer rentable space for culinary entrepreneurs. The flexible event space will host up to 175 people, and the resource center will provide office space for park staff and practical information about growing and preparing healthy foods for the public.
Each section of the park, every idea that has been fleshed out, adds value to the space and betters the Columbia community as a whole. Considering what borders the park – the headquarters of Shelter Insurance and its 5-acre botanical garden, Shelter Gardens; the Activity & Recreation Center (ARC), a 73,000-square-foot state-of-the-art facility featuring an indoor track, an indoor leisure pool, strength training and cardio equipment, a gymnasium with basketball, volleyball and pickleball and more; West Middle School and countless businesses and homes – it's hard to believe the park was so underutilized. "It was just a plot of grass," says Polansky. "There was no sign that said this is a park. There was no shade. There were no benches, no bathrooms, no drinking fountains." Now people come from all around to ride bikes and play soccer but also to immerse themselves in the edible wonderland that CCUA has created.
CCUA has worked closely with Columbia Parks & Recreation to make the Agriculture Park happen. "We're helping Parks & Rec push the envelope," says Polansky. "[Initially], they were kinda like, 'We just want to mow it.' And they're helping us with safety – like what are people going to trip on, what are people going to vandalize, what are kids going to put in their mouth?"
"Four, five years ago, this was just a dream," he continues. "Then we raised more than $4.5 million, we started building, and now it's a reality." At the end of the day, Polansky believes that Columbia's Agriculture Park will be part of the infrastructure that strengthens the local food system.
Even with all of the excitement surrounding Columbia's Agriculture Park, no one has forgotten about CCUA's urban farm on Smith Street. On Veterans Day 2019, the organization announced its partnership with the Harry S. Truman Memorial Veterans' Hospital and renamed the urban farm the Mark and Carol Stevenson Veterans Urban Farm. This year, as CCUA moved its base of operations to the Agriculture Park, it launched a program to use the urban farm as a therapeutic site for VA patients as well as the wider veterans community. "At this point, a lot of the therapy that takes place is recreational therapy, which aims to reintegrate veterans back into civilian life," explains Polansky. "We feel good that the urban farm has taken on a new identity; it's serving a new target demographic."
The Veterans Urban Farm is part of the VA's transitional work program. The job-training program previously operated solely out of the hospital, where veterans push patients in wheelchairs, change bedding and clean, among other things. The goal of the program is to give them the soft skills they need to get a job outside of the hospital. "Through the program, veterans can now get paid to work at the urban farm – it's a way different experience," says Polansky. "We're excited to offer something outdoors, outside of the clinical setting, where people can do some of their healing in a more pleasant environment. … It could have huge implications for VAs across the country."
Sam Sutton, a Navy veteran, is the assistant manager at the Veterans Urban Farm. "I absolutely love this," he says. "I haven't cared about anything to this degree for a long time. It's a job in which you get a palpable feeling of accomplishment every day – you can see the outcome of your work with your own two eyes; it's not something on a spreadsheet. It gives you a purpose." Besides learning the tools of the trade, Sutton says it means a lot to veterans to be able to work with other veterans. "You get to maintain that camaraderie. … A lot of veterans find it hard to relate to people outside of the veteran community [when it comes to] certain struggles, certain trials and tribulations, and transitioning back to being a civilian. [The urban farm is] an outlet to gripe or tell stories or rally your sense of humor, especially now that everyone is so isolated."
On the urban farm, veterans do everything that needs to be done to grow the food: They start seeds in soil blocks in the greenhouse, prepare the beds to be planted, plant crops, weed, water and more. These are additional hard skills that they can use forever.
The urban farm grows everything from carrots, beets, radishes and rainbow chard to blackberries, strawberries and summer squash. There's even a Japanese plum tree on the farm and a huge mulberry tree that drops its fruit when shaken. This year, it harvested approximately a fourth of an acre of lettuce crops, and it annually produces approximately 15,000 pounds of total produce, which is all donated to local food pantries and organizations serving veterans such as Welcome Home, a nonprofit that provides transitional and emergency shelter, employment assistance and supportive services to at-risk and homeless veterans. The main food pantry that CCUA works with is Central Pantry, which serves approximately 10,000 families a month.
Veterans Program Manager Dustin Cook, who spent a decade in the United States Army, says that the community has actually inspired some of the crops. "We started growing kohlrabi because it's a staple in the cuisine of a certain immigrant population that the food pantry serves, and people were asking for it," he says. "And we grow a lot of sweet potatoes because in the fall, they're all anyone wants."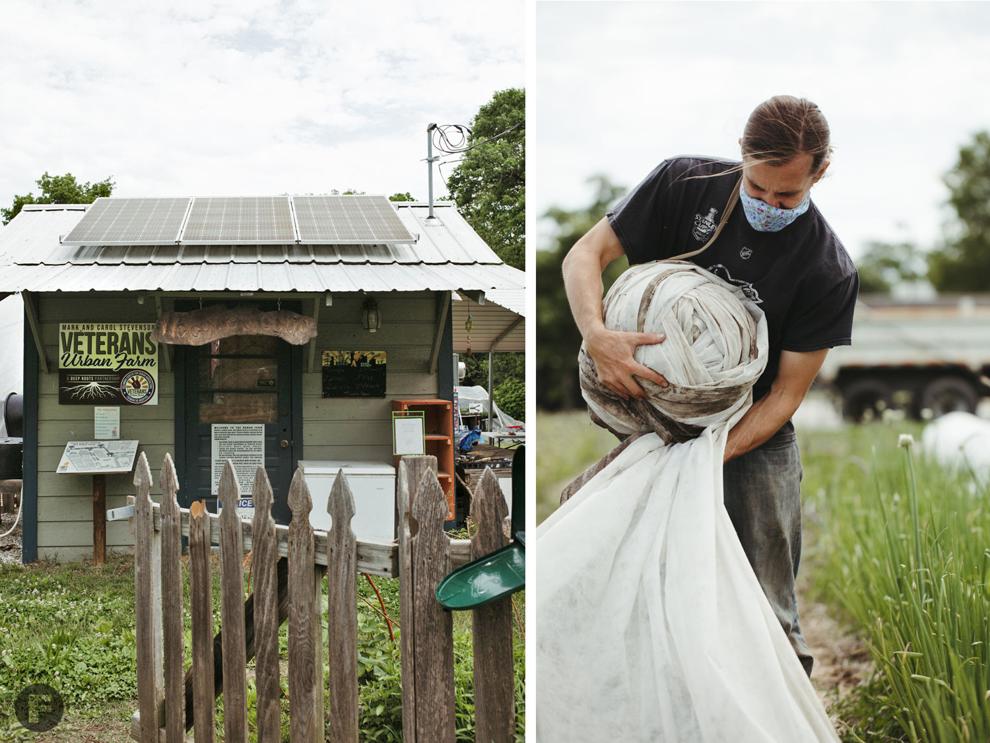 CCUA serves a wide range of people through other programs as well. The Opportunity Gardens program, for example, which launched in 2011, is open to all low-income residents of Columbia, and CCUA trains the families who join to be successful home gardeners. It provides guidance and gardening supplies – from seeds and plant starters to hoses and shovels – and addresses some of the challenges that first-time gardeners face, such as "spring fever," as Polansky calls it. "I always tell people to start small," he says, "because you can build a big plot and put in a bunch of plants, but then you have a lot of weeds to weed, and in August, it gets really hot and it's not as fun to be outside. If you're just starting out, do something like a 4-by-10-foot raised bed or plant tomatoes in containers on your patio. A small success is better than a big failure."
"Gardening's not for everyone – and that's fine – but if people want to learn, we want to make sure there's an opportunity for them to learn these skills and to grow their own food," he adds.
When a family applies to the program, CCUA team members speak with them about why they want to start a garden: What do they want to accomplish with the garden? They scope out the family's available space to make sure it's suitable for a garden, and together, they make a garden plan and build a garden to fit the family's individual needs and lifestyle. "Over a three-year period, we check in with them at least once in spring, summer and fall to make sure they're OK and to answer any questions," explains Polansky. "Each year, we dial back how much support they get from us, with the goal being that at the end of those three years, they've made enough mistakes – with us as backup – to develop their skills, gained confidence in their abilities and become independent gardeners."
In collaboration with Columbia Public Schools, CCUA also operates gardens at eight Title 1 schools, and it hosts between 1,600 and 2,000 school students a year, who take field trips to the Veterans Urban Farm in order to learn about food and connect with the land – "to get their hands dirty," says Polansky.
"So many kids don't know where food comes from," he continues. "When you pull a carrot out of the ground, they just freak out; when you tell them where an egg comes from, they freak out. It's these little introductions, these little aha moments, which are so important for them."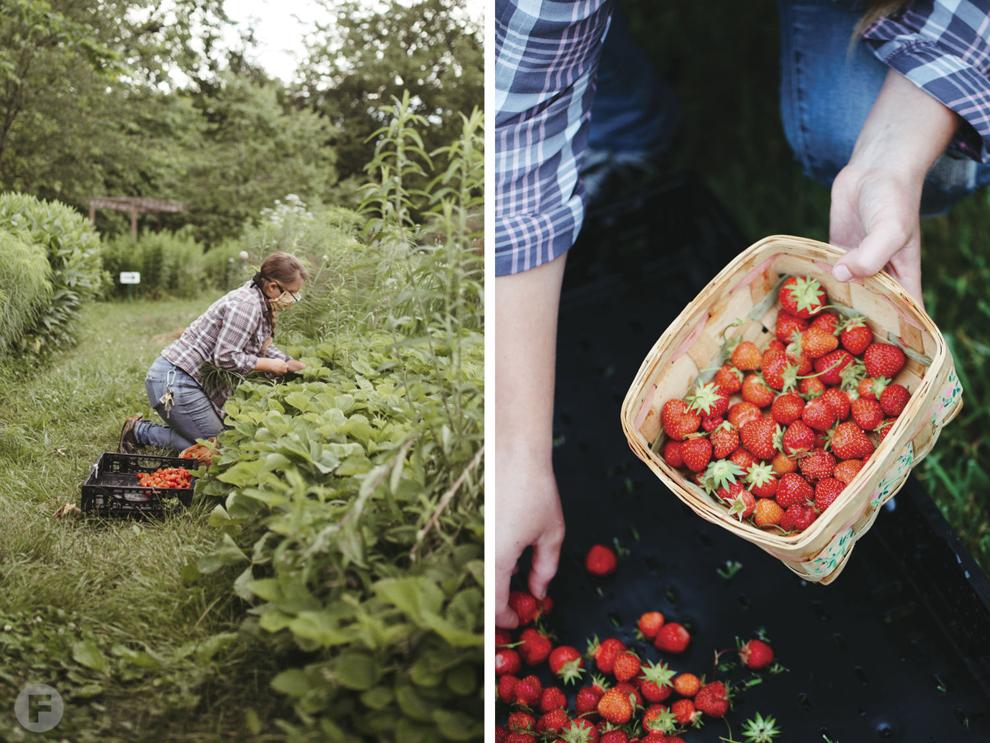 One of Cook's favorite lessons is "Parts of the Plant," in which he teaches students about the edible parts of different plants. Vegetables in the Brassica family make for especially good subjects, he says, because we eat different parts of each: the flower of broccoli and cauliflower, the leaves of cabbage and kale and the bulb of kohlrabi, to name a few.
In early April, as schools across Missouri closed amid the pandemic and students were ordered to stay at home, CCUA launched virtual garden-site chats for the whole family and VEG OUT, a virtual educational gardening video series, to ensure kids didn't just, well, veg out during their endless hours of free time. The kid-focused programming encourages young viewers to explore the wild nature of their own backyard, perform science experiments, eat plants and make crafts, among other activities – anything to get them outside, discovering more and more about food, agriculture and the environment.
Above all, Columbia Center for Urban Agriculture focuses on its role in affecting positive change in the local food system. "Food is something we all have in common," says Polansky. "People are interested in where their food comes from and in their health. … We want to empower [them] with skills to grow gardens, knowledge to make healthy choices and opportunities to get involved. All of our programs are designed to get people actively involved. It gives them ownership: When you're growing a garden, you have some investment in that, and it gives you pride when it succeeds."
Columbia Center for Urban Agriculture, columbiaurbanag.org