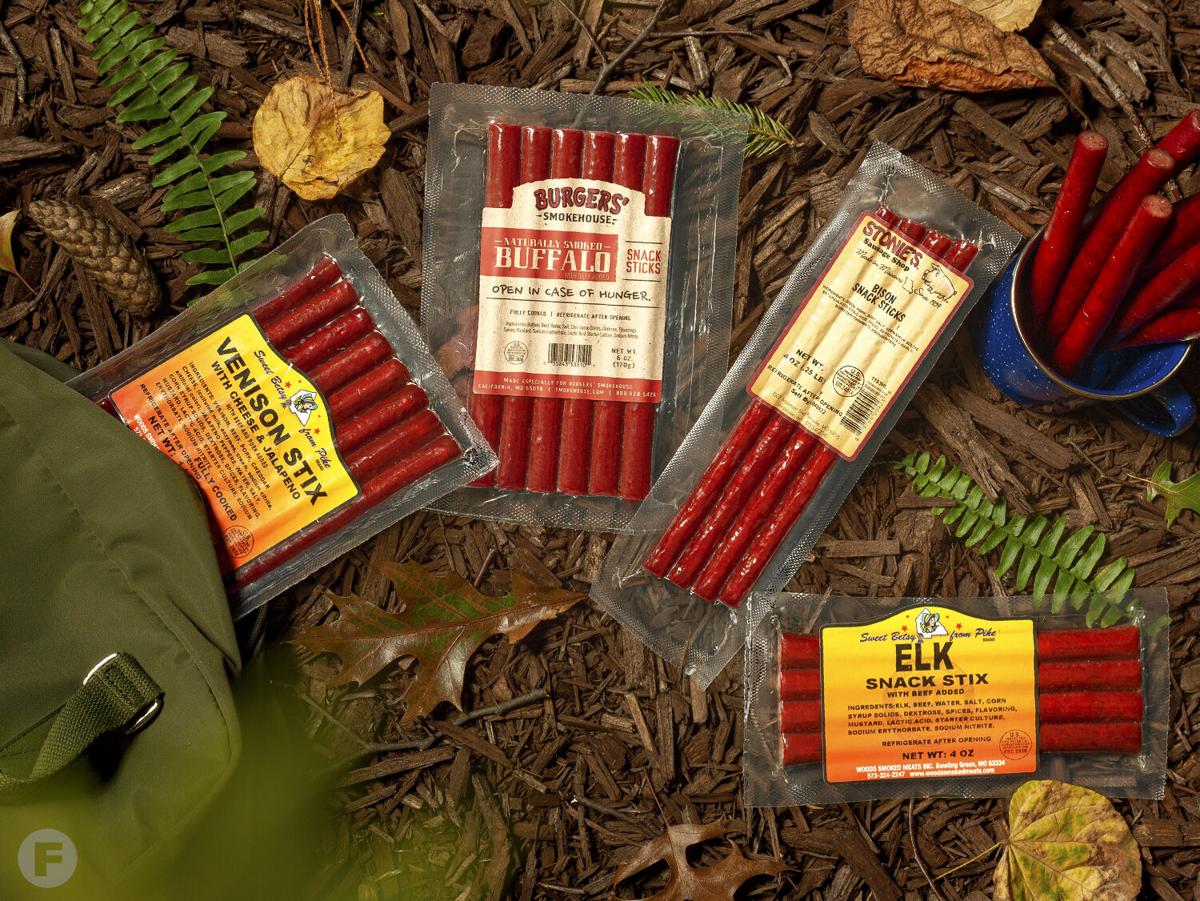 Whether packed in your backpack or stashed in your desk drawer, snack sticks serve as the ideal on-the-go eat. These Missouri producers take snack sticks to another level, crafting game meats such as bison, buffalo, elk and venison into a convenient handheld package.
Burgers' Smokehouse
"Open In Case of Hunger" adorns every label of Burgers' Smokehouse snack sticks. Based in California, Missouri, the company's vast product line includes traditional beef and pork "Ozark Recipe" snack sticks as well as wild game snack sticks made with buffalo, elk and venison. Co-owner Philip Burger says the original recipes focus on leaner cuts and subtle seasoning. Burgers' products are available at grocery stores throughout the state and online at smokehouse.com.
Stonie's Sausage Shop
On its roster of smoked goods, Stonie's Sausage Shop features shelf-stable "quick sticks" in flavors such as barbecue, jalapeño and teriyaki. For something wilder, look to the line of snack sticks made with bison, elk and venison, which are perfect for your next hiking, hunting or camping trip. Stock up at Stonie's retail shop in Perryville, Missouri, or online at shopstonies.com.
The Butcher Shop
In Camdenton, Missouri, The Butcher Shop boasts a big, beautiful smokehouse that produces some of the best smoked meats in the area. Along with housemade bacon and a plethora of sausages, the buffalo and elk snack sticks are hickory-smoked and vacuum-packed. Order half-pound and one-pound packages at butchershopatthelake.com, or stop by the shop where you can try other ready-to-eat specials such as French bread pizza, crawfish pot pie and seven-layer pea salad.
Woods Smoked Meats
At Woods Smoked Meats, owner Steve Bolton hickory-smokes the wild game snack sticks for 12 to 14 hours. They're available in buffalo, elk and venison varieties, and the elk and venison can also be crafted with cheese and jalapeño. Occasionally, the shop carries kangaroo snack sticks, as well. If you're new to kangaroo meat, it's lean with a rich flavor. See what's on the shelves at the retail shop in Bowling Green, Missouri, or visit woodssmokedmeats.com.