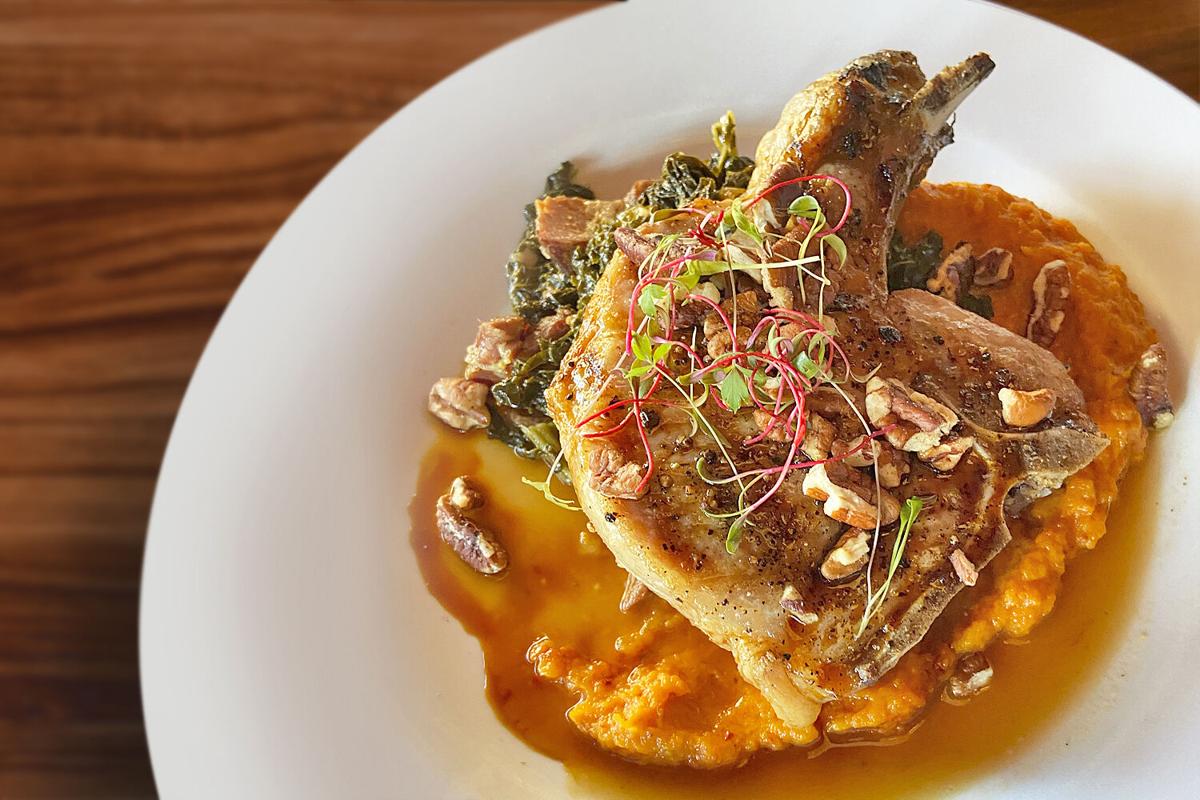 The fall menu at Sycamore in Columbia, Missouri, is ripe with seasonal flavors. The small plate of gnocchi comes with mushrooms, broccoli rabe and Parmesan, while the scallops are paired with crispy rice, squash, chiles, tamarind and peanuts – just to name a couple delicious examples.
We're most excited about the newest addition to the menu, however: the grilled Patchwork Family Farms pork chop with bacon-braised greens, brown butter mashed sweet potatoes, sorghum demi-glace and toasted pecans.
Head chef David Ivancic loves Southern cuisine, citing Sean Brock and Rodney Scott as chefs he admires. With this dish, he hopes to continue their work of exploring and expanding traditional Southern cooking.
Ivancic brines the 12-ounce bone-in pork chop for three hours before it's grilled to ensure that the meat is juicy and flavorful. The sweet potatoes are roasted and then mashed with brown butter and gochugaru (Korean chile flakes), which adds plenty of flavor without making the dish unpalatably spicy. And housemade bacon is rendered in a large stockpot; when it's browned and crispy, Ivancic throws in onions and garlic and then the greens and chicken stock. Once the greens are tender, they're finished with a splash of apple cider vinegar for brightness.
Everything is doused with sauce – equal parts sweet sorghum syrup and pork demi-glace – which is cooked until it reaches the consistency of honey. The creaminess of the sweet potatoes and tenderness of the greens counterbalance the crust of the pork chop and the crunchiness of the toasted and slightly crushed pecans on top.
"Flavor-wise, the richness of the pork and sweetness of the sorghum counterbalance the slight acidity and mild bitterness of the greens," Ivancic says. "The bacon in the greens provides smoky depth, and the brown butter in the sweet potatoes provides a nuttiness that complements the pecans. All in all, it's a pretty rich dish, but intentionally so. It's very much cold-weather stick-to-your ribs sort of food."
Pair the meal with Petite Sirah, which has rich, full flavor and bold tannins, or a more acidic Riesling. "One of the wonderful things about pork is its versatility in pairing with a wide variety of wines," Ivancic says. "Honestly, even a glass of bourbon would be excellent here, particularly given the Southern flavor profile."
Sycamore, 800 E. Broadway, Columbia, Missouri, 573.874.8090, sycamorerestaurant.com