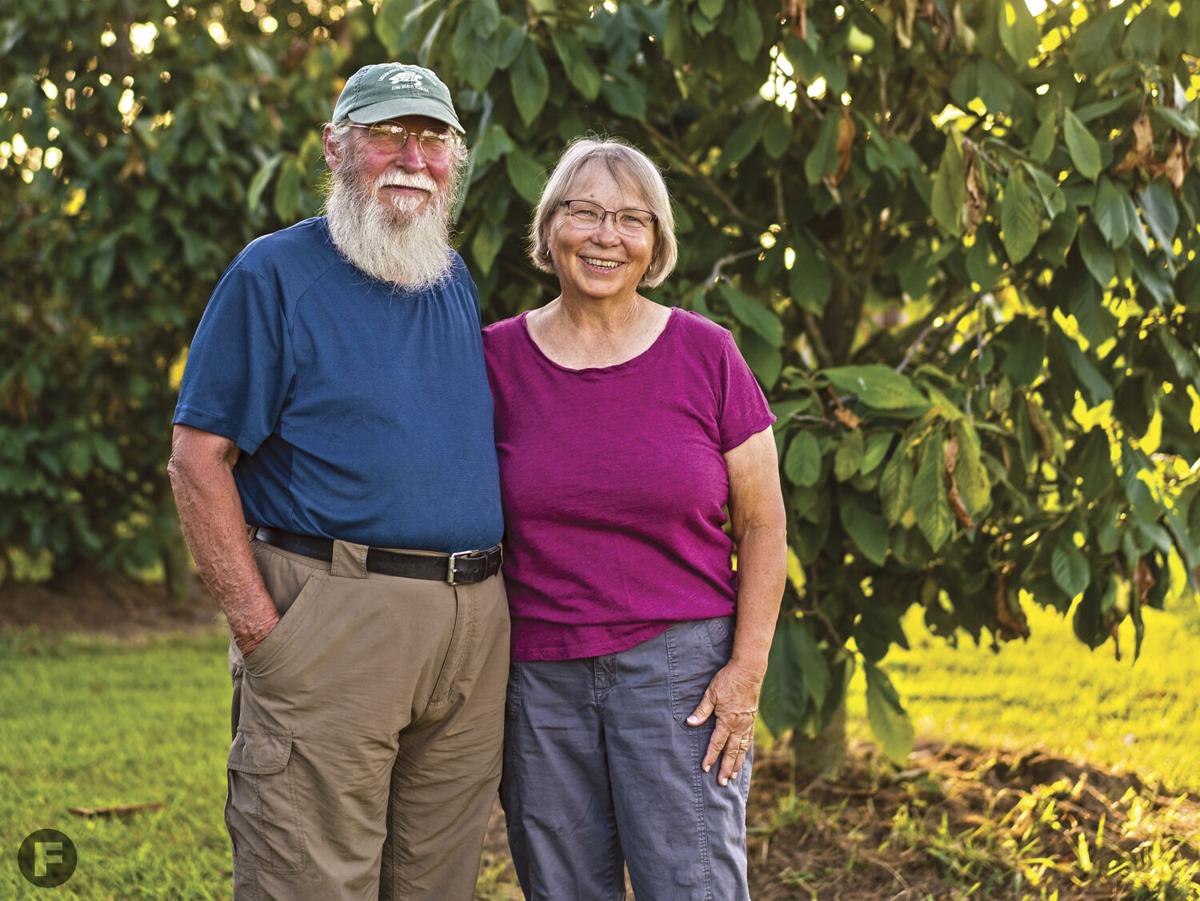 Imagine a sprawling farm with native and non-native edibles thriving together in garden beds, a high tunnel and a spectacular grove with almost 60 pawpaw and persimmon trees. This is Manitou Farm near Jamestown, Missouri, which embodies the spirit of the Ozarks in more ways than one. Since 2004, Marcus Monroe and his wife, Pam, have shared their harvest with Columbia Farmers Market customers, who flock to the booth for both rare and familiar finds. Available fresh or dried depending on the time of year, some of the best produce includes blackberries, blueberries, figs, goumis, jujubes, pawpaws, persimmons and nopales (the paddles of prickly pear cactus); the family also makes jams and jellies from those crops. Monroe has a passion for dried hot peppers, as well, which he likes to grind and sprinkle over gravy, pizza and stir-fries.
What was the catalyst for your agricultural endeavors? I've always been a gardener because of the influence of my parents. Then I began growing fruit; the first thing I grew was blackberries. I couldn't use them all myself, so I started selling them to people at work. At a meeting, I met a fellow who was a member of the Columbia Farmers Market, and he suggested that I come sell blackberries there – which I did. By now, I've experimented with almost every kind of fruit out there.
It seems like you trend toward growing less common produce. Why is that? I'm always trying to find items to sell at the farmers' market that are unusual in nature or color. One of the things I sell is okra; most people are familiar with green okra, but there are orange, red, pink and white okras. I like to sell things that other people don't have – that's the niche I've found in the market – but I also just like to have a colorful selection. At home, we use all of the produce we grow; many times we find the whole meal is food from the garden, which is fun.
Once people get their hands on your pawpaws and persimmons, how do you suggest they eat them or cook with them at home? Everyone loves to eat them fresh. It's difficult to describe the flavor of a persimmon, but it's quite sweet, while I would describe the flavor of a pawpaw as banana-mango custard. In both cases, you can make breads and cookies, and there's a wonderful recipe that I have for pawpaw crème brûlée. I'm not aware of anyone having made persimmon ice cream, but people frequently make pawpaw ice cream.
Shop for produce from Manitou Farm at the Columbia Farmers Market on Saturdays.