It's the nuptial novelty every bride never knew she dreamed of: a painted cake. In mid-Missouri, a powerhouse trio of bakers and artists has come together to make that wedding-day dream come true. Based in Columbia, Missouri, The Painted Cake Co. is a boutique confectionary that creates whimsical painted cakes and cookies for weddings and other special occasions.
The idea for the business budded in the mind of Jessica White, a local artist and wedding photographer, about a year ago when she felt the need for a new creative outlet after being behind the lens for nearly seven years. "My mom's an artist, she's a painter, so drawing and painting has just been an innate ability for me," she says. "That [ability] will just sit in you if you don't do anything with it." Feeling the call to connect with the paintbrush, White drew from her current career experience. The ensuing idea – painted pastries – seemed like the perfect merger of artistic expression and bridal bliss.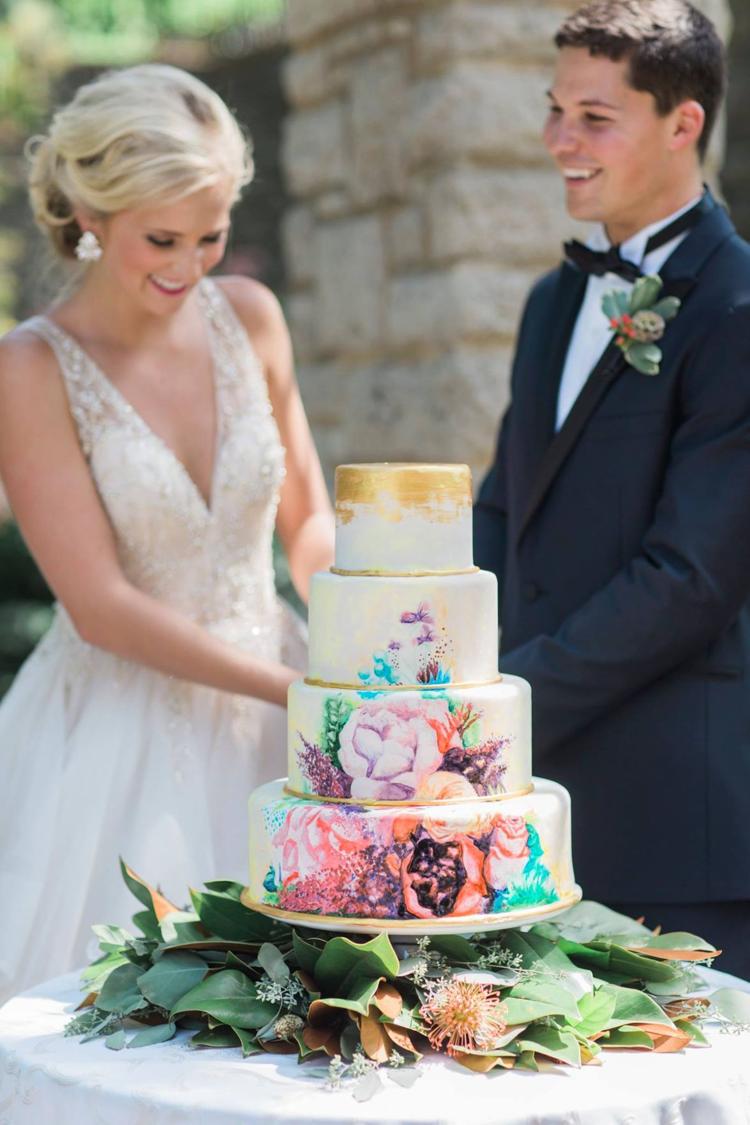 To create the new business, she joined forces with Carly Love and Amity Mains, owners of CoMo Confectionary and Amity's Cookie Shoppe, respectively. Since The Painted Cake Co.'s inception just a few months ago, painted cakes and cookies have made their way to weddings, baby showers, graduations and more. The cakes, which can be custom-ordered to size and flavor, are covered in white fondant and painted with food coloring, creating an enchanting watercolor effect. The sugar cookies are frosted with royal icing and are also painted in the same manner.
Yes, the cakes are stunningly gorgeous – there's no other way to put it. But the women of The Painted Cake Co. know that real beauty is more than skin – or in this case, fondant – deep. The goal, White says, is for the cakes to be equally visually appealing and pleasing to the palate. "I'm hoping that through all three [of us], what we do best – cakes, painting and cookies – that we're able to be known for both within the clientele that we speak to," she says.
Most of the designs take shape as floral or garden-inspired motifs, a niche White wants to remain relatively close to. But she says there is some wiggle room. "Someone contacted me recently and asked if I would do a kewpie," she says. "And I thought, you know what, I would do a kewpie, but it wouldn't be the new kewpie, it would be the vintage kewpie." The pastries are art pieces in their own right, a true creative expression of the artist herself. "It's like they're buying this because it's hanging in a gallery, because they trust my hand with the paintbrush," she says.
It's also a treat for the tastebuds. "I'm painting it for a moment," she says. "Just to have someone appreciate the beauty of it, and then it's going in the tummy!" And for that moment – just maybe – you can have your cake, and eat it too. 
 The Painted Cake Co., facebook.com/thepaintedcakeco