Horny Goat Weed and Blue Majik Spirulina are not typical bonbon flavors, but Tsokolate is not a typical chocolatier.
The Columbia, Missouri, company makes superfood bonbons with healthy plant-based ingredients. The concept comes from co-founders and sisters Elle and Jan Sanchez, who both bring extensive culinary experience to their roles at Tsokolate. Elle, executive chef and head of R&D, graduated from Le Cordon Bleu and City & Guilds Art School in London; Jan, chef and chocolatier, also graduated from City & Guilds and worked for world-renowned chef Daniel Boulud in New York City.
Making waves in the food-and-drink industry is more or less family tradition, as the sisters' relatives have been opening and running restaurants and catering businesses in the Philippines and the U.S. for generations. In 2008, Elle started a Los Angeles-based catering company with their brother, and when Elle and Jan moved to New York, they transformed it into Sweet Saveur, a dessert company that specializes in allergen-free baked goods.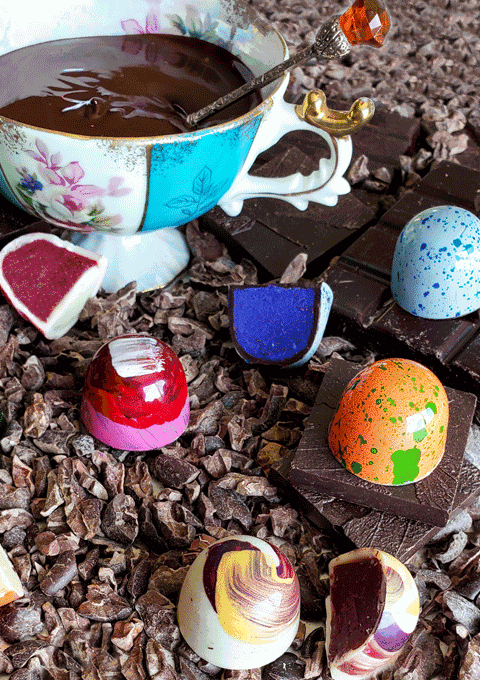 After nonprofit work brought them to Columbia, the sisters decided to dive deeper into health-conscious indulgences. And so, Tsokolate and its superfood bonbons were born.
"We mindfully create chocolate and desserts that taste great and also bring nourishment to the body," says Jan.
The bonbons – the first of their kind, according to Jan – contain nutrient-rich ingredients such as golden milk, which contains turmeric, cinnamon and ginger, and moringa, which is rich in antioxidants. Blue Majik Spirulina, one of Tsokolate's most popular options, features a ganache made with blue spirulina, a plant-based protein with anti-inflammatory effects.
Horny Goat Weed, Elle's favorite bonbon, boasts epimedium (also known as barrenwort, bishop's hat and horny goat weed), an herb traditionally used to treat fatigue and low libido, in its ganache center. "[The bonbon] tastes really rich and flavorful," says Jan, "[and the horny goat weed] increases your stamina and boosts your energy."
The sisters work with fruits, vegetables and other ingredients – from beetroot to dragon fruit – found in the Philippines to pay homage to their home country. "[Tsokolate gives us] an outlet to showcase our culture and cuisine, give recognition and credit to cacao farmers and educate people about where chocolate comes from," explains Jan.
It's also important to them that they source the ingredients that grow in Missouri from local farmers. Recently, they started buying elderberry and elderflower from Elderblossom View, an elderberry orchard and winery in New Bloomfield, Missouri. Packed with antioxidants and vitamins that can boost the immune system, elderberry and elderflower are magnificent companions for smooth dark chocolate.
Besides their impressive nutritional value, Tsokolate's bonbons are aesthetically pleasing. Drawing on their art backgrounds, Elle and Jan decorate the exteriors of the chocolate confections with different patterns in colors that reflect the superfoods mixed into their ganache centers. The Red Swirl Chili, for instance, features red and black marbling, while the Papaya is bright orange with splatters of Kelly green. Maybe the most elegant, the Black Sesame is all black with a streak of gold.
They're almost too pretty to eat – almost.
Tsokolate bonbons are available at Camacho Coffee in Columbia, Missouri. Tsokolate also ships nationwide, with free delivery in Columbia.
Tsokolate, tsokolate.co