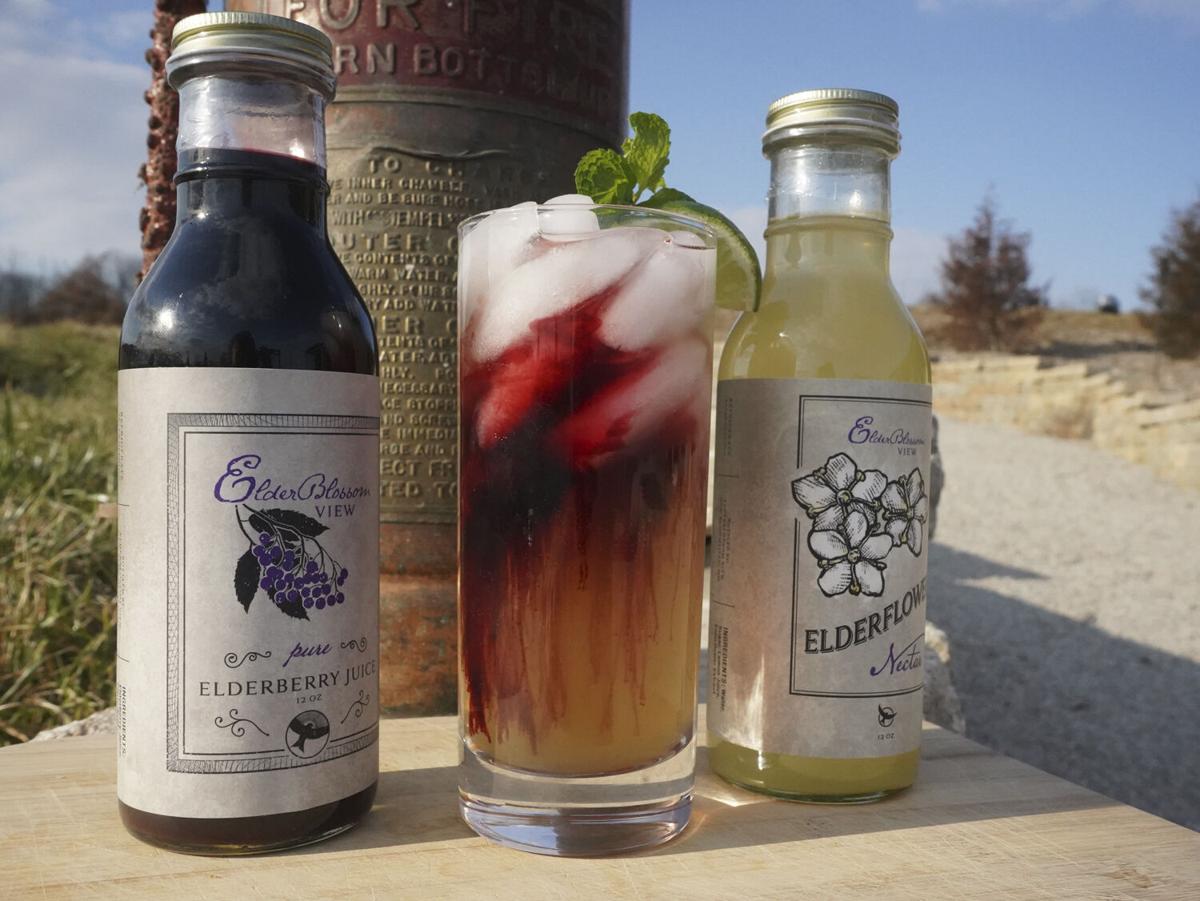 Almost a decade ago, on a secluded parcel of land near New Bloomfield, Missouri, Heather and John Uhlig started their retirement plan: an elderberry orchard. They christened it ElderBlossom View, a nod to two of its major draws.
For three seasons, visitors of the Columbia Farmers Market have tried single-sip samples of ElderBlossom View's elderberry products – which are available in 12-ounce bottles at its booth – and immediately fallen in love. The Uhligs see sampling as a way to educate their customers about the superfood, but in order to get the full experience – and the view – you'll need to set foot on the land.
A few miles off U.S. Highway 63, the orchard and winery sit among sprawling hills – this is the only place in the state where elderberry wine is made. The venue has been open to the public since fall 2019, but since then, the Uhligs have readied the landscape to accommodate more guests.
"When we couldn't give samples during the pandemic, it became even more important to have the option to say, 'Well, why don't you come out to the orchard?'" says Heather. "People always have questions like, 'Why do I find elderberry products in health food stores? What are you doing with it here?' There's still a bit of reluctance [to buy a $25 bottle of juice], but being able to sample it has helped; then they can relate to it and realize, 'Oh, I don't just pour this in a cup and drink it.'"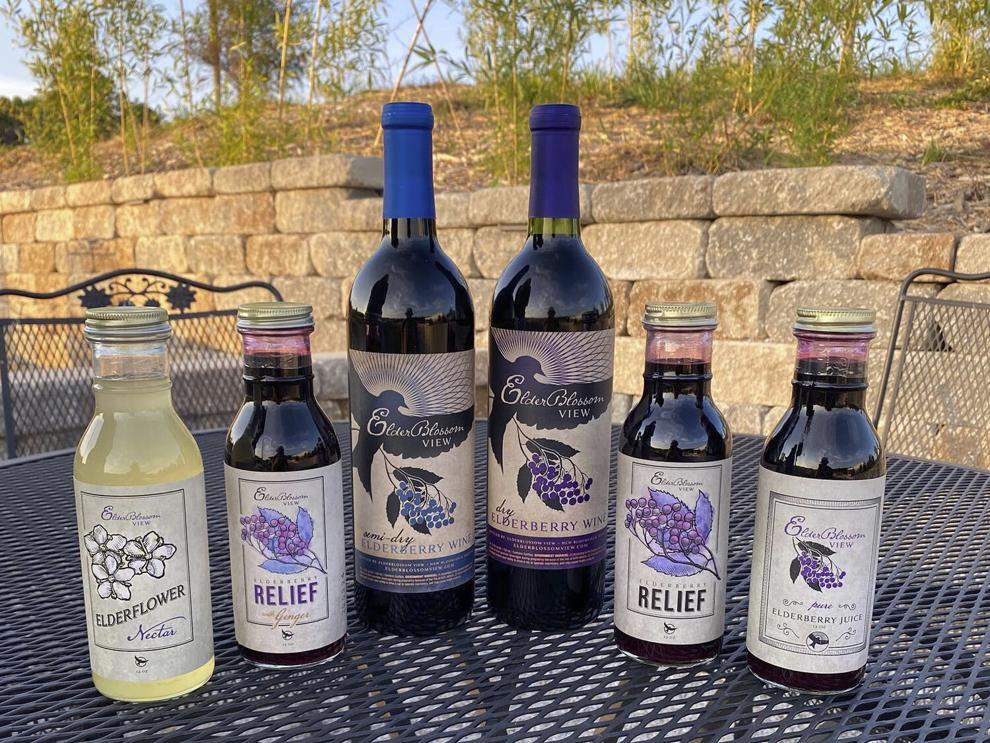 Inside the tasting room in New Bloomfield, the menu lists myriad drinks, both spirited and zero-proof, that show the versatility of elderberries. Try the elderberry wine (options range from sweet to dry) or a cocktail mixed with elderberry juice and nectar – the latter is made from the plant's flowers. Recently, mead has also joined the menu. Although meads are generally still and can be quite heavy on the palate, the mead from ElderBlossom View, made with elderflower nectar, is light and bubbly. The ingredients as well as the effervescence make it a decidedly unique drink, and it's available on tap here. Soon, you'll also be able to stock up with growlers.
The elderberry concoctions are only available at the orchard and winery; you won't find them at the farmers' market. But we're always looking for a good excuse to take a scenic drive through Missouri. While you're there, pick up a few recipe cards, along with bottles of your favorite products, to craft your own creations at home.
After perfecting their product line, the Uhligs began work on the property. "It seemed like a logical progression, and we don't seem to ever sit still," Heather says with a laugh. "We started the orchard back in 2012, and developing that over four years led to developing this building. Now, we've got the infrastructure – it's just a matter of putting a shine on it."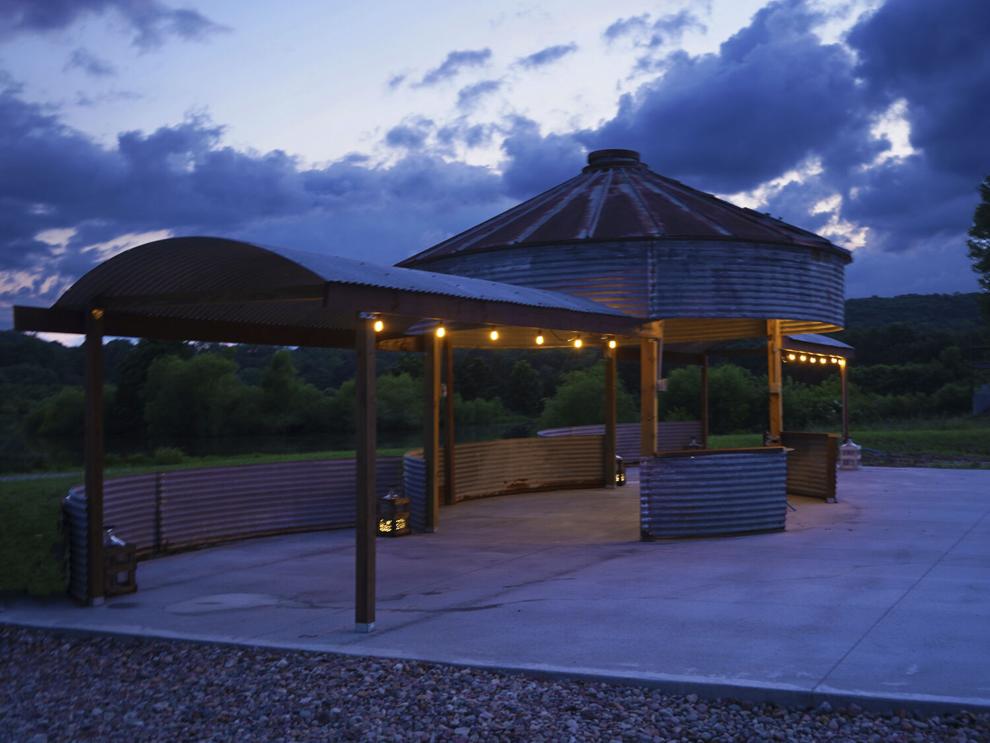 It took a couple years, but the venue has blossomed into a countryside oasis. Shaded by umbrellas, tables are set along winding gravel pathways, where groups can enjoy various libations while taking in the view and, on select days, listening to music. As part of the renovations, the Uhligs built a stage out of an old grain silo, adding another element to the on-site entertainment options.
"We've always thought of ourselves as elderberry farmers and juicers and winemakers," says Heather. "With the landscaping now shaping up, we have had people ask if we do weddings here. The answer is, not yet, but that's something that we're not opposed to."
In the future, the Uhligs look forward to hosting an array of public and private events, starting with a plein air art event, where artists paint outdoors regardless of the weather, presented by Mid-Missouri Arts Alliance on Oct. 16. The public is invited to observe and interact with the artists, who will spend the day interpreting the landscape in their own mediums. In the evening, the finished art will be put up for sale during a reception on the property.
The couple hopes these events will draw more people out to experience the flavors, beauty and peace that they enjoy every day. "There's still an unfamiliarity; it's a place that people haven't heard of," says Heather. "Reaching out to let people know we're here is important."
ElderBlossom View is open to the public on Fridays and Saturdays from 5 to 10pm and on Sundays from 2 to 6pm. Keep an eye on its Facebook page for any changes to operating hours due to the weather.
ElderBlossom View, 208 County Road 398, New Bloomfield, Missouri, 573.268.8597, elderblossomview.com