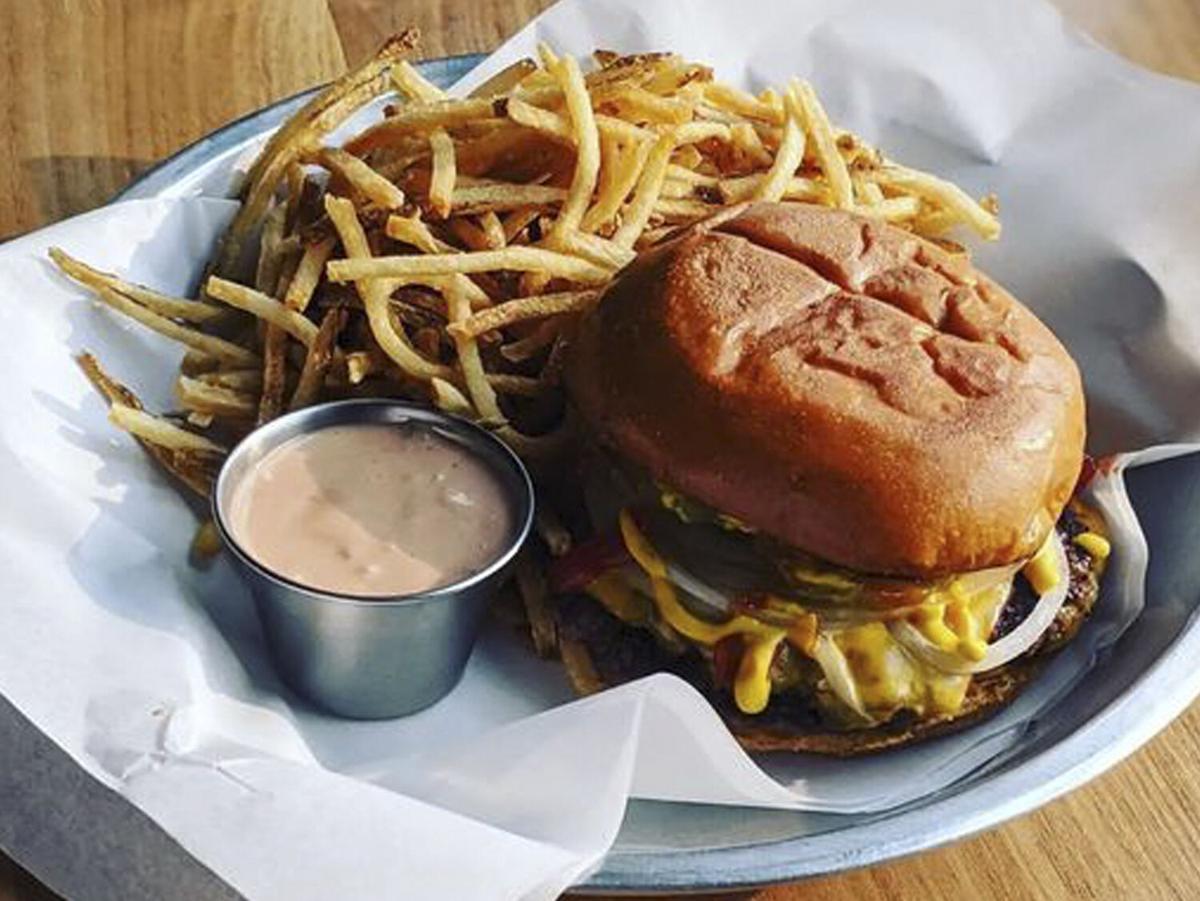 Jordan Holman admits that he thrives on chaos and creativity, and he loves juggling multiple pop-up concepts in addition to his role as beverage director of Beet Box in Columbia, Missouri. Here, he gives us the rundown of what he's creating these days.
SmashBox Burgers
Brian Doss, a cook at Beet Box, and I decided to team up for a pop-up concept, but we didn't want to do something fussy. We wanted it to be playful, and we wanted to have a good-ass time. Everyone loves a juicy burger, so at SmashBox, we're serving elevated yet approachable smash burgers and more. We use our own fatty blend to make sure we get a thin, crispy patty, and our classic burger with ketchup, mustard, pickles, onion and yellow cheese tastes very much like a burger you've probably had before, just our style. Each burger has its own vibe, though. The Fancy burger, for example, has caramelized bacon jam, Muenster and "fancy sauce." We always use Martin's potato rolls, and we're pretty excited about that. We'll probably have this same menu at one more pop up and then switch one or two of the burgers. Both of our concepts – SmashBox and Grand Daddy's – are obviously very meat-driven; we have discussed a black bean patty, but it's something that we need to play with and make it our own. If we're going to do something, we're going to do it our way.
Right now, our base kitchen is Beet Box, but we have plans to do pop ups around town, as well. The first one was on Aug. 23, and it was pretty crazy; we sold approximately 90 burgers in 90 minutes. We're shooting for the 200 mark at our next one. Each pop up will be loud and fun and kinda chaotic, but still very comfortable for people. We want them to act how they want and be who they want. The whole thing is playful – it's like putting on early 2000s Nickelodeon. We had a guy spinning records for us on the patio, and we made a "Wrong Island iced tea," which was a nice boozy cocktail – you really only needed one. Our menu is also affordable. I don't want my friends to have to check their bank accounts before they come.
Grand Daddy's
Grand Daddy's is a barbecue pop-up concept that we do when we have the time, as it takes a little more effort than SmashBox. We host these every two months, but I'm looking to buy a large smoker; once that happens, we might be able to pop up a little more often. Right now, it's a once in a while treat – and a labor of love. Brian's been at every one of these pop ups with me, too.
Grand Daddy's kinda came out of necessity at the start of the pandemic. Being a beverage director, I was getting a little bored. It was really tough not getting to do stuff in person, and I was like, man, what am I going to do? Then I thought of my granddaddy, who had his own barbecue restaurant in Indiana for most of my childhood. I remember being there when I was like eight years old, pretending to wait tables and hanging out on the screened-in porch. So Grand Daddy's was also born out of nostalgia. We have a secret family recipe for barbecue sauce, and I thought, "I'm going to make this sauce, but I want to do something more with it." I wanted to start doing some interesting barbecue, but I didn't want to have to play by anyone's rules; I wanted to be able to do what I want and explore all sides of it.
We serve platters for two featuring items like pulled pork with all the delicious parts of the head and shoulders chopped and mixed in. Especially with barbecue, I always like to serve a good amount of food. I want it to be an experience you share with your family, your people. I want to offer smoked half chickens for people next time, and the sides come from my love of Southern cooking. I have family in the hills of eastern Kentucky – the type of folks who would step out on the back deck and shoot a squirrel for breakfast, but who also have agricultural roots and roots in some really amazing cooking. The sides are things I ate when I was a kid: coleslaw, ramp hush puppies, pickles and egg potato salad, maple-bourbon creamed corn and things like that.