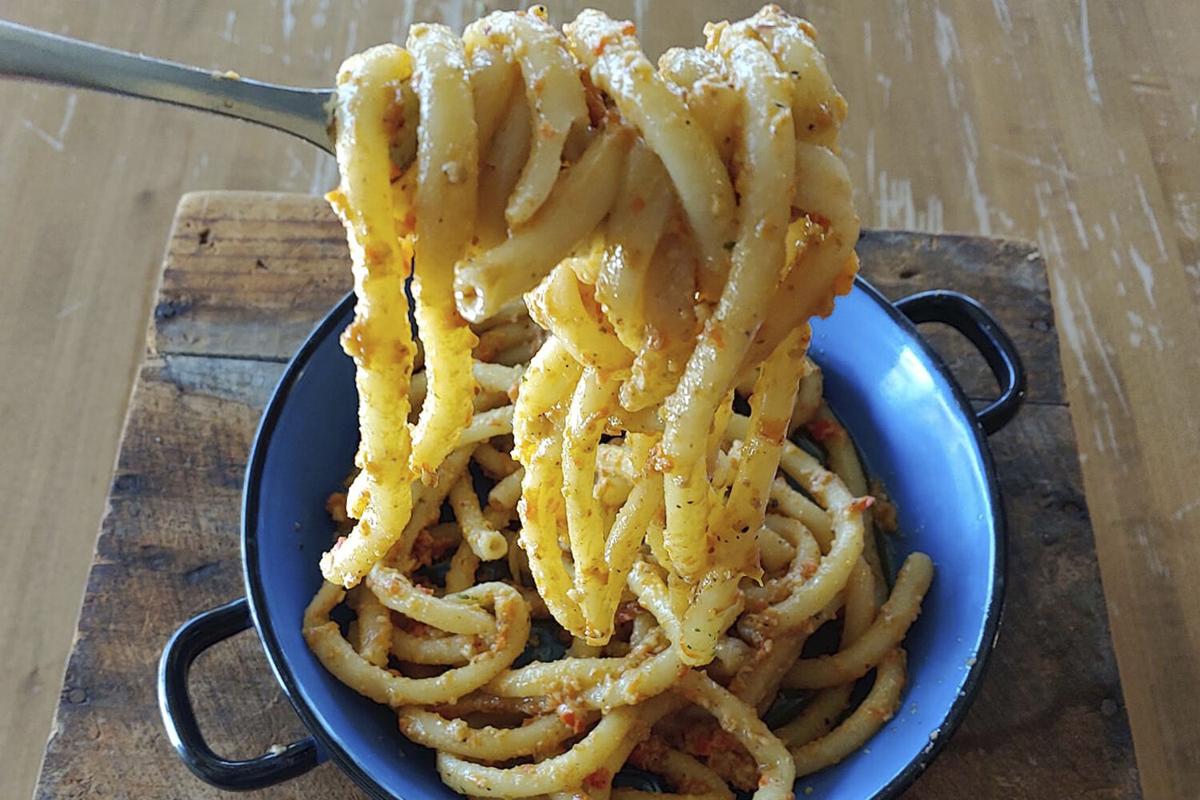 Next year, Pasta La Fata, a beloved Italian pop-up in Columbia, Missouri, will get permanent digs.
Owner Michelle La Fata, known to many as "Shelly," will open a brick-and-mortar shop at 1207 Rogers Street (the same building that houses Ozark Mountain Biscuit and Bar) this spring. The move was partially spurred by the upcoming closure of the Mizzou North location of the COMO Cooks Shared Kitchen, where Pasta La Fata currently creates all its beloved dishes. Mostly, though, it's the realization of a dream La Fata has been building in – and with – Columbia since 2016.
The move means more production space and, in turn, more handmade Italian food for the city. Whether you've recently discovered Pasta La Fata through its booth at the Columbia Farmers Market or you have been a fan since its inception as Sidebar five years ago, you can rest assured that all your favorite fresh and frozen Italian delicacies will be available at the shop. Imagine fresh bucatini and linguine in the deli case and hearty lasagna bolognese and plump butternut squash ravioli in the freezer.
If you're craving hot arancini (fried, cheesy rounds of risotto), you'll be able to order one to three most days, and the signature toasted ravioli will be on offer alongside a new standout, panzerotti (deep-fried pockets of dough filled with mozzarella, sauce and more). For dessert, enjoy an expanded selection of Grandma La Fata's cookies filled with seasonal jam or the brand's own Luxardo cherry filling. With the feel of an Italian deli on The Hill in St. Louis, the shop will also sell dry goods, including flour, bread, olive oil and cheese – perfect accompaniments to Pasta La Fata fare.
"We're gonna open every morning and have hot food and prepared meals ready to go," La Fata says. "It's for people who are moving fast around the downtown area, going to the universities or to work. All of our customers' favorite menu items will be easy to grab."
At recent pop-up events, fans have flocked for freshly boiled pasta to go, and come March, you won't have to check Instagram to see when you can snag some next. "People will be able to choose the shape, choose the sauce and leave with a fork and a container," La Fata says.
The opening of the new space is how La Fata hopes to answer the call for a Pasta La Fata eatery. "A lot of people ask us if we're going to open a restaurant, and I think that we will open a restaurant in maybe another five years," she says. "This just feels way more fun for me and my staff. I feel like having this deli is the next step before opening a restaurant, and really, the opportunities for how we can use this space are endless."
As she does with her recipes, La Fata will bring her family heritage to life in the shop. On occasion, she says, she'll move product off the retail floor and replace it with a long table, set to serve private events or just friends.
La Fata joined the pasta game on a local level when she launched pop-up concept Sidebar, where she served fist-size toasted ravioli, lasagna and more before transforming the sporadic events into a full-time venture. "In a lot of ways, I feel like it's taken a long time to get here," she says. "But I can see by the community's reaction that this business has grown really fast. They've seen it right in front of their eyes at the farmers' market: I used to bring one tiny table and sell out of ravioli in an hour and a half; now, I bring a 15-foot box truck and four employees and a huge setup."
La Fata credits her enthusiastic supporters, as well as advice from the Missouri Women's Business Center, for her success thus far. "I still get to talk to all the customers directly; I have that connection with them," she says. "It just feels like we did it together, honestly. I feel like we are the community's pasta-makers, and they've had a big part in bringing us to where we are now. I never could have done this on my own. It's triggering to think about that time when I was working until 3am, making ravioli alone, but now, I have so much support."
Without La Fata's Italian family traditions, along with her culinary talent and focus on locally sourced, flavor-packed ingredients, Columbia wouldn't be so lucky in lasagna. "I feel like it's my destiny that we keep building this business, honoring tradition and family," she says.
Keep up with the Pasta La Fata journey on social media – you can even join the Pasta La Fata Famiglia group on Facebook. You can also continue to order fresh and frozen pasta for pickup or delivery online, or stop by the Columbia Farmers Market every Saturday for spur of the moment cravings.
Pasta La Fata (coming soon), 1207 Rogers St., Columbia, Missouri, pastalafata.net