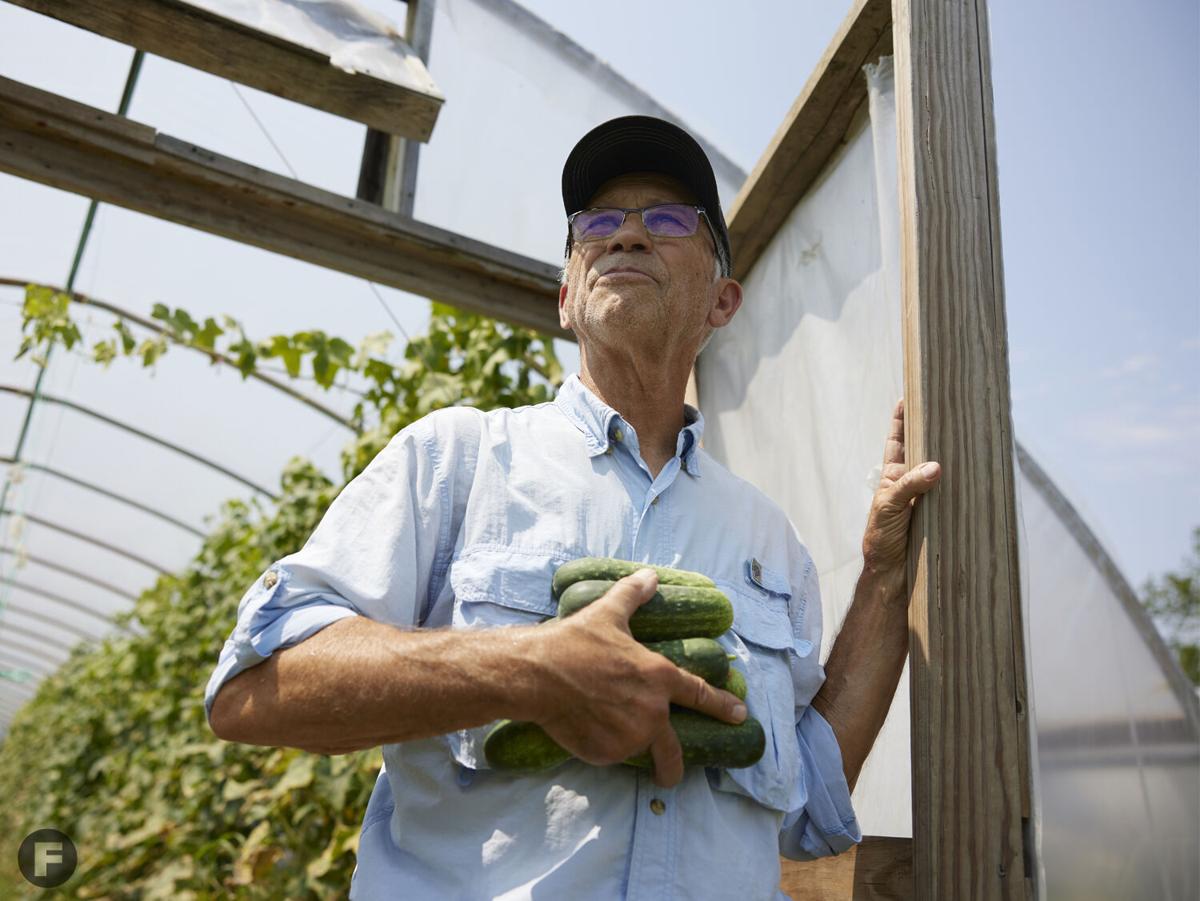 Dan Kuebler's foray into fermentation was inspired by both heritage tradition and scientific method. "I grew up in Hermann, Missouri [which is a historically German town] so we made sauerkraut," he says. "My mother canned it – didn't ferment it – but my grandmother fermented it; I still have her cutting board and her three-blade mandoline, and that's how I made my first batches."
Farmer Dan, as he's known among customers and peers, runs The Salad Garden in Ashland, Missouri, where he's sold sauerkraut, pickles and kimchi, among other fermented foods, since 2012. Today, he ferments from the kitchen inside the Missouri Organic Association (MOA) in Hartsburg, Missouri, and sells his gut-healthy goodies at the Columbia Farmers Market, Clovers Natural Market, JC Health Foods and Hermann Wurst Haus.
Along with other members of MOA, Kuebler is excited to implement new educational opportunities, including seminars and dinners, for those interested in organic farming practices, fermentation and hemp – a recent addition to his farm. A wealth of knowledge when it comes to fermentation, Kuebler loves talking about his favorite fermented foods with kindred spirits.
What first fascinated you about fermentation? Because my farm is organic, I learn more and more about the soil microbes every year. [When I was] a physical therapist, I also learned about the gut microbiome. It was like, it's all about microbes, isn't it? In the soil, in the gut. These little microorganisms are essential for life, and we better start paying attention to them. So, little by little, I got into sauerkraut and then kimchi. For 28 years, my next door neighbor was a Korean vendor at the farmers' market, and she would make kimchi, but she didn't sell it. She kind of guided me, trial and error, to my own recipe.
How is the fermentation process different for kraut and kimchi? We ferment kimchi for seven days; the big reason is that we don't want the kimchi to be sour, so we don't want the lactic acids to build up. Whereas, with sauerkraut, we want it to be sour, so we ferment the sauerkraut for four weeks. We get a good sour taste, and, in the four weeks, more active microbes also kick in. We're going to try to ferment for three weeks this time; I'm going to raise my temperature to 72°F because that will hasten the fermentation process.
What are some lesser-known benefits of fermented foods? Cabbage is high in vitamin C. Think about 100 or more years ago: Where would people get their vitamin C in the winter? There wasn't any fresh citrus, so you got it from your vegetables. There are stories about sailors [who ate] lemons, but no – they had sauerkraut, and that kept them from getting scurvy.
Customers can contact Dan Kuebler of The Salad Garden via email: dlkuebler@yahoo.com