Tempeh is a chameleon among plant-based proteins. Mildly savory with an earthy flavor and firm, nutty texture, it happily soaks up marinades and sauces, and it can handle any cooking technique you throw at it, whether stir-fried, pan-fried, deep-fried, grilled, baked, boiled, steamed, braised or battered.
But what is tempeh, exactly?
Tempeh is made from fermented soybeans that are transformed into a solid cake with the help of mycelium. While that might not sound all that appealing, tempeh hits a note that tofu and other meat analogues simply can't.
With an impressive nutrient profile, tempeh is a no-brainer for vegan and vegetarian cooking. It's high in protein, fiber, calcium and B12, but low in saturated fat, sodium and carbohydrates. Tempeh is packed with probiotics, as well, thanks to the fermentation process, which also enables the nutrients in the whole soybeans to become more soluble and easier to digest.
"Tempeh can kind of ride the curtails of plant-based proteins that people know, such as tofu and seitan, but it's a more digestible form of soybeans," says William Pauley, owner of Confluence Kombucha and Living Larder (the brand under which he sells tempeh and other packaged goods) in St. Louis. "The culture predigests the beans, so we can access more of the nutrients and energy without having to use so much of our own energy."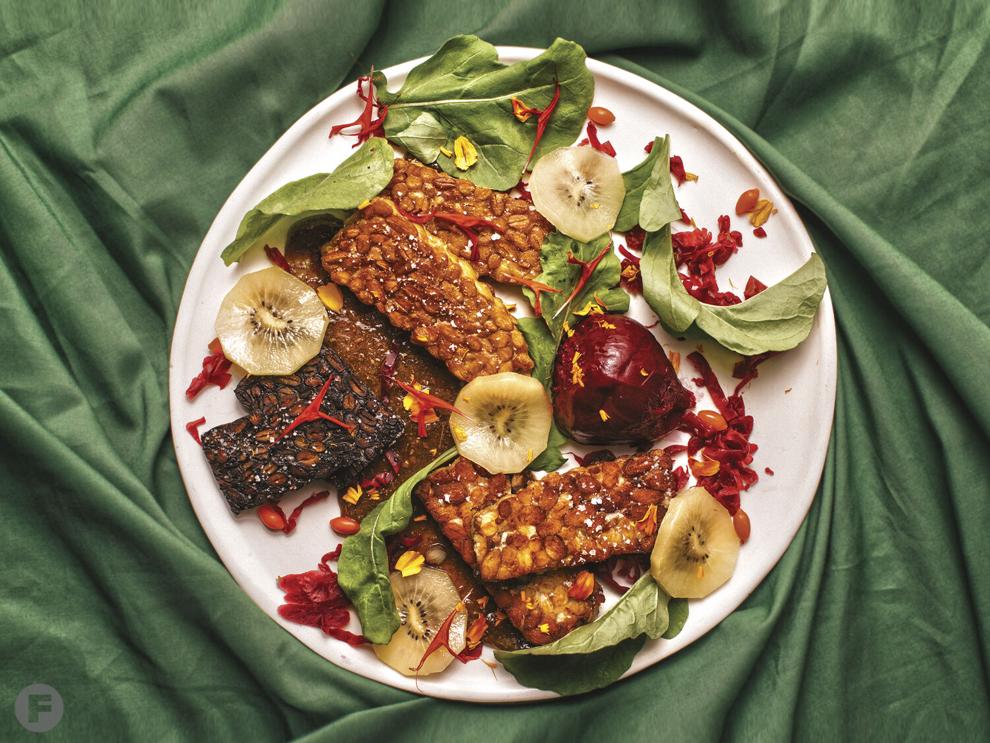 Although tempeh is growing in popularity across the country, it's been a way of life for Indonesians for centuries, appearing in traditional dishes such as tempe goreng (deep-fried tempeh), gado-gado (an Indonesian salad served with a peanut dressing) and tumis tempe kacang panjang (tempeh stir-fried with long beans).
More recently, the versatile ingredient has found its way into even more cuisines and food cultures; some have even started experimenting with other beans to make it. There's a lot to love about it, but the tempeh market is undoubtedly driven by the rising demand for meat analogs across the globe. In the U.S. alone, Persistence Market Research predicts that revenue from tempeh sales will increase from approximately $3.6 billion in 2018 to an estimated $5.8 billion in 2026.
"I think people are more familiar with tofu, but in my opinion, tempeh is a distinct product, and it's gaining more attention," says Martin Maigaard, owner and operator of Central Soyfoods in Lawrence, Kansas. "It's also finding its place in more and more dishes in the U.S. The mycelium absorbs any flavors that you add to it, making it extremely versatile."
Maigaard has a background in food production and local food systems – he worked for The Merc Co+op in Lawrence for a combined total of 10 years – and he and his wife, Danielle, were fans of Central Soyfoods for years before taking over the company two years ago. After a whirlwind transition into his new role, including a mere four-hour crash course on everything tofu, he decided to pause tempeh production while he perfected Central Soyfoods' tofu. However, this spring, Maigaard began reworking the tempeh recipe and process, and he hopes to reintroduce it to the market this fall. He understands the increasing demand for tempeh and plans to give his customers what they want. First up will be the original tempeh – slightly sweet and intensely nutty with a bit of tang thanks to the addition of apple cider vinegar – and then maybe a tempeh using okara, a byproduct of tofu and soy milk. From tempeh to tofu, all food production and packaging is done by hand at Central Soyfoods.
For Dan Bugnitz, duly nicknamed Tempeh Dan, locally made tempeh is unquestionably more desirable than mass-produced options. Bugnitz started making tempeh in Columbia, Missouri, in 2010, and even then, family, friends and regional businesses – from Main Squeeze and Hy-Vee in Columbia to Frida's in University City – were vying for batches of his fresh tempeh. (As soon as it's out of the incubator, Bugnitz freezes the tempeh, so that it's technically fresh, not pasteurized like many retail versions.)
"It's not just that my tempeh is great – local, small-batch tempeh, in general, is great," he says. "I think part of the reason is that large facilities might not soak the beans and often cut the fermentation time, and you don't know where they're getting their soybeans and starter, but it also has to do with the magic of small-batch. It's not machines that are making it; my hands make my tempeh. As a result, my tempeh is a little funkier, and the soak and longer fermentation time in my process bring out a slight bitterness and specific nuttiness [respectively]."
Bugnitz swears by the starter that he gets from The Tempeh Lab in Lewis County, Tennessee, and he sources his soybeans from Lakeview Farm in Middletown, Missouri. The farm's soybeans are special: They're food-grade, which require a higher level of management, have a higher protein content and milder flavor and grow bigger than other soybeans. They're also organic, which caught Bugnitz's attention, as organic soybeans are difficult to find in Missouri.
Although he stopped making tempeh for a while, Bugnitz recently got recertified, and he's back in the kitchen at Cafe Berlin, where he formerly served as front-of-house manager, fermenting batches for all of his fans under the brand Sunray Foods.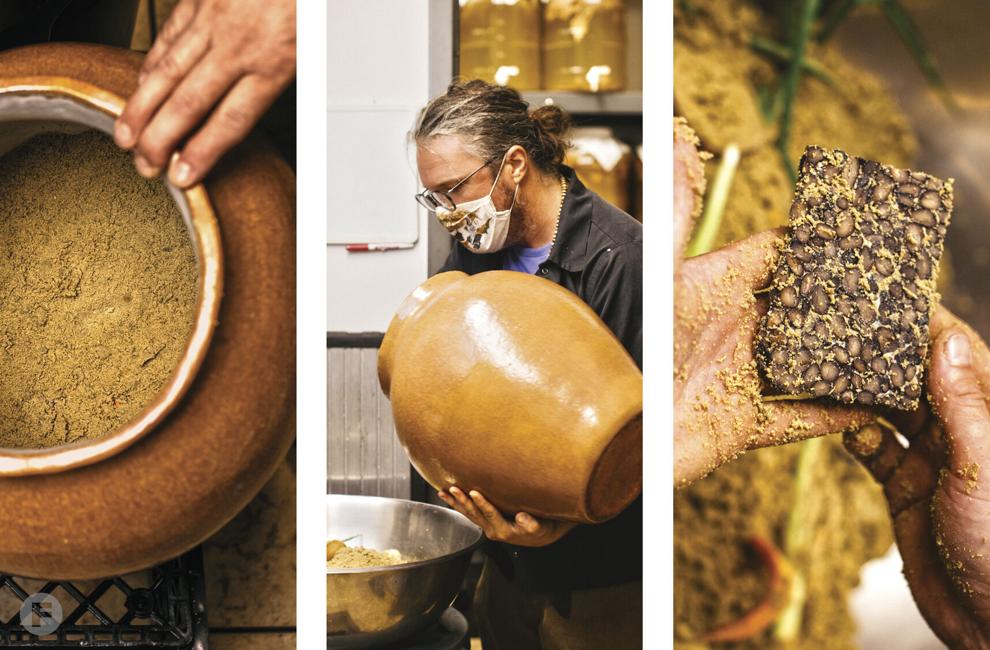 Over at Confluence Kombucha, Pauley agrees that local is best when it comes to tempeh. "If you can find a local producer, that's the best way to determine if you like tempeh or not," he says. "Since our tempeh uses whole beans, it has more texture; commercially made tempeh is lacking in that way. When people are on a new journey and seeking out new foods, it enhances the experience if they're able to talk to the maker. It's nice to be able to give people a bit of background on the product and how it's made; it gives people more appreciation for it."
The kitchen of Confluence Kombucha is devoted to producing, well, kombucha, so Pauley and his team have to cook the beans for their tempeh outside, in the same pot they've been using for 10 years, on a propane burner. In total, it takes the Confluence Kombucha crew three to four days to make their tempeh, which is pasteurized to stop the fermentation process and deactivate spoilage bacteria to slow deterioration, and they produce approximately 100 pounds of tempeh each weekend.
Tempeh's prized umami flavor and mushroom-esque meatiness shine in dishes at the eatery, including the Korean-inspired kimbap taco with salted tempeh cut like thick bacon, housemade kimchi, brown rice and avocado wrapped in a roasted seaweed shell. Another standout boasts a honey sauce base topped with two types of tempeh, such as black bean and smoked garbanzo, that are paired with fermented kale, roasted and pickled beets, fresh arugula, golden kiwis and whatever edible flowers are growing in the on-site garden at the time.
In the past two years, Pauley has created a dozen different flavors of tempeh, including black bean and garbanzo bean with sunflower seeds, which are more appealing to people who might not want to consume so much soy. Recently, he combined adzuki beans and kidney beans; since the adzuki beans are significantly smaller than the kidney beans, they fill the space in between, making it easier for the mycelium to wholly bind everything together. The adzuki beans have a sweet quality, so Pauley decided to add that tempeh to a housemade halva dessert that he's made for a while, and he says the result is next-level. "Tempeh has a special magic. Because of the process, it's just cool to create. It's like, 'Wow, the mycelium does it again.'"
Natasha Kwan, chef-owner of Frida's and Diego's Cantina y Cocina in University City, Missouri, has spent years experimenting with tempeh. If you want to cook with it at home, she has plenty of suggestions. For Asian-inspired dishes, marinate it with soy sauce or coconut aminos, sesame oil and sambal oelek for at least three hours or overnight. Cut it into triangles for a vegan version of pescado a la Veracruzana with tomato, onion, jalapeño, olives, capers and rice. Or crumble it, toss it with aquafaba and taco seasoning and then broil it for a minute or two to use in nachos or tacos.
"At Frida's, we've served a tempeh 'bacon,' lettuce and tomato sandwich," she says. "Tempeh is really nutty, so we marinated it in spices and a little liquid smoke to make the bacon. My favorite way to use it, though, is in 'chicken' salad because I actually like my tempeh cold; cube the tempeh, throw in onion, celery and grapes, whatever you want, and eat it on a croissant. It's fun and easy to work with tempeh. And it's so good for you – I think we all need to eat more fermented foods for our health."