Carisa Stark fell in love with cooking at an early age. She used to thumb through her mother's Better Homes & Gardens magazine looking for recipes and tips for decorating the table. She remembers she was 12 when she tore out a recipe for mushroom enchiladas – "I've been making them ever since," she says. "I've always loved to cook homestyle food for family."
A veteran of the hospitality industry, Stark worked in restaurants for years before opening Mary Jane Burgers & Brew in Perryville, Missouri. Her passion for small-town living, chef-inspired meat dishes and the perfect drink pairing inspired her to open her second restaurant, Mary Jane Bourbon + Smokehouse, in Cape Girardeau, Missouri, in 2018. Both establishments are named after Stark's beloved grandmother.
At the latter, Stark works with executive chef Matt Ruesler to create the superior smoked plates and handcrafted bourbon cocktails to which guests have become accustomed. In addition to the food, drinks and welcoming staff, the ambiance of the restaurant makes everyone feel at home.
"I couldn't do this alone," says Stark. "I have an amazing team that supports me and believes in me. If I didn't have them, I wouldn't see the successes I have now."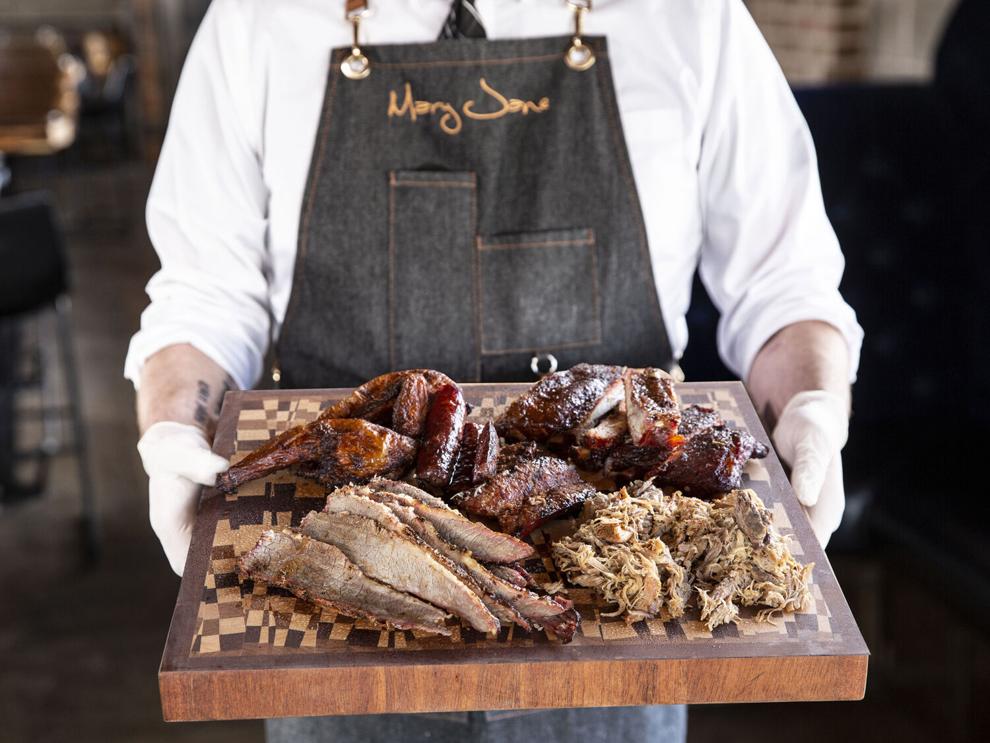 We caught up with Stark, who talks about everything from eating squirrel as a kid to how she drinks bourbon as an adult.
Mary Jane Bourbon + Smokehouse has one of the largest bourbon collections in Southeast Missouri. How do you drink your bourbon? On the rocks. My great-grandpa was famous for his highballs, so I'm [also] a sucker for a delicious highball with a [bright red] Maraschino cherry in it. We don't use those at the smokehouse; we use Luxardo Maraschino cherries. Great-grandpa would not approve.
You use a lot of local food on the menu at Mary Jane Bourbon + Smokehouse. What are some of your favorite locally sourced ingredients or products right now? Our number one local ingredient is the buns from Hoeckele's Bakery & Deli in Perryville. It's chef Matt's recipe [with] his signature seasoning on top, along with poppy seeds and sesame seeds. [We use them for] all of our burgers at both restaurants.
What is a convenient, comforting meal you like to make at home? I would say definitely mushroom enchiladas. It's such a simple recipe. I like to use cremini mushrooms – because they have a meaty texture – and combine them with chile powder, cream cheese and scallions. I roll up the filling in locally made tortillas and make tomato sauce with stewed tomatoes and mirepoix. Then I bake them with a ton of Monterey Jack cheese because it's so melty and gooey.
What is your earliest memory of barbecue? My earliest memory is at Grandma Mary Jane's: We'd get BB guns and shoot squirrels in the yard. She would skin them, and we'd put the meat in the pressure cooker and add barbecue sauce. It was delicious.
What advice do you have for beginner barbecuers? My number one piece of advice is you need to become certified as a Kansas City Barbeque Society (KCBS) judge. I became certified years and years ago. What that did for me is it told me what judges are looking for when they come to barbecue competitions, plus getting certified helped me understand all the elements that go into properly smoking meat. Falling-off-the-bone ribs is an overcooked product; there needs to be a bite and tenderness to it. There's no timetable for smoking meat – it's truly an art and a passion that you have to craft and put some love into.
In your opinion, what's the secret to succeeding as a restaurateur? It's a trifecta: You have to have an amazing ambiance, the service has to be impeccable – and not robotic – and the food has to be made of fresh, local ingredients and be something that [guests] can't duplicate at home.
What's new at Mary Jane Bourbon + Smokehouse? How has the restaurant responded to the COVID-19 pandemic, and what are your plans for the future? We understand that people are still cautious about social distancing, and we want to be respectful of that. We have two different levels of dining and, coming soon, an outdoor patio. We're super excited about expanding. We're debuting the outdoor patio on March 13 during our second annual Bourbon on Broadway event – a bourbon tasting and Irish music jam.
How has Cape Girardeau's food-and-drink scene evolved over the years? How do you hope it evolves in the future? Over the past 25 years, the scene has evolved a lot. A lot of it moved out to the highway area, and a lot of chains and franchises popped up. [However] over the past five years, we've seen a greater focus on supporting local, independent businesses, and the downtown area has come alive. I'm super excited to be a part of that area.
If you could spend a whole day drinking and eating in Cape Girardeau, where would you go and what would you order? I've got to start my day with a Bloody Mary and a mimosa at Mary Jane Bourbon + Smokehouse – I think we have the best brunch in Cape Girardeau. I love going to Minglewood Brewery, too; it has amazing pizzas. I always get the Philly cheesesteak pizza but sub chicken. Then I'd go to Port Cape and see Doc, the owner, and hang out at the bar. It's super historic and right on the riverfront with views of the muddy Mississippi. I'd end the day with ice cream from Sugar Chic Creamery.
Mary Jane Burgers & Brew, 102 N. Jackson St., Perryville, Missouri, 573.547.6279, maryjaneburgers.com
Mary Jane Bourbon + Smokehouse, 1107 Broadway St., Cape Girardeau, Missouri 573.334.6279, mjbsmokehouse.com